[Posted @ 10:28 PM]
Ok, i'm having a stupid flu, right now, right here, at this freaking moment. I'm sad. Here's Gokujou Seitokai Ep3 screenshots anyways.
It starts with Rino's past, about her mum and stuff. Yeah then her mum was on her death bed with da Pucchan consoling Rino then died. Then suddenly mummy jumped up and said she's fine [Like advertisement for an energy drink], even Pucchan can walk on its own [-.-||] and they had sukiyaki. But it was all in a dream. [Hahahaha] Ok then Rino woke up to find Kanade lying beside her on bed!!!! [WAH SO FAST SIA! LOL] Then Rino was like 'EE~~~~~~~?!' Hahaha, then as Kanade and Rino was standing outside of the room, Seina, Mayura, Rein and Sayuri [Uh, Sayuri didn't see actually cos she didn't have her spects on LOL Rein even asked if Sayuri saw it then Sayuri was like 'No. I can't see.' Hahaha] saw them outside. Mayura was like what a weird atmosphere and was like dun tell me it's that thing which only happens in girls' school?! Then Rein chopped in and said 'Yuri~ Yuri~ Yuri-yuri~' hahaha I was like laughing so hard. Then she turned to SaYURI and asked if she saw it hahahahaha. Such irony.
Then the rest of the council was like in the opposite table during breakfast discussing about Kanade's visit in Rino's room. Nanaho was like really?! Then tries to give explanations for it [But there wasn't] haha. Rein was like 'Ooh, you and I, all by ourselves, a forbidden night ...' then see screenshot 2 hahaha. Then Nanaho gave orders for them not to say out in case of some disrupts in school. Then hahaha Cindy told Kaori and Kaori out of shock, yelled it out and everyone heard it. Hahaha she said what Kanade-sama and Rino doing 'Payapaya' [I also dunno wat the hell payapaya means LOL but sounds funny] Then Nanaho and company were trying to stop the newspaper, photography and paparazzi club people from taking pictures of Kanade and Rino doing payapaya [LOLLLLLL] together. So they kidnapped lol, Rino, knocked her out and locked her in the room. Nanaho and Kanade had a little private talk, they seem like very good friends, then even Nanaho can't get the real reason why Kanade is so special to Rino.
Then they set traps around the Gokujou dorms to prevent the newspaper, photography and paparazzi club from taking the PAYAPAYA pictures lollllll I'm nuts. Cos it's so funny hahaha. Kaori was like out of sorts then payapaya ... hahahaha so funny. Yeah then they started attacking and stuff. Yeah later the newspaper club president went in and took a picture of Kanade and Rino having sukiyaki dinner together [Hahaha] Then Kanade was like is there a problem sharing with Rino in THEIR room. Then Kanade's name was written at the dorm's names there haha [Written by Seina] and everything was solved.
Ending with Rino sleeping on Kanade's lap again then Kanade was like talking to Rino's mum that she would take care of Rino. [Ooohh~] There IS something going on between Rino and Kanade, probably Kanade's Rino's mum's long lost sister?! Or Rino's mum saved Kanade before and wants to repay by taking care of Rino + that explains why she set up Miyagami Gakuen and Gokujou Seitokai.
Still wondering what is Payapaya? I really dunno! LoL, but here's a pic of the Payapaya lol.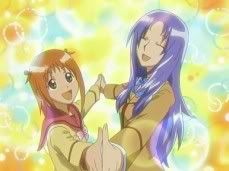 It looks damn funny hahaha. Ok, i admit, i love Kaori's expressions so much i had 3 screenshots of her =O-ing lol hahahahaa. So funny. She was like 'Paya... paya...' Hahaha... juz so funny. I'm still grinning widely haha. My flu's gone whee.
Sigh, life is so boring. I saw this update over in TCZ website and see they're with Singpost in this custom stamp project. I WAS LIKE WHAT THE FUCK?! WHY WHY?! WHY WASN'T I IN TB11?!?!?! Then I can relate my final year project with something i like mah! WHY?! WHY?!!!!!! Sigh. Mine's something abt this Vpost. i also dunno what the hell except it's abt online payment. So what? I WANT CUSTOM MADE STAMPS! I WANNA CHI XUE STAMP! ... sigh i guess it's fated. Life is sure sad. Good bye cruel world. I hate life. Spend money on textbook ... almost $70 ... nuts sia i can buy 9-10 mangas sia! Bye, i wana go Vpost web to see wat the hell it's abt. Cya.
[Signing off @ 10:51 PM]
PS: Life suck, what more can i say?