Disclaimer:
As this series is licensed by Seven Seas Entertainment, LLC, please buy your own copy to show your support for the mangaka and Seven Seas so that they could license probably more shoujo-ai mangas for us =).
I do not scan, so I don't claim credit for it, so please do not ask me where I got my scans. PLEASE.
Please do not hotlink on forums, just paste my blog url and direct them to the Hatsu Koi Shimai Chapters Page section, thanks.
Hatsu Koi Shimai aka First Love Sisters Manga Chapters Review
- [Manga] Hatsu Koi Shimai Chapter 1
- [Manga] Hatsu Koi Shimai Chapter 2
- [Manga] Hatsu Koi Shimai Chapter 3
- [Manga] Hatsu Koi Shimai Chapter 4
- [Manga] Hatsu Koi Shimai Chapter 5
- [Manga] Hatsu Koi Shimai Chapter 6
- [Manga] Hatsu Koi Shimai Chapter 7
- [Manga] Hatsu Koi Shimai Chapter 8
- [Manga] Hatsu Koi Shimai Chapter 9
- [Manga] Hatsu Koi Shimai Chapter 10
- [Manga] Hatsu Koi Shimai Chapter 11
- [Manga] Hatsu Koi Shimai Chapter 12
- [Manga] Hatsu Koi Shimai Chapter 13 [END]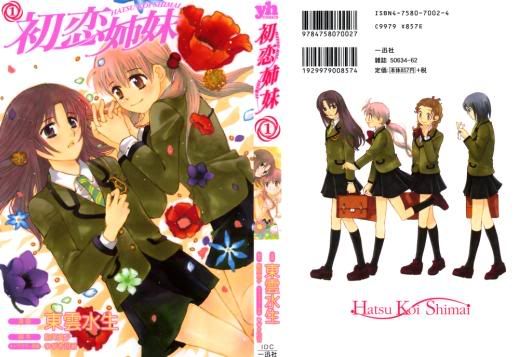 Select Any Of The Different Posts Through The Drop Down List ;