[Posted @ 11:40 PM]
I was browsing through #1-#8 of The Celestial Zone I juz now lol and forgot i got to blog ... and watch animes XP. Here's Pani Poni Dash! Ep6 screenshots~
Be Right Back With Updates! Busy with my Thailand trip pics lol~
EDIT: I think there's something freaking wrong with myotaku.com juz now manz, i tried to access the page like 5 times and couldn't get it to load ... pissed off, i'll stay with the laggy 'i-typed-in-blogger-takes-at-least-2-to-3-seconds-to-load-word-for-word-on-what-i-am-typing' lol. Ook, first thing first, some rough highlights of Pani Poni Dash! Ep6 ... uh basically i was juz laughing through it and stuff, wasn't doing any serious thinking or anything lol. Ok, i think it's about Becky having her own research lab room but when she went in the allocated room, it was occupied by uh i forgot, i know it's an old couple lol. Then she was allocated another place lol, but that room has this kinda trapdoor, Becky was like ook, don't open it lol, and guess what Ichijou-san opened it LOL! So Becky, Rei, Himeko, Miyako, Kurumi, Rokugo-san and Ichijou-san got sucked in i think, i forgot abt that. When they got it, it was dark and creepy then Becky was like it's ok, we have Ichijou-san with us then lol Ichijou-san was not around them. Suddenly, Ichijou-san appeared, did some gymnastics and got scores of 10 from everyone LOL. That feeling was refreshing LOL, as expected from Ichijou-san LOL! But later they got out and seal off that trapdoor lol.
Let's now talk abt the rabbit, Mesousa lol, i'm always looking forward to what is going to happen to Mesousa every Ep LOL. This ep he was Suzune Shiratori number two LOL, apparently, 1-B's Suzune was having PE class then they were having this gymnastic class? I dunno wat do you call it, like there's blocks of stacked up wood then u jump over it via stepping on the spring board. Suzune's 'good' friend, Otome Akiyama seems to be good in it and probably Suzune wasn't so she asked Mesousa to do it in her behalf and she told Mesousa not to lose to Otome. [By the way, Otome's the black haired shorter girl in screenshot 4 and Suzune's the taller blondie] LOL Mesousa as usual stared at the high block of stacked up wood and said 'Impossible!' LOL. Suzune of course threatened him then Mesousa tried to encourage himself by telling himself that he's a bird, he could do it, he can fly LOL see screenshot 2. He ran, stepped on the spring board and twisted his leg LOL, then he fell dramatically against the blocks of stacked up wood and i'm sorry to Suzune. Suzune doesn't seem really bothered lol, she just picked up her name tag, [Mesousa was wearing the PE shirt which has the name tags of the students in front] ignored Mesousa and left lol. Mesousa was like ... i'm so insignificant.
Ok back to Becky's supposed research lab LOL, Rei had placed a note on Becky's lab room door saying it's a consultation room LOL, so various people came for consultations lol. I remembered one of the Kashiwagi twins, i forgot who came for consultation lol i think it's Yuna ba, i dunno how to describe that scene but it was funny LOL, she was telling Becky abt this idol audition she had and probably lost while Becky was trying to tell her she's not in a consultation room LOL. Then this clumsy girl from 1-D came in to tok abt her clumsiness lol, sorry i forgot her name and what happened later but i think it's pretty funny lol. Later a girl, i think she's in the news club, came in to kinda film Becky's lab. That time Becky wasn't around then she saw the trapdoor ... and yes she went in lol. Later Becky returned then Rei and Himeko was there to welcome her and stuff, towards the end lol, Ichijou-san was kinda bringing the girl from the news club around the weird place in the trapdoor lol. I think it's some scene from some samurai show lol. Funny but i don't really understand lol. Whoa not bad, i could remember much of them lol XP. I watch this Ep two weeks ago XP.
Next, Thailand trip pics. Sat budget airline Jet Star Asia for the first time, ok, small plane, small seat space, cramp end. LOL. Anyways it was a ... i dunno what to say 4days and 3nights lol, it wasn't a really 'FUN' trip cos it was a sourcing trip for my dad so he was there to look at plants and source for the cheapest prices for the plants and stuff. Man, see nothing but plants and plants and plants and it was HOT and DIZZY cos we sat on this car-van for i think 12 sitters and it was bumpy and stuff, man i almost puked. LoL. So we had 'real' thai lunch and dinner, the thai guide who once worked for my dad was bringing us around to the 'normal' places where thai people have their meals. If you really go on those package tours, they wouldn't feed u juz a plate of rice, meat/fish and veges + a bowl of chilli and garlic to munch on right? They'll bring u to this nice restaurant with air-con and a 7-8 dishes. We had lunch and dinner at roadside stalls, no air-con, simple and very thai-ish lol. My poor tummy was probably dying lol, i was like recovering from food poisoning and even on my 'coming-period-days' [Before my period really comes, i'll have extreme stomachaches a few days before it really hits] so having hot, spicy, cold food are a no-no for me, but who cares LOL LOL LOL! I ate, but i couldn't eat too much, i get full easily [MAN WHAT A FREAKING WASTE!] then after eating i eat my medicine and wait quietly for the 'quakes' to hit me LOL. So i practically dying from aches and pains and ... headaches there lol. So i was damn relieved to be home finally. LoL, there's no place like home and i feel it very deeply this time.
Bonus Pics: This is a shot of the Second Day where we went to this market place where everyone's selling all kinds of plants. It was HUGE, we walked around from i think 9am to around 2pm. My legs were freaking dying. Then we went to this expressway, i didn't get a shot, where there are plant farms at the sides yeah it was a HOT HOT HOT afternoon. Almost died from heat stroke lol. Then on the third day i was half dead, so i slept like a log half of the day on the car-van lol, not like i'm the one going for plant sourcing right LOL.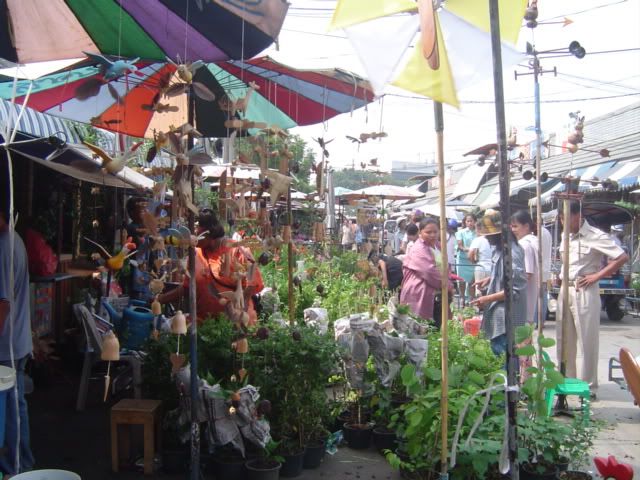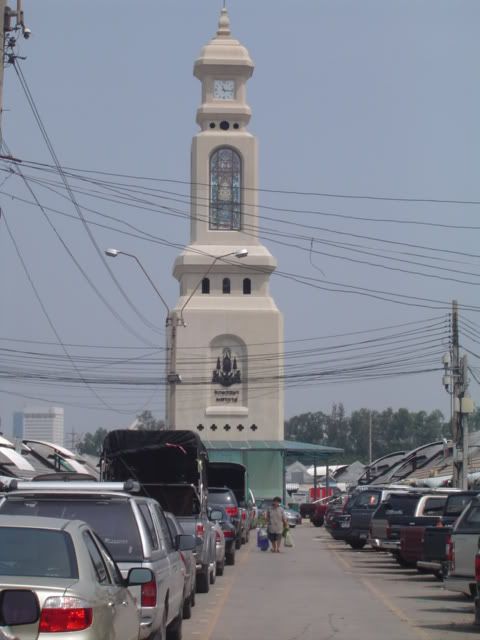 Ok, long post, manz, i'm lazy to type summary for FMP - TSR now ... [It's 1:34 AM now!] i still got Mai Otome and Blood+ ahhhhhh ... i'm not going to drop them, they're pretty interesting, i doubt i'll drop any titles ... lol probably my posts are going to be pretty darn late but better late than never right lol. Oh i still gotta go Raffles City to meet the yanziunlimited people to collect my yanzi album and stuff ... wake up at 11am to watch GSD on KC lol, i might grumble on the cut and censoring of KC but i still watch, dunno why lol, even though i watched already lol. Then might go to M's son's birthday celebration ... i'm not sure cos LC not going then i dunno if the rest of TB13 going or not ... haha, see first ba, wanna go to 'support' but scare go le, no one i know there, alone very ... pai sey lol. Kkk, wanna go sleep nite~
[Signing off @ 1:40 AM]
PS: Oh we went to Sembawang to have our dinner then on the way go Sembawang shopping centre to shop, while mummy shopped, my bros and i went to the arcade and played this particular we played everytime we go there LOL, i forgot the name of the game lol i think it's 'Living Dead' or wat dunno lol. We finished the game with juz $5 [12 Credits i think] and 30mins LOL. We aim for juz $4 and 20mins next time muahaha.