[Posted @ 10:10 PM]
Two down, one more to go, on with Mai Hime Ep25 screenshots.
Ook, uh let's see, Natsuki is still struggling with her feelings regarding Shizuru and she's afraid of 'Love' but no doubt she feels strongly for Shizuru ... but is it 'Love'? No, Natsuki doesn't want to know. Next we have the Mai-Natsuki girl bonding scenes ... hahaha, we see the cute sides of Natsuki and motherly side of Mai. Mikoto gets cranky over the bad cooking of Fumi LOL. Then blah blah happened, i don't wanna tok much, i wanna go to the Natsuki x Shizuru interaction!!! LoL, okok, a final farewell between Natsuki and Mai, Natsuki entrusted their fates to Mai while she goes and have a final showdown with Shizuru.
Wooo, let's get to Shizuru and Natsuki's showdown lol, first we had a rather dramatic scene with Natsuki crashing into the student council room with her bike and Shizuru sitting there calmly sipping her tea. [I was half hoping Shizuru would say something like 'You bad girl, no sex for you for a month.' LOL!!!] Then the fighting scenes were kinda chessy and stuff ... oh did i say dramatic? But who cares lol. But i like Mega Dhuran lol, Natsuki really love Shizuru THAT much huh LoL. [The size of the child varies according to how much you love your VIP] But Shizuru kinda mistaken it as how much Natsuki hates her. That explains screenshot 6 where Shizuru was crying.
Oh i like the broken down church scene too, where Shizuru lured Natsuki to the broken down church, trapped Natsuki in the church bell, do a sexy pose where she threw the 'rope' to break the bell with a Natsuki tied up in it. [LOL, Shizuru must had gotten the bondage fetish from Nao. Natsuki gets the 'Most Bondaged Character In Mai Hime' award!] Whoa then Shizuru whirled the later freed Natsuki into her arms and GUESS WHAT! WHOA, Natsuki grabbed Shizuru by the shoulders and kissed her on the lips. [Ook, we didn't see the actual kissing but seeing Shizuru go O_O i think yes it's offical kids!] That scene was kinda heart warming, with Natsuki replying that she loves Shizuru too [But not in romantic sense] and was happy that Shizuru loves her. However, Shizuru is just as happy with the reply, probably she's glad that her wicked love was sort of returned afterall.
Next we see Natsuki ordering Dhuran kill off Kiyohime hence the double-suicide thingy which confirmed that Shizuru is indeed Natsuki's VIP. Before they went poof, we see Natsuki hugging Shizuru tightly, Shizuru going 'Ureshii' [I'm so happy over probably cos she's Natsuki's VIP] Blah blah, Mai meets the Obsidian Lord, Reito had a little chat with him. Later we know that Mashiro, the victor of the last festival was a Kagutsuchi user too and Mai reminded Reito of her. Then blah blah blah happened and ended with Miyu invoking something and Alyssa's voice in the background?!
Next we have YanZi's 9th Album, 'A Perfect Day', Wan Mei De Ti Tian Review/Comments. Sorry it took so long, lol i forgot all about it, too excited listening to the songs and drown in it lol.
Singapore Version :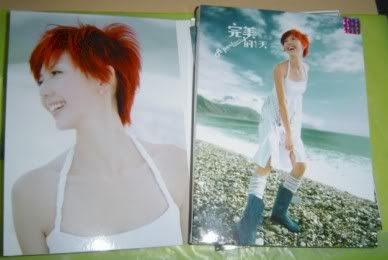 Taiwan Preorder Version :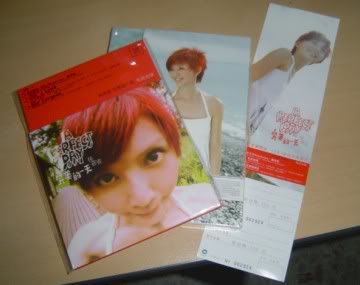 1st Track - Wan Mei De Yi Tian
: Very happy, dancing tune. Very catchy, 'Wo Yao Yi Zhuo Da Fa Zhi~' Hahaha, like my dream house hehehe. Oh i love the MV, i like YanZi lying on a moving board then sliding around the floor ... gives me a kinda tingly feeling lol. Oh btw, it's the 'Zhu Da Ge' and it's pretty popular since the title of the song is the same as the album lol =)
2nd Track - Yan Lei Chen Shi
: Wooo i love starting with the er hu playing in~ [I'm a sucker for songs with er hu playing.] Quite nice, smoothing. All i can say i love the er hu parts and YanZi's voice lol. Not really that catchy but after listening it to a few times, it slowly catches up. Oh i meant the chrous part only lol. But nice la. Duh it's YanZi.
3rd Track - Ying Xing Ren
: Oh i kinda like this, i can relate to the lyrics inside quite easily ... very nice, i like the chrous too. Can feel YanZi's heart and soul in the song ... ahh so nice, touching.
4th Track - Liu Lang Di Tu
: Oh another nice song, i like this quite abit too, catchy especially the chrous, nice beat to it. Na Na Na Na Na Na Na Na Na~ Haha.
5th Track - Di Yi Tian aka First Day
: Ohhh a three-some lol uh i mean three groups ganged up to create this song. They are F.I.R + Stefanie Sun Yan Zi + Mayday = First Day. 'Fir' of First come from F.I.R then 'St' of First come from 'Stefanie' then 'Day' of Day come from 'Mayday'. The song is very catchy, youthful and kinda wacky, makes you kinda want to go out to the beach and swim in nude LOL!!!! [What is that thought?! Must be watching too much of the MV ahaha]
6th Track - Honey Honey
: LoL, the cute children voices ... kinda brings out the 'cute' side of this song. And 'Honey Honey' as the track title ... haha quite cute ... like those fantasy fairy tale song ... no no, more like those children entertainment shows where YanZi will be the 'Da Jie Jie' [Big Sister] dancing with the skipping children around her in a circle and birds/butterflies flying XP. <- [Especially true at the 'Lalalalala' part lol]
7th Track - Xing Yuan
: OHHH i like this~ gives me a quite a eerie feeling, brings shiver down my spine ... probably it's the way YanZi sounded but i like this alot. Chrous is pretty catchy too lol, ahh this song is DA STYLE of YanZi ... i like the starting part alot ... heh. It kinda heightens up my mood, hahaha kinda like reinforces the reason why i love YanZi's voice so much ... i could listen to her voice all day and not get tired.
8th Track - Ling Yi Zhang Lian
: Hmm makes me tap to the tune ... haha, a really kinda mystery tune to it, like YanZi's really still hiding some of her 'real' feelings away from us. It's pretty ok, cos YanZi would slowly reveal a little of her side to us in each album which pretty sum up why i feel refresh when i listen to her songs. LoL, gives me a kinda 'Show Girl' feeling when i listen to this ... smiling on stage but off stage, feeling pretty depressed and noone knows.
9th Track - Meng Bu Luo
: LOL! I LIKE THIS! The starting kinda gives me a military feeling LOL! But it's really catchy, a very upbeat feeling~ makes me wanna go and chew a bubble gum and pop it. LoL, and the chrous's nice ... As i'm typing this my head's nodding away lol, whoa really like military sia lol with a touch of those 'Live Concert' feeling. Oh there's a part when the song suddenly changes direction, i love the twist, very refreshing, i like it alot, it juz suddenly changes to a more solid mood. Makes me wanna scream 'I LOVE SINGAPORE!!!' now LOL LOL LOL.
10th Track - Ming Tian Qing Tian
: LoL, after a high track, this song kinda brings down my feelings le, now i feel ... a little 'reflective' LOL, like why am i doing this and stuff ... but it's pretty nice, a tiny bit of mystery to this, like i'm a in jingle searching for something ... but i dunno what i'm search for ... kinda makes me think back what i have done and stuff lol. Nice song to end the album ...
Recommended Tracks : Wan Mei De Yi Tian, Di Yi Tian, Xing Yuan, Ling Yi Zhang Lian and Meng Bu Luo.
Album Cover/Style Presentation : I like the design of the title of the album, kinda pleasing to the eye. The cover is quite nice, except why the right shoe gets cut off? LOL, take the whole body, head to toe properly mah, on top still got space what lol. And the shape of the album this time is rectangular, which is kinda nice ... unlike most of YanZi's other albums which are squarish, a refreshing touch. Looking at the back side of the album, with YanZi's jumping shot, kinda nice. In the album, i love the picture on the left inside of the cover, probably cos i like YanZi's neck, nose and sideview very much, this picture really had all three in one LOL. LOVE IT!! [I purposely open the album and snap it for all to see lol, see above picture.] The lyrics book is pretty well-printed, unlike some other albums of YanZi lol, yeah and kawaii YanZi pictures inside =). The CD design is pretty simple.
Freebies : Ook, we have the 'Singapore Version' and 'Taiwan Version'. For the 'Singapore Version', we have the CD-ROM where there's a flash programme of over 100+ YanZi photos. Like morning shot, how will YanZi look like, filming shot, how will YanZi look like etc. It's really nice hahaha. In the album there's this Party World KTV $20 voucher too. Ok then cos i went to Orchard's Sembawang and buy, the person also gave me this Toilet Spray lol and this free haircut voucher which is bluff people de cos need to purchase something before u get free haircut LOL. As for the 'Taiwan Version', i haven't got mine yet, i'll update this when i got it k? But i know there's more freebies, with the CD-ROM, stickers, postcards and stuff WHEE!
UPDATE: About the preordered Taiwanese version, it's definitely better in quality in terms of the album's outer covering. Firstly, for the cover of the album right, the wordings of the album's name got this kinda craved on feeling ... can feel the wordings de as for the Singapore version, it doesn't. Now for the freebies, when you preorder, they give you this other package, the cover is where YanZi seems like she took the shot herself onez. Yeah, only people who preorder have it, inside, got this Rambutan sticker quite nice lol and cute and also along with the CD-ROM in it. Unlike the Singapore version, they just slot it along with the album itself with the CD. In the album, there're also 3 postcards enclosed with it, i haven't open it lol, so i dunno what it looks like ... but it's cool. Oh i paid another additional S$5 so it's S$29+S$5=S$34 ... not bad la lol.
Songs : 5 recommended tracks! What more can i say, half of the album is worth the buy already lol, hey but the other 5 songs are nice too k? But if half of the album songs are nice, it's like half the battle won le lol, so yeah overall the presentation, the arrangement of the songs is pretty good, brings my mood to different heights then end it with a 'Fuck, this album rocks' feeling lol.
Overall : 4.5 outta 5! BUY IT NOW! WHY THE HELL ARE YOU STILL SITTING HERE! Why 0.5 away from full marks? Cos of the lol cover lor, why the photographer missed the right shoe LOL. But Yanzi's great voice is still there and for YanZi's voice alone gets 5 outta 5.
Long post tonight, stay tune for last Ep of Mai Hime tommorow and it's back to the usual FMP - TSR, PPD and Gokujou posts. I'm adding 2 new anime titles to my blogging list! Blood+ and Mai Otome wheee!!! I'm downloading Blood+ Ep1 now, whoa i love the OP hahaha, it really attracts me ... blah. As for Mai Otome ... uh StaticSub's version is not out yet ... so i'm waiting for it. I'm still debating on whether to watch Black Cat too ... sigh.
Well cya, reading fanfics time lol.
[Signing off @ 10:51 PM]
PS: Lalalala, i think i'm going to watch Black Cat but not going to blog it. I'm debating now to drop Loveless or not lol ... it has already been a long time. It's still sitting on the folder ... wasting 1GB of it ...