[Posted @ 10:43 PM]
Woot, i'm glad mum's a member of SK Jewellery =) cos she got a promotion postcard from SK Jewellery yay =).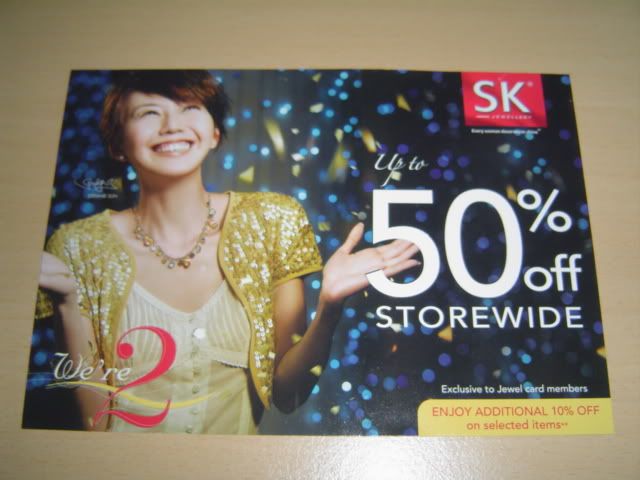 Nice desou? =)
Next surprise ... when reading today's Straits Time Life! Yeah, located on the back of April 8th 2006's LIFE! newspaper =) Nice.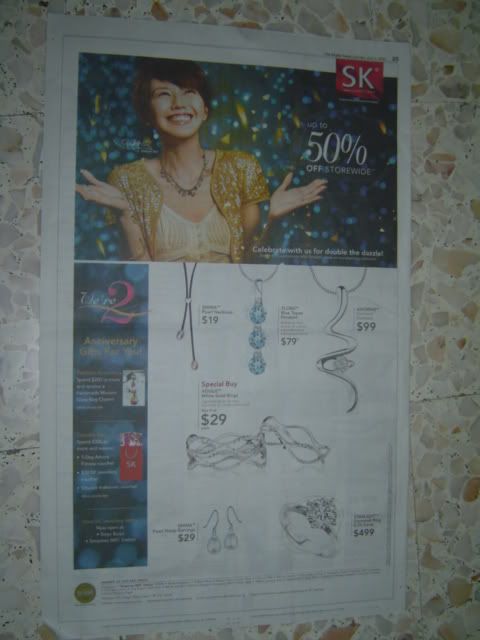 Watched Pretty Cure on Kids Central this afternoon ... after watching for a while ... and at the Pretty Cure Merchandises advertisements ... lol i suddenly said ... 'Manz, it's Pretty Lame.' My bro replied 'Yeah hahaha, PRETTY Lame.' Not that the show is not good but ... it's ok la ... the art is nice ... and i just don't like dubs ... sounds fake and i would rather there's no subtitles with jap audio lol rather than dubs. It just sounds better and flows better. But i'll be watching it anyways, cos i used to want to watch it ... but got lazy ... so if it's on TV, i'll watch it for the heck of it.
Hm, didn't do much today ... haha, recently it's been raining at around 4 PM - 5 PM in Singapore ... it's like a freaking routine! What's next? Raining snowballs?
Ah, i wanna do a music review post tonight. So next post plz!
[Signing off @ 11:13 PM]