[Posted @ 10:27 PM]
Not that i'm making you guys beg or what la lol. My priority in having this blog is to have my comments/reviews/summaries of anime Eps and occasionally some manga titles reviews/summaries too. So doing translating is so not my thing, thus i'm more motivated in posting anime eps reviews these days. I take more pleasure in typing anime eps summaries, screenshooting and probably one of two manga titles reviews.
But don't worry, i'll finish translating and posting Tours Mai HiME Volume 4 Doujinshi =). It's just a matter of time, i wanna catch up with some new and interesting animes titles now, like School Rumble Ni Gakki, Simoun and Strawberry Panic! =).
I'm so interested in Strawberry Panic! that i even plan to do some brief summaries of the translated latest chapters from Japan. Latest is Chapter 7 and the english translated is only up to Chapter 3 but it's catching up soon, so see how it goes ba. If possible, i would like to do that too =).
Disclaimer:
I DO NOT TRANSLATE STUFF FROM JAPANESE TO ENGLISH.
I do however refer to the RAW [Japanese] version sometimes when translating to kind of double check and make it more 'Real' cos i like it lol.
I do not scan doujinshis, so i don't claim credit for it, i got the scans from Tokyo Toshokan, a torrent listing place so, please do not ask me where i purchase or scan the doujinshi.
I do not draw doujinshis, i'm not that artistic =). So i don't claim credit for doujinshi images/pages in this post. I would had clearly stated the author of the doujinshi so go search for him/her/them.
The reason why i had added my blog URL in the pages is cos ... well, i translated the darn thing from Mandarin to English afterall!
Click on the pictures and out pops a window with a bigger, clearer dimension.
Please do not hotlink on forums, just paste my blog url and direct them to the Manga Page section, thanks.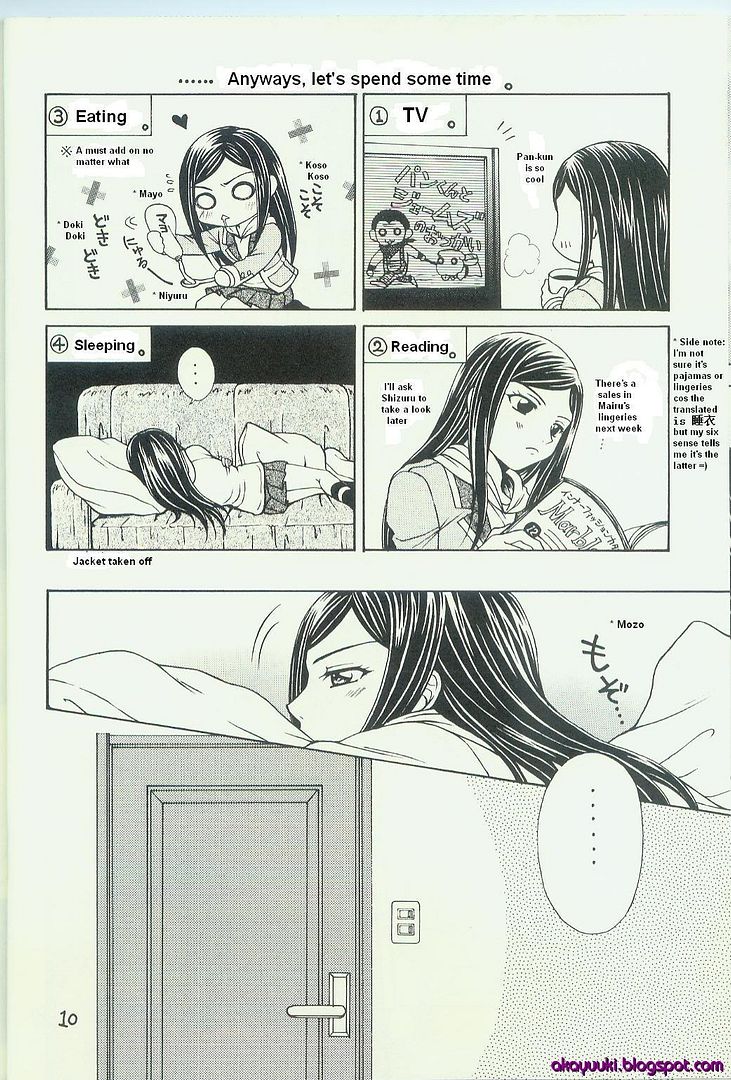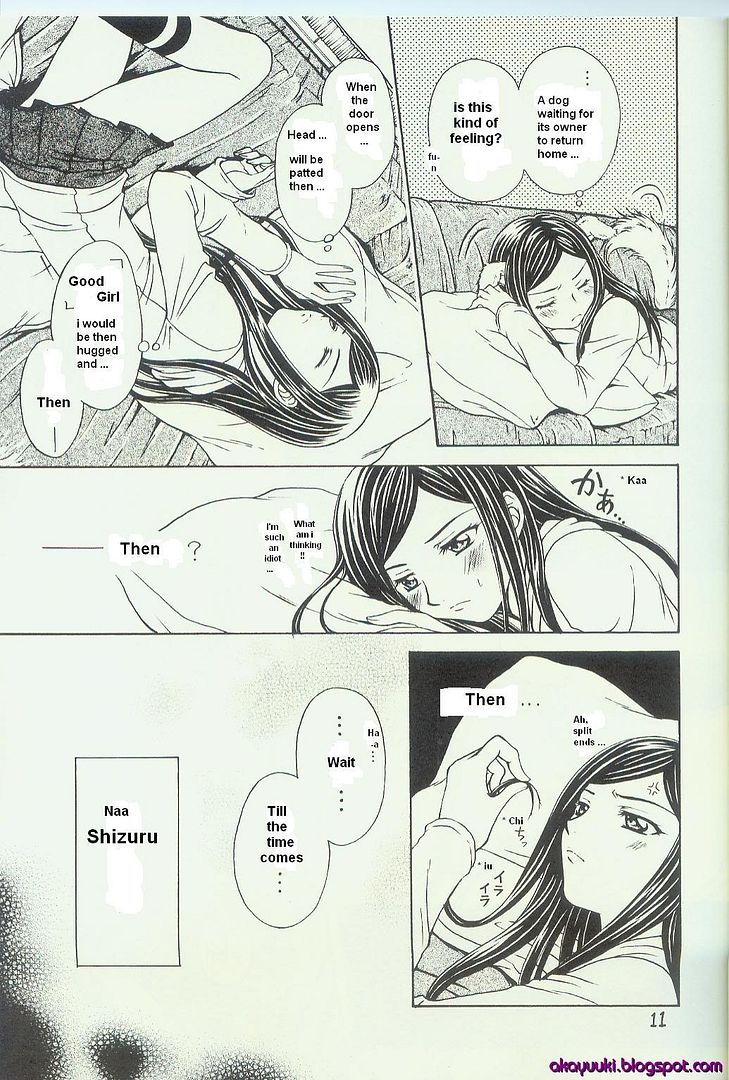 Page 10 might be a little confusing, pardon my lousy translations lol, i'm just trying to do direct translation. Ok basically, Natsuki's thinking that the time that she's waiting for Shizuru might be the feeling of how a dog [Natsuki is always resembled to a dog haha hence the comparison =)] feels like. So when the owner opens the door and walks in, he/she will first pet the head, say 'Good Girl' to praise the dog and hug the dog to show love.
Yeah that's all, tired, baked a chocolate cake with my brothers just now lol. Cya.
[Signing off @ 10:48 PM]