[Posted @ 9:15 PM]
What day is it? Tours Mai Hime Volume 4 Doujinshi Page 7 and 8 day!!!! Let's hear ya cheer!!! LoL XD.
Disclaimer:
I DO NOT TRANSLATE STUFF FROM JAPANESE TO ENGLISH.
I do however refer to the RAW [Japanese] version sometimes when translating to kind of double check and make it more 'Real' cos i like it lol.
I do not scan doujinshis, so i don't claim credit for it, i got the scans from Tokyo Toshokan, a torrent listing place so, please do not ask me where i purchase or scan the doujinshi.
I do not draw doujinshis, i'm not that artistic =). So i don't claim credit for doujinshi images/pages in this post. I would had clearly stated the author of the doujinshi so go search for him/her/them.
The reason why i had added my blog URL in the pages is cos ... well, i translated the darn thing from Mandarin to English afterall!
Click on the pictures and out pops a window with a bigger, clearer dimension.
Please do not hotlink on forums, just paste my blog url and direct them to the Manga Page section, thanks.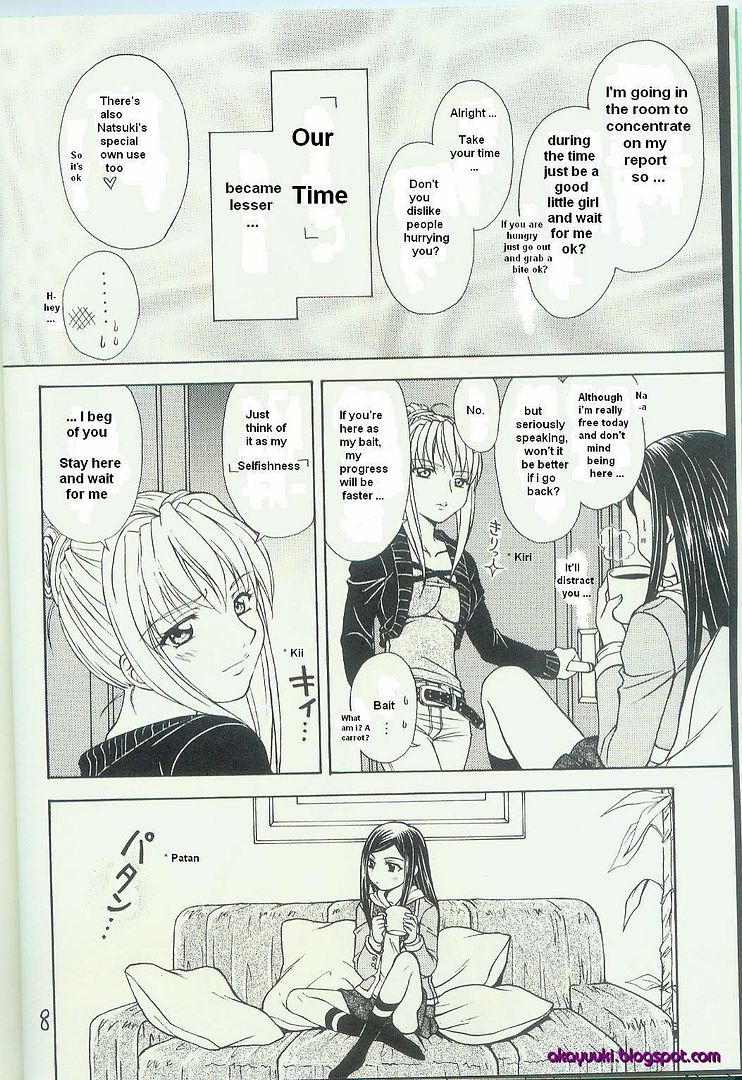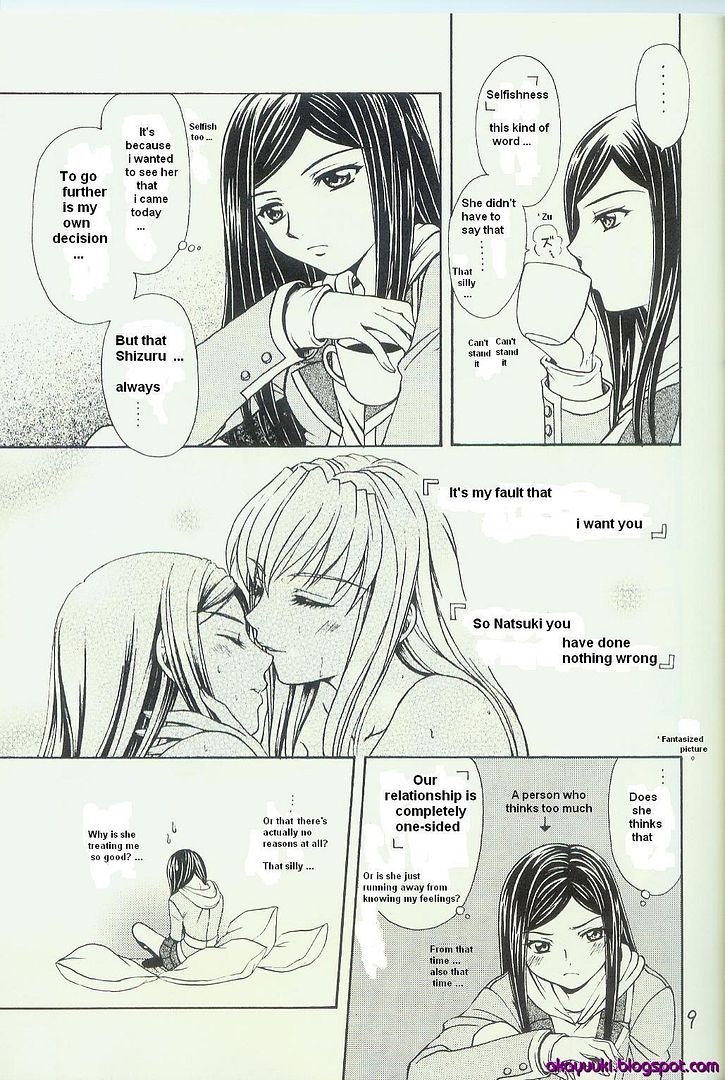 In Page 7, where Shizuru said that there's Natsuki's special own use ... i'm not sure how to translate that, but i think Shizuru is refering to Natsuki's own use of 'lingeries' at her apartment ahaa.
Anyways just now i was over at the studyroom playing 'The House of the Dead' ... lol Chuz and i were killing this BOSS called the 'Magician' then we're competing who gets the fastest time lol. At first, i got 1 min 07secs then Chuz went on and got i think 58secs then i was pissed, i played and got 55secs lol, Chuz got pissed and got 54secs, i got pissed and then i got 52secs lollll! Then Chuz went berserk and slapped a 50secs on me, then i played for around 15mins and gave up. Another time ba lol, played like 10 over times ... but Chuz played goodness knows how many times cos he stayed there for around 30mins before he beated my 55/52secs LOL.
LOL so funny, we're really quite competitive people ... haha. When Chuz got 54secs, i went in and played for i think 4-5 times before i got 52secs then he was packing his bag for school tomorrow and did a O_O! expression again when i went 'BOOYEAH!' at him LOL. Ahhh, 50secs is quite difficult to beat ... when i'm in the mood ba ... i'm la tired lol.
Anyways back to animes, hm, quite abit of titles this April, Ouran High School Host Club, Strawberry Panic!, School Rumble Ni Gakki, Princess Princess and Gakuen Heaven ... but my lappy no space ... only like 600MB left lol. I haven't even started watching Kashimashi Girl Meets Girl ... i only downloaded Ep1 lol ... and the title was already complete. -.-|| Mai Otome also ended ... but i'm stuck at Ep12!! God. I'm sooooo laggy! But i'm lazy to download and watch then blog while others are like watching the new stuff =X.
Anyways, holler for more ...
[Signing off @ 9:56 PM]
PS: YanZi On Channel 8 at 10.30 PM tonight! MUST WATCH
BUT
must remember to vote for YanZi @ MAA06 at the same time ah!!!