[Posted @ 12:22 AM]
I've been feeling so lost after a sudden 'I've no school/no school projects' reality was thrown in my face. Now i've bucked up ... i'm into blogging animes and mangas again! Don't worry i'll continue posting up the translated scanlations of Tours Mai HiME Doujinshi Volume 4 lol.
Ok, regulars should notice some changes here ... if not ... nvm lol. I'll tell ya, first, i dropped blogging Blood+ and Mai Otome due to lack of interest. Didn't managed to start blogging Kashimashi Girl Meets Girl ... so i'm not going to start since it has already ended, i see no point. I'm reading the manga anyways, doesn't really matter. Ha. I stopped watching Fate/Stay Night and Kagihime Monogatari Eikyuu Alice Rinbukyoku ... also lack of interest ... after watching for a while, i feel no kick except a hint of it from Chikane-sama's voice in Saber in Fate/Stay Night haha.
I'm still taking Gokujou Seitokai, Yay. I'm not going to drop it ... i WANT to finish it. I'll start on it tomorrow ba.
How about the anime titles i'm taking on this April? Scroll down~ Whee!
First up,
Gakuen Heaven
. Nice art. Sexy Guys. Boys Love. Enough said. LoL. -Blogging-
Second up,
Girls High
. I read previews of the Manga before, it's darn funny lol, about the lifes of girls studying in a girls school and the crazy stuff they do. -Not Blogging-
Third up,
Ouran High Host Club
. I got the manga, it's funny, i like Haruhi and Your Highness, Tamaki! LoL. He's just so funny. So, naturally, i'll be interested in the anime too =). -Not Blogging-
Fourth up,
Princess Princess
. Done by one of my fave Mangaka, Mikiyo Tsuda aka Taishi Zaou. I'm reading the manga and find it pretty refreshing and funny hahaha, guys in lolita dresses ... the art looks ain't so bad too for the anime but of course the manga's art is better and cooler and ... sexier =). -Not Blogging-
Fifth up,
School Rumble ni Gakki -Second Season-
. Ahhh, ever since the 2 OVAs, i've been waiting ... no doubt i'm going to watch this and blog it! -Blogging-
Sixth up,
Simoun
. I'm reading the manga ... it's kinda weird ... girls can choose their genders at a certain age ... haha. -Blogging-
LAST BUT NOT LEAST! DRUM ROLL PLEASE. I've been waiting for the anime ever since i read the manga.

Strawberry Panic! Girls School In Full Bloom.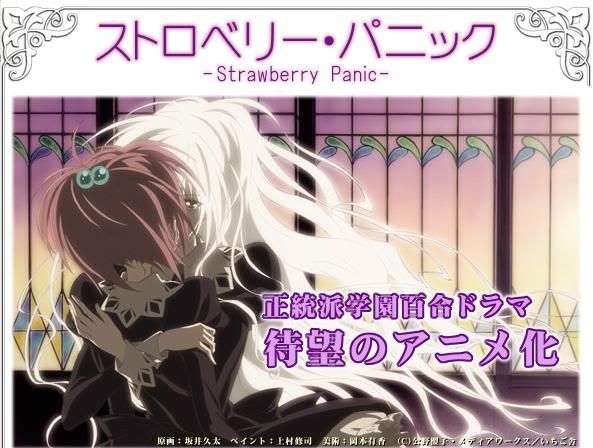 Girls Love. Yuri. Hugs. Kisses. Prince. Angel. Whee.
Art's soooooooo pretty to boot. God. So nice, love it sooo much~~~ The manga's up to Chapter 7 le ... i saw the Novel too ... but dunno how to read la ... haha. Anyways, needless to say, -Blogging-
That's all. I might blog one or two of the non-blogging ones ... depend on my mood yeah. Cya. Night.
[Signing off @ 12:48 AM]