[Posted @ 10:01 PM]
Before you start running out to the nearest comic store at this time, let me tell you that TCZ21 #2 is coming out on 27th April 2006 lol.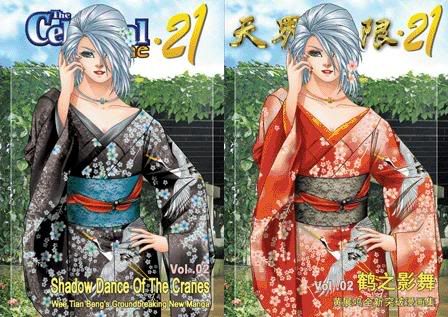 Holy crap, it's just something about Senba Zuru, 千羽鹤, on TCZ21 #2 that is so hot. Is it the red kimono?
[God i prefer the red one lol but the black ain't that bad too] Or is it that she's wearing the kimono that reveals her neck in such tasty way? Or the fact she has a Japanese name? Or is it she had silvery hair? Or is it the pose she had? Or is it the kawaii necklace she's wearing? Or is it that she had painted red nails for Mandarin version / blue nails for English version? Make that all of the freaking above!!! AHH! AHH! AHH! TOO HOT! Ha, i don't always go for red-eyed characters ok lol.

Manz, i'm so gonna buy the Mandarin version ... i really hope that the English and Mandarin versions having different covers would stop ... it's really sucking me dry haha. I've already subscribed to the English version XD.

Anyways, cya tomorrow for probably School Rumble Ni Gakki Ep2 ... i'm halfway through.

[Signing off @ 10:30 PM]

PS: I think i have a neck fetish. Am i weird? I think i've been reading too many vampire mangas. Biting into one's neck is just so alluring and sexy lol.