[Posted @ 6:10 PM]
Aan~ Natsuki no Ikezu~
Disclaimer:
I DO NOT TRANSLATE STUFF FROM JAPANESE TO ENGLISH.
I do however refer to the RAW [Japanese] version sometimes when translating to kind of double check and make it more 'Real' cos i like it lol.
I do not scan doujinshis, so i don't claim credit for it, i got the scans from Tokyo Toshokan, a torrent listing place so, please do not ask me where i purchase or scan the doujinshi.
I do not draw doujinshis, i'm not that artistic =). So i don't claim credit for doujinshi images/pages in this post. I would had clearly stated the author of the doujinshi so go search for him/her/them.
The reason why i had added my blog URL in the pages is cos ... well, i translated the darn thing from Mandarin to English afterall!
Click on the pictures and out pops a window with a bigger, clearer dimension.
Please do not hotlink on forums, just paste my blog url and direct them to the Manga Page section, thanks.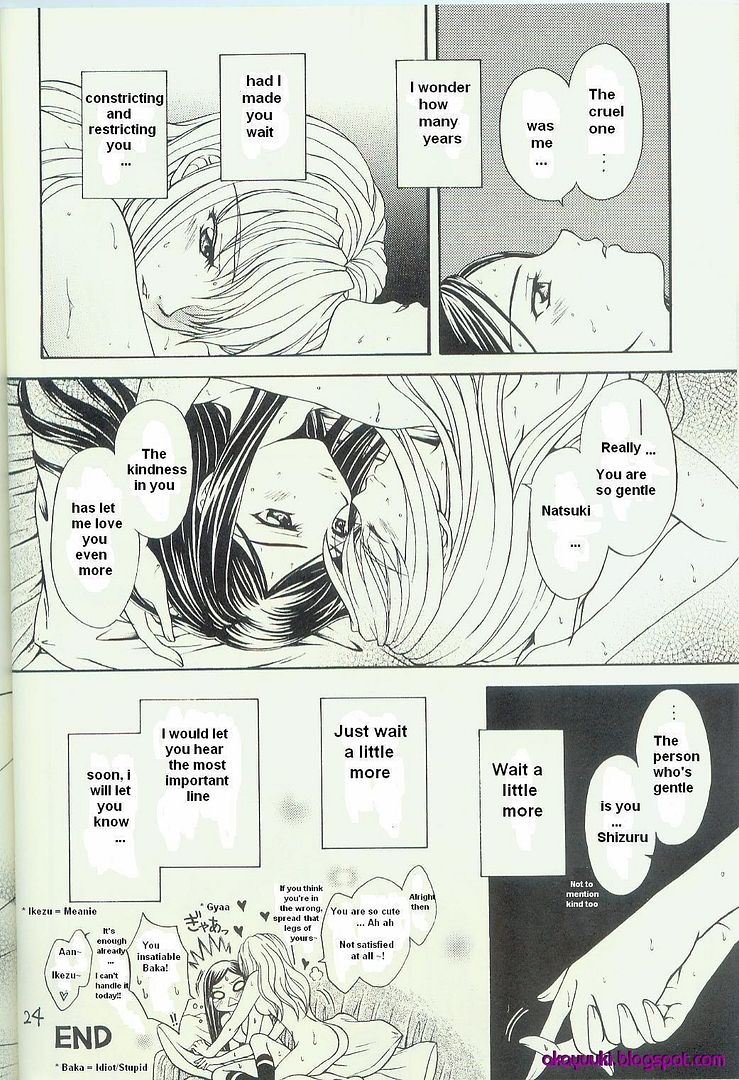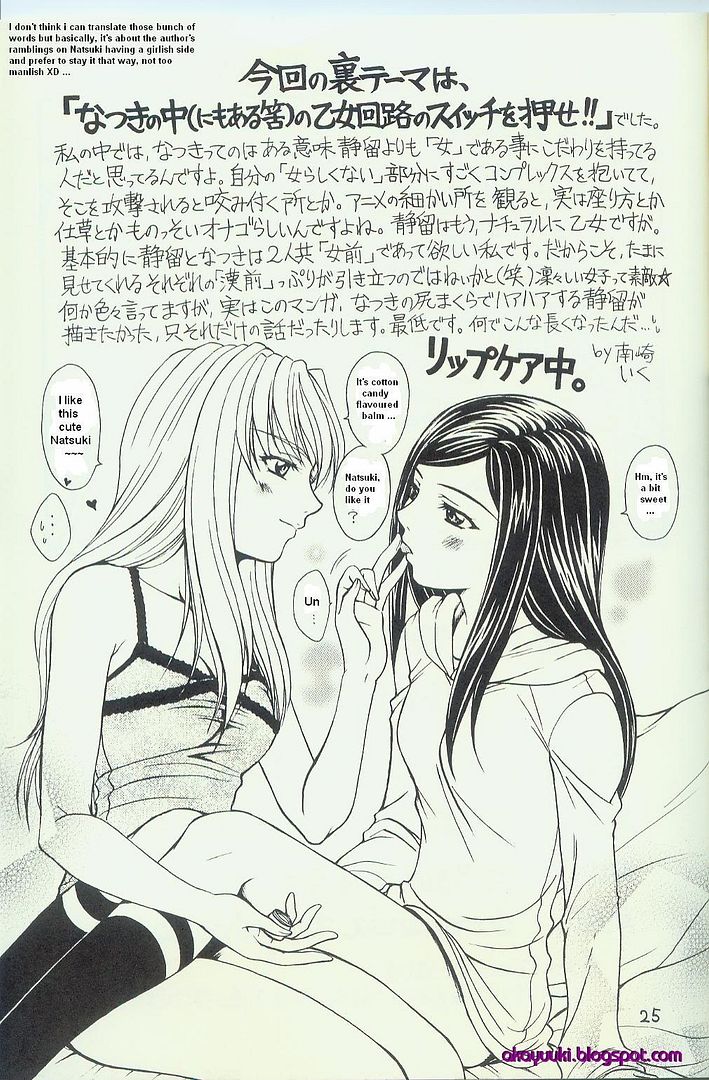 EDIT: I edited a little on Page 23, 'You good woman' lol, too direct a translation ... now it makes more sense now i reckon. =)
Well, it's a wrap. End of Volume 4. Finally, took me more than a month ... I don't think i'm going to do Volume 5 any time soon ... cos i can't find the translated one anywhere and the people in Yamibo doesn't seem keen in translating it cos it's too tough. Yes it's very tough. But if there IS a translated one around, I might take it on. XD.
While googling around for Doropanda Tours Mai Hime V1 and V2 doujinshis, I saw this on Yahoo Japan Auction!~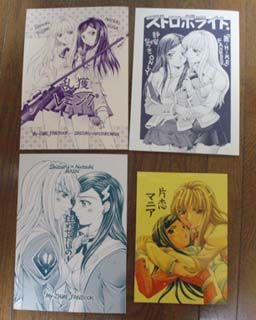 <- I don't own any of them. Not even a page.
EDIT: It's Mai Hime Doujinshi V3, V4, V5 and Mai Otome Doujinshi V2 for the price of 6100 YEN! ... It's like around $100 Singapore dollars ... but $25 per book's worth it and it's really rare. Sigh. New Mai Otome Doujinshi V2 ahhhhh~ looks nice~~~ BUT, i could only stare and drool at it but NEVER own it lol. Unless i made a million bucks or strike 4-D, then i'll hunt down anyone in the world who owns them muahahaha and FORCE them to sell it to me MUAHAHAHA. -.-|||
I still can't find V1 and V2 anywhere, if anyone got em, please send it to me, i wanna see~ Even though it's RAW, it's ok!!! Although i won't be able to understand either. Sigh, looking is enough.
Oh for those who can't view the scans on my blog, I've uploaded the both translated V3 + Two Side Stories and V4 on Megaupload and You Send It [I really prefer YSI although it will expired after 7 days & 25 downloads but it's really stable, good speed and I can always reupload it, just tag me about it]. Check out the Manga Page, Doropanda Mai Hime Doujinshis section for the links. If you wanna host them, it's ok as long you tell me about it [I don't bite] and state the source =).
Cya.
[Signing off @ 7:37 PM]