[Posted @ 7:07 PM]
I think i killed quite lot of people with the tension. Heh.
Disclaimer:
I DO NOT TRANSLATE STUFF FROM JAPANESE TO ENGLISH.
I do however refer to the RAW [Japanese] version sometimes when translating to kind of double check and make it more 'Real' cos i like it lol.
I do not scan doujinshis, so i don't claim credit for it, i got the scans from Tokyo Toshokan, a torrent listing place so, please do not ask me where i purchase or scan the doujinshi.
I do not draw doujinshis, i'm not that artistic =). So i don't claim credit for doujinshi images/pages in this post. I would had clearly stated the author of the doujinshi so go search for him/her/them.
The reason why i had added my blog URL in the pages is cos ... well, i translated the darn thing from Mandarin to English afterall!
Click on the pictures and out pops a window with a bigger, clearer dimension.
Please do not hotlink on forums, just paste my blog url and direct them to the Manga Page section, thanks.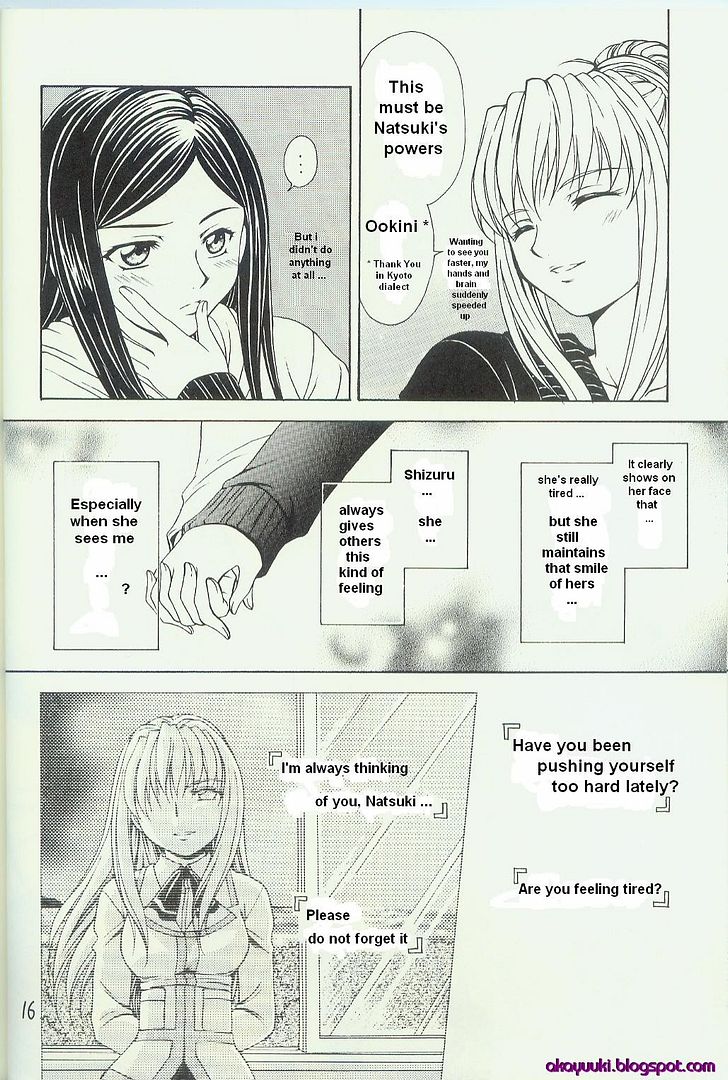 Another great extract from the Mai HiME anime, Ep19. The scene where Shizuru told Natsuki that she will always be thinking of her and Natsuki thanking Shizuru for her concern and asking Shizuru not to come close to her heart. Awww.
Manz, thunder ... I better switch off lappy in case there's blackout ... XD. I'll post Strawberry Panic! Ep5 tomorrow, i'm working on it now. Cya.
[Signing off @ 7:16 PM]
PS: ARGHHHHHHHHHHHHHH! I think i wanna go watch the elections ... hm.