[Posted @ 9:33 PM]
Ah, sorry, was watching the Gokujou Seitokai episodes I missed on youtube this afternoon ... XD. Anyways, I'm dropping Gokujou Seitokai ... it's been dragging freaking too long and I don't seem to have the motivation to blog on it any longer. Besides, I'll probably be going to work soon and I think blogging StoPani is enough for me XD and probably do some manga reviews and stuff, dunno.
Disclaimer:
I DO NOT TRANSLATE STUFF FROM JAPANESE TO ENGLISH.
only Mandarin to English.
I do however refer to the RAW [Japanese] version sometimes when translating to kind of double check and make it more 'Real' cos i like it lol.
I do not scan doujinshis, so i don't claim credit for it, i got the scans from
Yamibo
, so please do not ask me where I purchase or scan the doujinshi cos I don't.
I do not draw doujinshis, i'm not that artistic =). So i don't claim credit for doujinshi images/pages in this post. I would had clearly stated the author of the doujinshi so go search for him/her/them.
The reason why I had added my blog URL in the pages is cos ... well, I translated the darn thing from Mandarin to English afterall!
Lastly, thank the translator of Yamibo for translating to Mandarin, if not, I wouldn't be able to translate it to English =).
Click on the pictures and out pops a window with a bigger, clearer dimension.
Please do not hotlink on forums, just paste my blog url and direct them to the Manga Page section, thanks.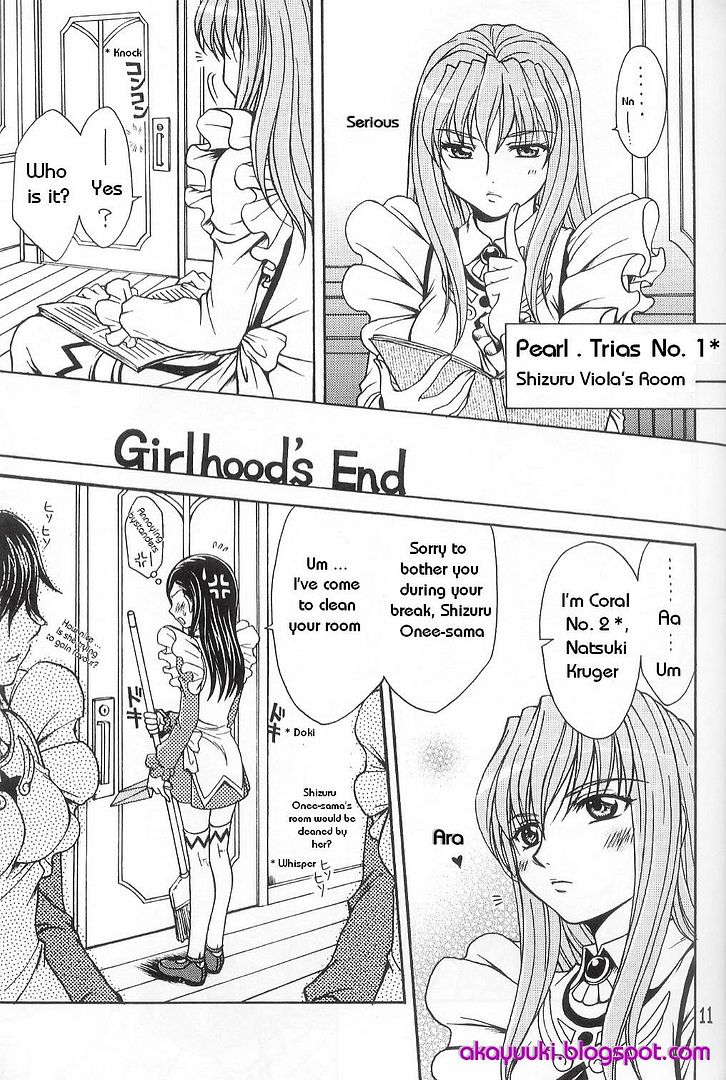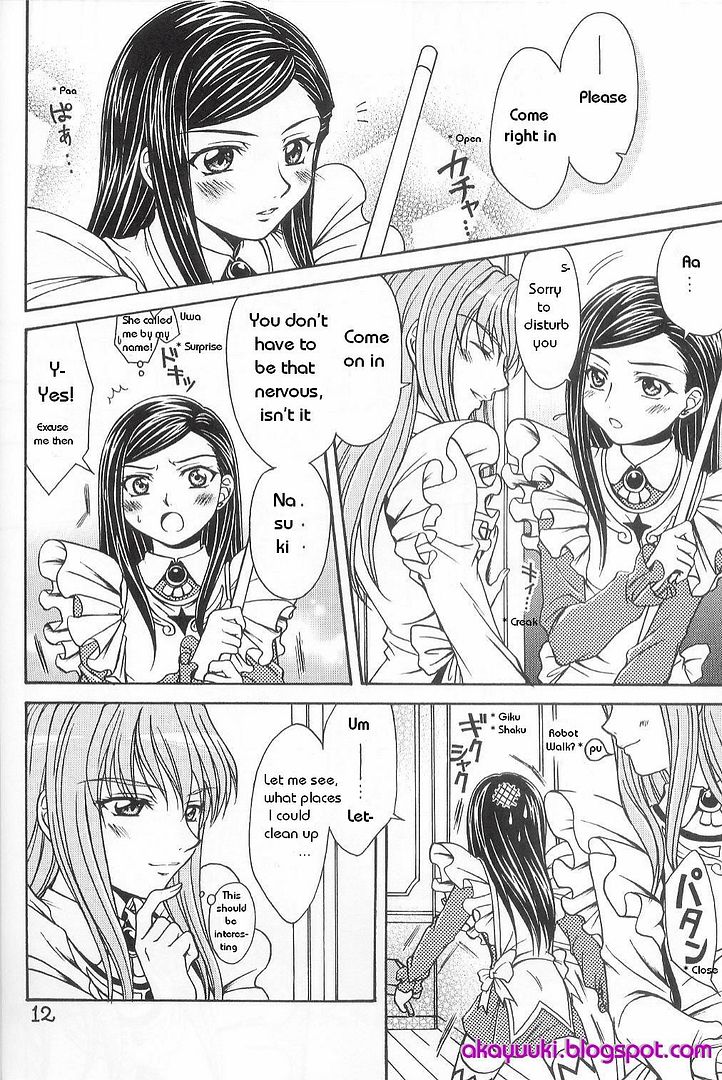 Page 9's sidenotes & probably spoilers;
In
Mai Otome
, when Shizuru Viola was a student in Garderobe Academy, she was Number One of the Three Pearls, the equivalent of Garderobe's Student Council which is also known as 'Trias'. At that moment, Natsuki Kruger who was a year younger, was Coral Number Two. Each student in the Pearl grade were assigned two room attendents from the Coral grade to assist the Onee-samas. It seems that Natsuki used to be Shizuru's 'personal' room attendent back in the old days ... XD.
Page 10's sidenotes;
Uh, I'm not sure how to phrase the 'Robot Walk' thingy, because the translation went like 'Walking with left hand and leg together then walking with right hand and leg together' and it's just way too long. Then suddenly I thought of how robots walked and decided to use 'Robot Walk' instead lol, I even tried it out on myself haha and it really does seem like a robot XD. Hope it sounds ok ...
Alrighty, time to continue watching Gokujou Seitokai episodes ... cya
[Signing off @ 10:01 PM]