[Posted 9:00 PM]
Return of the '葱' [Negi]* !!!
*[Japanese for
Green Onion, Spring Onion or Scallion
, well depends on where you're from but they all pretty much refer to the same thing =).]
Disclaimer:
I DO NOT TRANSLATE STUFF FROM JAPANESE TO ENGLISH.
only Mandarin to English.
I do however refer to the RAW [Japanese] version sometimes when translating to kind of double check and make it more 'Real' cos i like it lol.
I do not scan doujinshis, so i don't claim credit for it, i got the scans from
Yamibo
, so please do not ask me where I purchase or scan the doujinshi cos I don't.
I do not draw doujinshis, i'm not that artistic =). So i don't claim credit for doujinshi images/pages in this post. I would had clearly stated the author of the doujinshi so go search for him/her/them.
The reason why I had added my blog URL in the pages is cos ... well, I translated the darn thing from Mandarin to English afterall!
Lastly, thank the translator of Yamibo for translating to Mandarin, if not, I wouldn't be able to translate it to English =).
Click on the pictures and out pops a window with a bigger, clearer dimension.
Please do not hotlink on forums, just paste my blog url and direct them to the Manga Page section, thanks.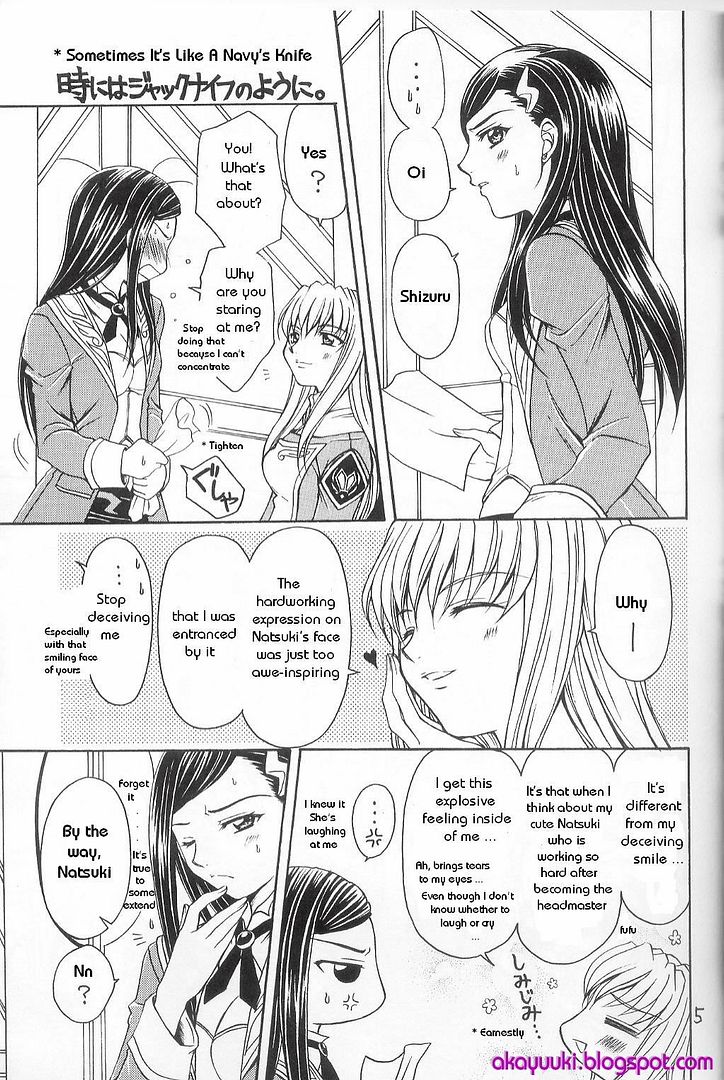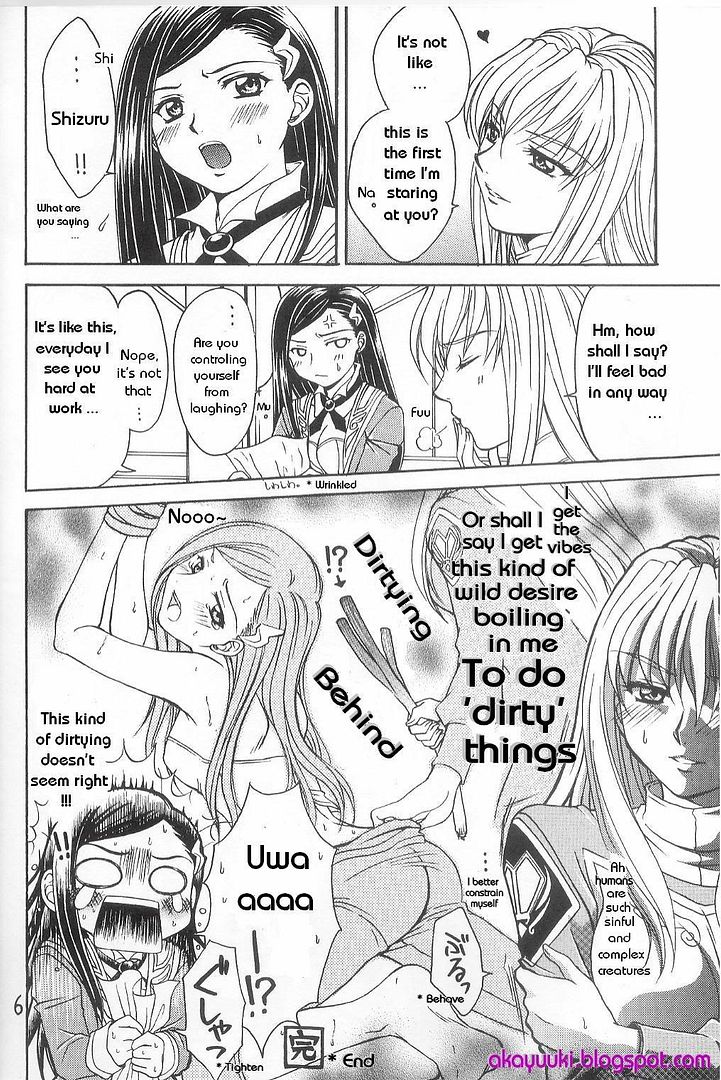 A parody of the Mai HiME Drama CD Volume Two, Track 2 haha.
Alright, I took almost an hour on this, usually I can finish two pages in 30mins -.-||| Is that considered slow? Haha. I spent more effort this time to compare the Mandarin version with the Raw with this cool Japanese Word Processor. Kanji? No problem, I can type the Kanji with the Mandarin Word Processor, copy and paste on the Japanese Word Processor and viola, it gives me the meaning and Hiragana of the Kanji, cool eh? =).
I'm trying to make the translated pages more professional looking and pleasing, instead of just mere erase, type and paste. Page 4's a killer haha, as I tried patching up the background with my lousy skills ... it's very tough but I think it looks ok ba XD.
More [*] sidenotes to come on later pages as it gets a little 'thorny', I'm afterall just a self-learn-Japanese person, can't say everything is the best or very accurate.
I'm still improving on it, hope you guys enjoy it and give me some comments will ya? Even lurkers too, thanks =).
[Signing @ 9:31 PM]