[Posted @ 6:39 PM]
Today, 13th June 2006, 10:00 AM, Ngee Ann Polytechnic kicked off the first Graduation Ceremony 2006 with School of Business & Accountancy [Business Studies] =). Which I find pretty honourable aha, with Minister of State for Health, Mr Heng Chee How coming to witness the opening session.
If you want to watch the other schools' graduation ceremony online, click
here
to go to the offical website.
We have to report at 8:30 AM ... -.-||| woke up at 6 AM to prepare sia, then my dad's in the toilet, so sat in front of my desk and read Ouran High Host Club #7 haha. After dad finished, I went in, by the time I finished, it's around 6:30 AM, so I saw in front of the desk and blow my hair dry ... which was impossible in 15 mins ... aha left the house at 6:45 AM. Strolling to the bus stop leisurely, I saw 171 went past me ... I went 'OMG!' LoL, so I have to wait for the 7 AM bus to arrive ... wah slacked like an idiot for 15 mins.
Felt a little emotional to sit 171, then switch to 184 haha, dunno why ... long time never sit le ... so I took my time. Reached school at probably 8 AM, saw YL there and then the first thing I did was to buy the SOYA BEAN MILK FROM THE DRINK STALL!!! AHHHHH! I MISS IT SOOOOO MUCH! LoL. I really really miss it, I used to drink a cup every morning before tutorial or lecture. EVEN if I'm late, LIKE I give a heck, I MUST have my cup of SOYA BEAN MILK! Haha. A while later, JY came, chatted a while, I was still feeling sleepy. I couldn't sleep the night before ... hahaha, DUNNO WHY!!! So I watched TV till 2 AM ... then finally slept at around 2.30 AM ... so I slept for around 3hours only lor.
Another while later, S came, then another while later, JX, HQ came ... another while while later, LC came ... another while while while lol, ZY and finally XT came =). It feels a little weird to see everyone again hahaha, HQ began her 'Let's TAKE PHOTOS!' frenzy again hahaha, I don't mind la ... =). Hm, then we proceed on to the LT 68, Convention Centre ... saw C and KL walking past. After slacking around there, went to the respective LT halls, [I'm at 68D], then respective seats, [L3] ... saw Maz sitting behind me =). After briefing us about how to proceed to the stage and the crappy stuff, we walk up to the stairs to level 2, then was assigned to our seats in the convention centre. After seated for a while, the ceremony started, we stood up as we welcome the Guest of Honour and VIPs on stage. Then we sung the national anthem, the girl beside me mumbled wah, even got MTV sia LOL. After speeches by the principal and guest of honour and I haven't even WARMED the seat, the first two rows were up and it's time to give away the scrolls already LOL.
I was like holy crap, fumbled around for my stupid, important number card and a few mins later, it's our turn. We walked back down to level 1, scanned our cards lol I was like thinking, manz, this is like in NTUC with the 'DITT' sound haha. It's my turn ... from point 1 ... proceed to point 2 ... wait behind the person in front of me ... then point 3 ... wait for my name to be called ... point 4, collect scroll, turn left, SMILE =), say your thanks and left the stage. Feeling, WOW, I had a 10 seconds of fame just now LOL. After that, went up to level 2, collect transcript, number 170 and went back to my seat ... wait patiently for others to finish. Well, it was fun. Ha. The 'big shots' were at the back, with the people who graduated with merits, bronze/silver/gold cca cert and stuff la. Then the top 4 grads were even showcased with an MTV of them ... cool. After that, I think it pretty much ended everything. Sorry if I missed anything, cos I'm tired. After the ceremony, we went crazy, taking photos and stuff hahaha. I don't wanna go into details ... cos I'm hungry right now~~~
WE'RE HAVING FISH AND CHIPS TONIGHT FOR DINNER! YAY! MUAHAHAHAHAHA. Probably update with a little photo later.
Btw, here's a pic of my cert hidden in a folder I BOUGHT for S$18 haha.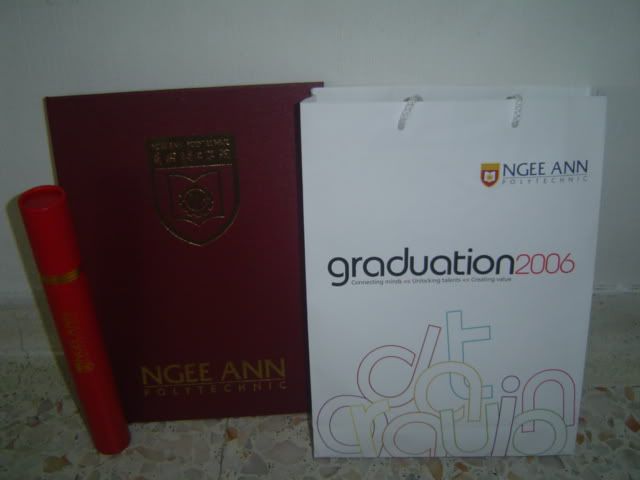 I think I'm going to work, I'm tired of studying ... my dad said he had an assignment for me if i work for him ... that is to take photo of plants and make a brochure of it =) Sounds cool and not boring, I don't like admin stuff ... I get to go around to take nice photos under the sun and play around with the computer, yay.
Edit: Oh, I forgot to mention that after crazy photo taking session, I went to Bukit Panjang Plaza with my parents and bros to have lunch =). Had korea beef set meal muahaha, quite nice la ... a bit on the salty side though. After that went to dad's landscape garden in Choa Chu Kang, slacked there, played with the walkie talkie LOL [Still playing now], then hm I took a short nap, too tired. Hahaha.
And as promised, here's the photo of my serving haha~ A dash of salad, two slices of garlic bread, 1 sausage, 1 CHEESE sausage, two slices of breadcrumbs-fried fillet and a dash of french fries. So darn full ...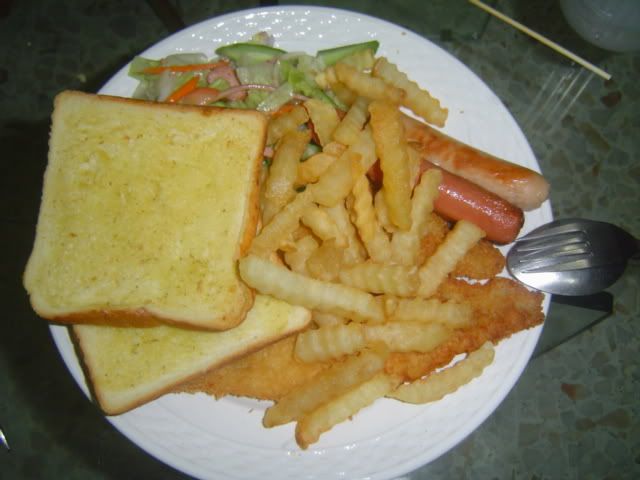 Do you want to eat it?! Makes you drool right?! LoL. TOO BAD! LOL.
Oh yeah, I just downloaded Strawberry Panic! Ep11 juz now~ Ahhh, the preview looks so yummy haha. I noticed the art/animation in Ep11 dropped down a little ... I was scrolling around then I saw Kizuna and Lemon's faces, I was like 'WTF?! WTF HAPPENED TO THEIR FACES?!' God. -.-|||| Anyways, a serving of StoPani Ep11 review on wednesdays as usual =).
[Signing off @ 7:28 PM]