[Posted @ 6:44 PM]
Heh, glad that most of you like the new template =), makes my 6 hours of agonizing over the stupid HTML codes worthwhile lol. Anyways, let's compare the old template with the new template.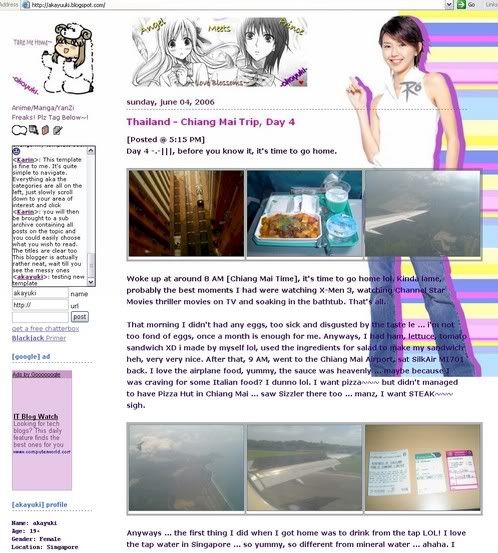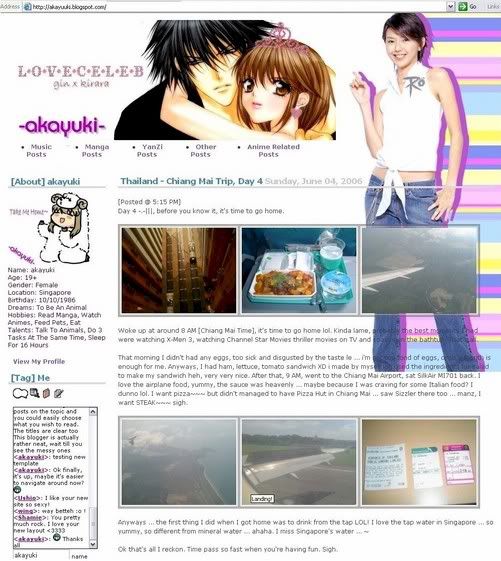 Well? The Stefanie Sun background's still the same, because I like it alot and I wanna integrate Stefanie Sun with Anime/Manga instead of having a purely Anime/Manga theme. The good thing about the new template is that even if you use Firefox to view my blog it looks pretty similar to IE too. The old template was pretty horrible on Firefox ... especially the alignment -.-||| Haha.
I placed some easy one-click links on the top of the page, so that you don't have to scroll all the way down to click those popular links =). Ah, I like the Gin x Kirara image too which I edited myself ... almost died ... lol. I've been waiting for ages to place Gin-sama on my blog lol but I can't seem to find any place to place him ... now I've done it yay!
Besides, I'm very bad at this kind thing, sigh. Using paint and image composer ... no photoshop ... was pure torture. I still like the Amane x Hikari image i did but i couldn't find any place to put them ... so probably i'll use it for forum signatures or something. Overall, I'm pretty satisfied ... simple and beautiful heh.
Anyways, cya tomorrow for Strawberry Panic! Ep10 review, saw the screenshots of Ep10 over at
Random Curiosity
and a Japanese StoPani blog XD. Think I'll be able to get the Mandarin version tonight ... XD hopefully the Mandarin version of Chapter 9 would be out too ... *Cross Fingers*.
[Signing off @ 7:14 PM]