[Posted @ 9:40 PM]
Watching X-Men on Channel 5 just now =)~ Anyways, here's Day 2's photos.
On Day 2, we went to the summit of Doi Suthep. We sat this so called 'cable car' [It's just a freaking lift that moves side ways up] up instead of walking 306 steps to see the large golden pagoda in the center of the Wat Phra That Doi Suthep temple and many other Buddha statues. After that, instead of sitting the 'cable car' lol, we walk down the shaped like a Dragon-headed serpent 306-steps staircase down ... it's even more fun that way. 23 people squeezing + tour guide + lift boy = 25 people in an enclosed space for 1-2 mins was pure hell. After that we sat the Baht Buses [Song Taw] to this Meo hilltribe village living in the mountain to see how they lead the village life and stuff. We got to see how a
poppy plant
looked like too =) which was totally cool. The tour guide told us that the poppy plants were used to be grown for their opium but now it's grown to make
Morphine
to relieve pain. Look below for the photo of the plant.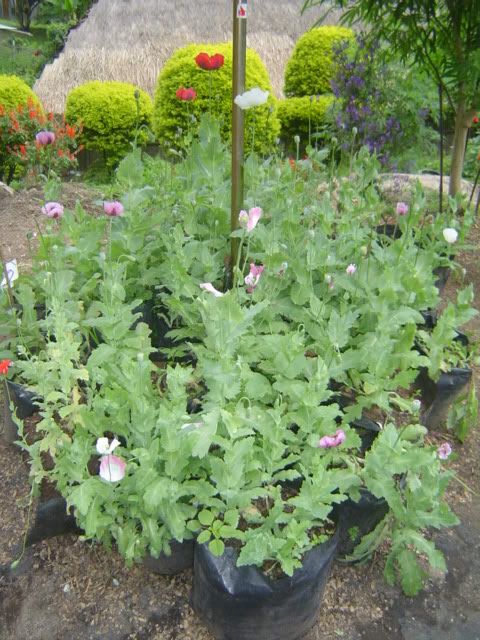 After that, we went to this silk making place where they showed us how silk were made and stuff.
I kinda forgot what else we went, like those jewellery places, honey and others.
The most fun was going to this paper umbrella factory where they made paper umbrellas via hand and they paint what pictures you chose from on the spot. Very nice.
I don't wanna buy cos I felt it was such a waste of money, looking was enough hahaha.
You know, I feel like changing the template/design of my blog ... but I'm lazy ... sigh. XD.
Oh yes, by the way, Strawberry Panic Manga Chapter 9's out =O ... A brief summary from what i can understand from assuming here and there;
- Chikaru's cosplaying fetish goes into full blast lol. No more peace for poor Kizuna, Lemon and Kagome~ fufufu.
- Kagome gets some cute screen time =)
- Nagisa and Tamao in a nice bath scene ... which includes Tamao
licking
kissing Nagisa's back =O.
- Nagisa learnt Shizuma's past ... how will Nagisa take it?
I'll do the review of it when the mandarin version is up k?
Cya.
[Signing off @ 10:41 PM]