[Posted @ 5:10 PM]
Relax and leave everything to me, Natsuki ... fufufu.
Disclaimer:
I DO NOT TRANSLATE STUFF FROM JAPANESE TO ENGLISH.
only Mandarin to English.
I do however refer to the RAW [Japanese] version sometimes when translating to kind of double check and make it more 'Real' cos i like it lol.
I do not scan doujinshis, so i don't claim credit for it, i got the scans from
Yamibo
, so please do not ask me where I purchase or scan the doujinshi cos I don't.
I do not draw doujinshis, i'm not that artistic =). So i don't claim credit for doujinshi images/pages in this post. I would had clearly stated the author of the doujinshi so go search for him/her/them.
The reason why I had added my blog URL in the pages is cos ... well, I translated the darn thing from Mandarin to English afterall!
Lastly, thank the translator of Yamibo for translating to Mandarin, if not, I wouldn't be able to translate it to English =).
Click on the pictures and out pops a window with a bigger, clearer dimension.
Please do not hotlink on forums, just paste my blog url and direct them to the Manga Page section, thanks.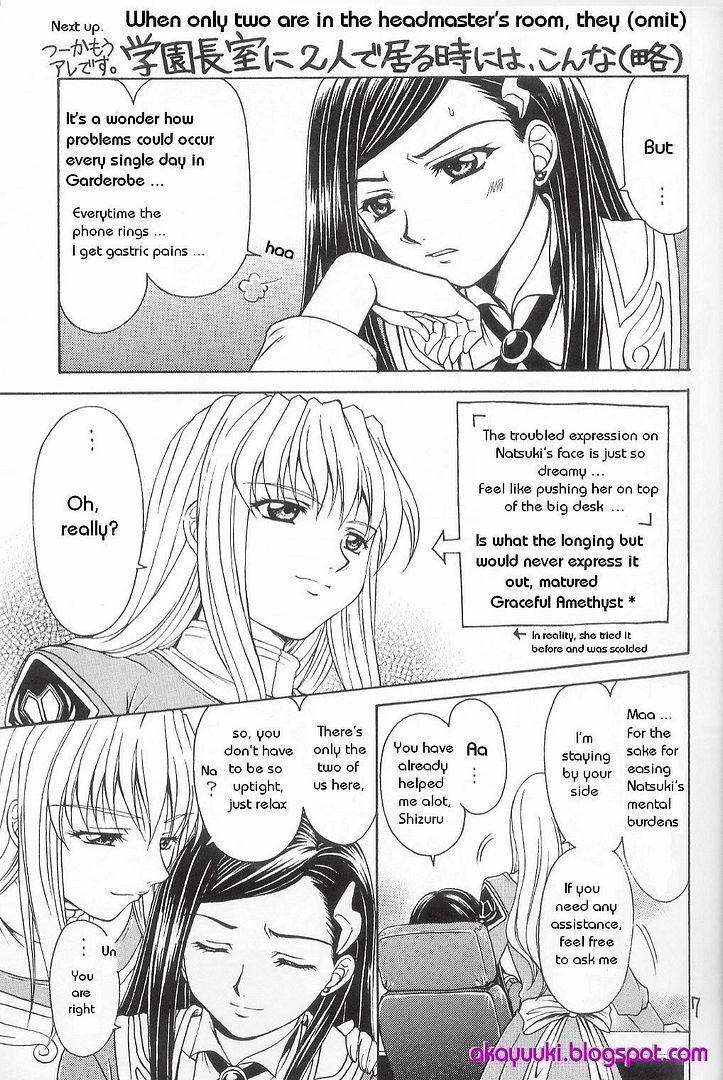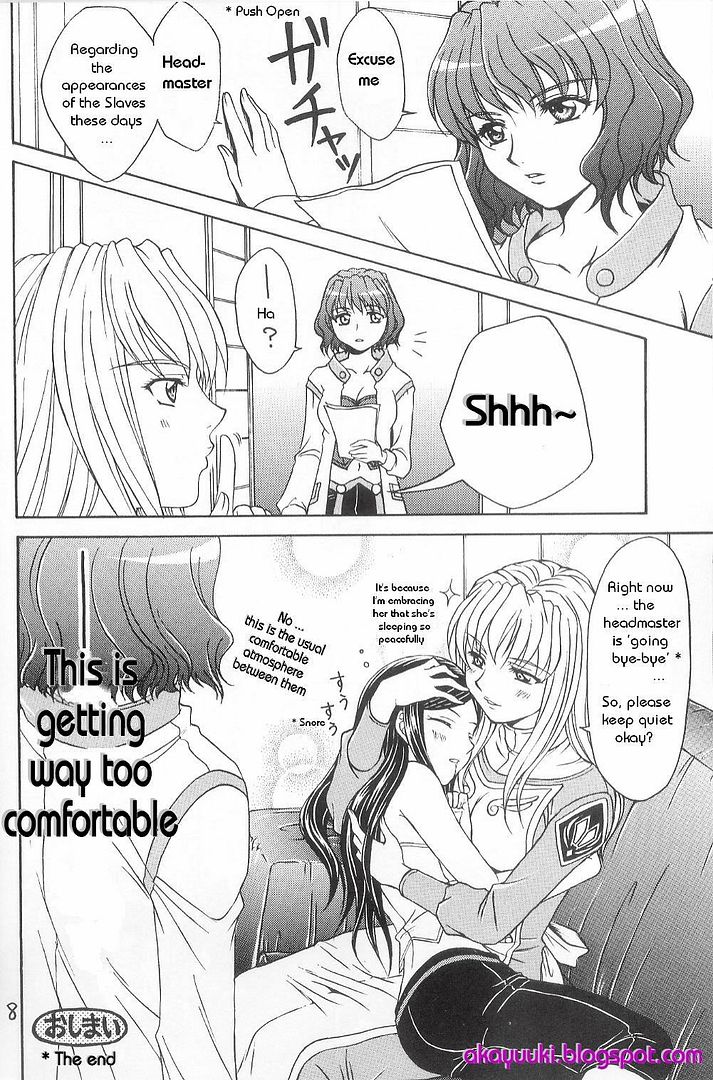 Page 5's side notes;
Shizuru Viola, Number 3 of the Five Columns, known as the Graceful Amethyst in English and 嬌艶の紫水晶 [Kyouen no Murasaki Suishou] in Japanese. '嬌' [Kyou] means attractive while '艶' [En] means charming, voluptuous and '紫水晶'[Murasaki Suishou] means amethyst, which is a kind of gemstone.
However, in
Wikipedia
, Shizuru's known as the Beguiling Amethyst.
'Beguiling' ; Highly attractive and able to arouse hope or desire. When translated to French, it becomes 'Seduisant' which means seductive or alluring. Haha, very very interesting. Probably more appropriate than 'Graceful' in some ways XD. But I'll stick to 'Graceful' for now =).
Edit: Thanks to Somebody from the tagboard, he/she said that in one of many translations in French, Shizuru is called, 'Amethyste pleine de grace' which I reckon means 'Graceful Amethyst' too. Whoa, so cool XD.
Page 6's sidenotes;
In the bubble box where Shizuru said, '... the headmaster is going byebye ...', it's just baby talk for one going to sleep. In the RAW, 'ねんねん' [Nen Nen] was used, so I want to keep the cute way Shizuru's referring Natsuki like a baby asleep instead of using '... the headmaster's asleep ...'. Hope it works out ok.
LoL, I think Youko's getting used to intruding 'this kinda situations' XD. Alrighty, any
praises
uh I mean comments for me?
Heh heh, cya tomorrow for Page 7 and 8 =)
[Signing off @ 5:58 PM]