[Posted @ 9:34 PM]
Before that, I have an announcement to make ...
I won't be blogging because I'm going to Malaysia =) Yay~ Heh.
Away from 19-06-2006 to 20-06-2006
Yeah, two days ... so I'll probably blog on Wednesday or Thursday ba ... not sure, depends on how tired I am. Manz, I WANNA WATCH STOPANI EP12!!!!!!!!~~~ Haha.
Disclaimer:
I DO NOT TRANSLATE STUFF FROM JAPANESE TO ENGLISH.
only Mandarin to English.
I do however refer to the RAW [Japanese] version sometimes when translating to kind of double check and make it more 'Real' cos i like it lol.
I do not scan doujinshis, so i don't claim credit for it, i got the scans from
Yamibo
, so please do not ask me where I purchase or scan the doujinshi cos I don't.
I do not draw doujinshis, i'm not that artistic =). So i don't claim credit for doujinshi images/pages in this post. I would had clearly stated the author of the doujinshi so go search for him/her/them.
The reason why I had added my blog URL in the pages is cos ... well, I translated the darn thing from Mandarin to English afterall!
Lastly, thank the translator of Yamibo for translating to Mandarin, if not, I wouldn't be able to translate it to English =).
Click on the pictures and out pops a window with a bigger, clearer dimension.
Please do not hotlink on forums, just paste my blog url and direct them to the Manga Page section, thanks.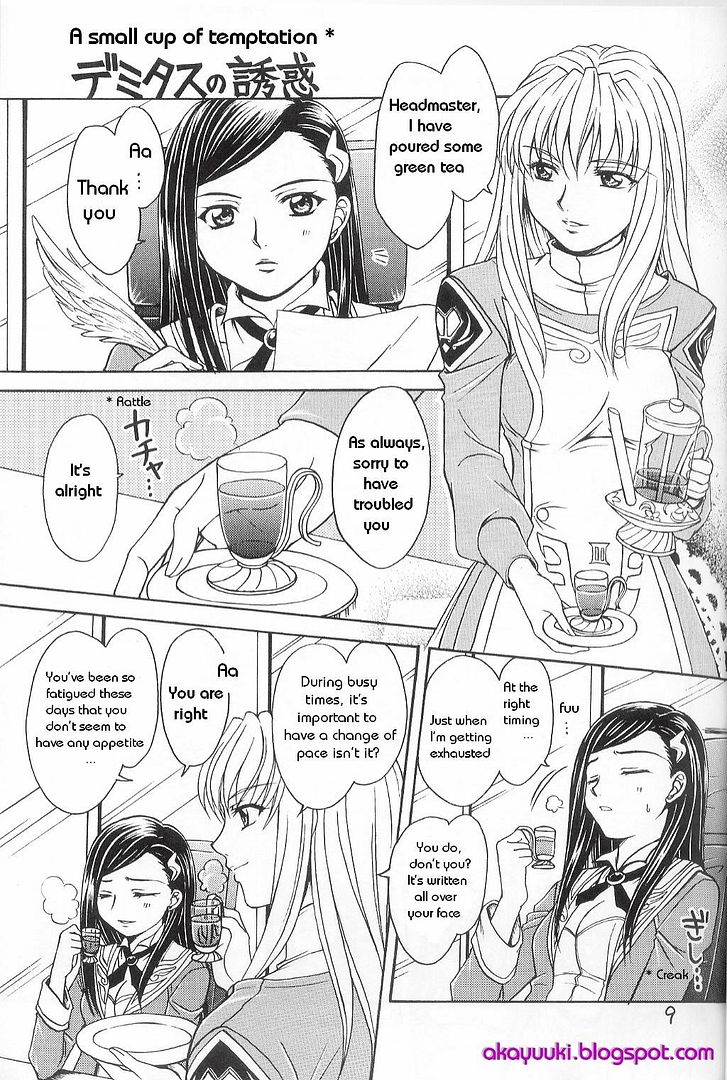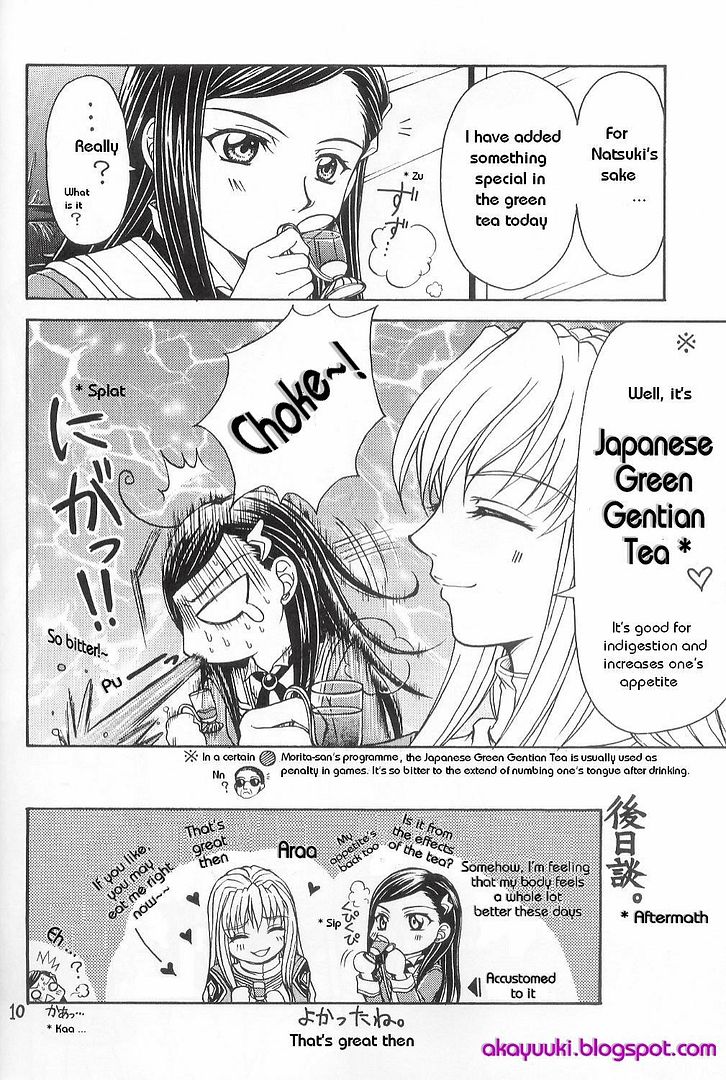 Page 7's sidenotes;
The title, 'A small cup of temptation', in Japanese is 'デミタスの誘惑' [Demitasu no Yuuwaku].
'デミタス' [Demitasu] is actually a French word, actual spelling is 'Demi-tasse'. 'Demi' means half, 'Tasse' means cup so together, you get the meaning, 'Half cup'. However when I typed 'Demitasu' in my Japanese Word Processor, it gives the meaning, 'Small cup'. So I'm pretty confused haha, as far as I know, small in French is 'Petite'. I tried to double check with
Jeffrey's Japanese to English Dictionary Server
, but I still get the same meaning of 'Small cup'. So, I decided to stick with it, hope I'm right about it =).
Page 8's sidenotes;
Japanese Green Gentian
is a plant usually used for
herbal remedies
and tastes very bitter XD. In Japanese, it's called 'せんぶり' [Senburi] and in Kanji, '千振'.
Yep, I guess that's all for the 3 side stories covered in Doropanda Tours Mai Otome Volume 1. Next would be about young Natsuki and Shizuru who were students in Garderobe.
Cya after my trip =).
[Signing off @ 10:25 PM]