[Posted @ 5:30 PM]
I just can't stop smiling lol.
Disclaimer:
I DO NOT TRANSLATE STUFF FROM JAPANESE TO ENGLISH.
only Mandarin to English.
I do however refer to the RAW [Japanese] version sometimes when translating to kind of double check and make it more 'Real' cos i like it lol.
I DO NOT DRAW doujinshis, so I don't claim ANY credits for it, I got the original doujinshi from
Maitake
, so please refer there for the original version, I'm just translating for those non-Japanese readers =). So don't ban me for it =(.
Click on the pictures and out pops a window with a bigger, clearer dimension.
Please do not hotlink on forums, just paste my blog url and direct them to the Manga Page section, thanks.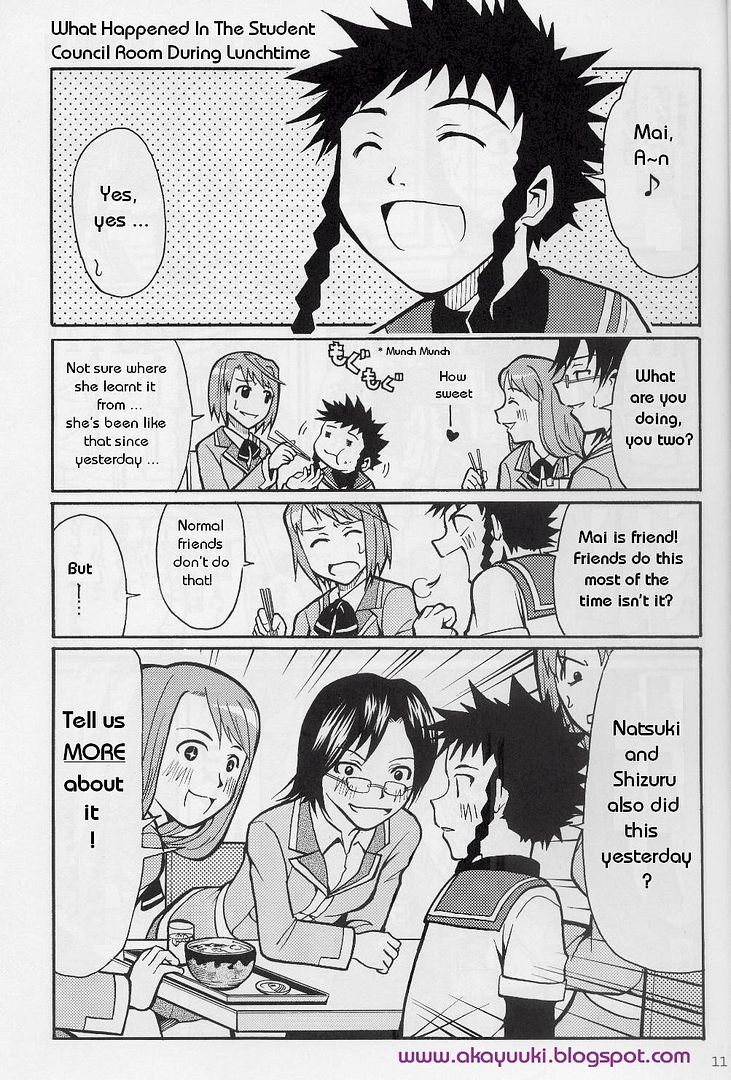 The innocence of Mikoto, the nosiness of Aoi & Chie marked the downfall of Natsuki but pleasure of Shizuru.
Wow, I actually crapped that line out.
Random happiness XD XD XD XD XD.
Let's welcome a new member to my rubbish desk family, AAD-chan aka Acer Aspire Desktop-chan, [Ok I'm unoriginal, what do you expect from somone who named her laptop, lappy? So shoot me]. Anyways, AAD-chan was bought on 1st December 2006, Friday, around 7.30 PM at Sitex Show 2006 at Singapore Expo Hall 4, booth 4E10 for S$1799 + S$99 [Extended 3 years warranty] + S$19 [Taxi fare cos I can't pull the AAD-chan home on MRT].
I was weeping as I slowly counted and licked the S$50 notes and unwillingly gave it to the salesperson.
But.
I'm weeping for another reason now cos ... I love the 19" LCD screen, oh my god. It's just so fucking [pardon my french] AWESOME!!!!! AAD-chan daisuki dayoooooooo~~~~~~~~~~~!!!
Make that aishiteru!!! AISHITERU AAD-CHAN!!!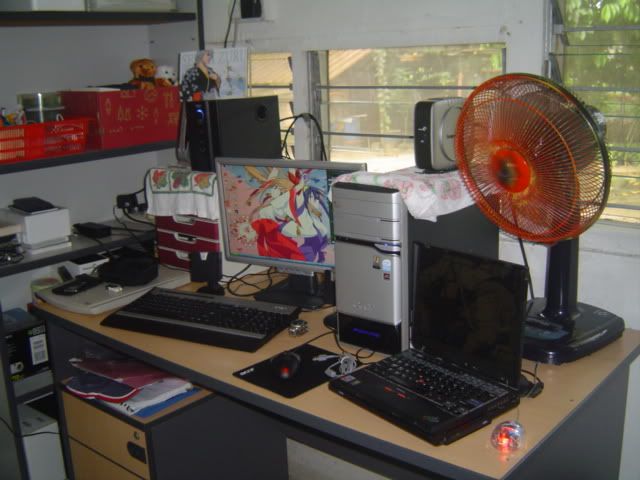 Don't worry Lappy-chan, aishiteru too!
If you're interested in AAD-chan, check out AAD-chan's twins by clicking
here
. If you purchase it on the Sitex Show 2006, they will give you a free USB fan and a 1GB thumbdrive.
Anyways, I spent around 2 hours setting AAD-chan up, 1 hour was wasted cos I can't get the LCD screen to load, kept display 'No signal' till I was pissed and went to watch TV lol. Anyways, then I realized I need to attach another stupid watever thing to the VGA thingy before lol attaching it to the CPU.
Okay, after that I
dissected
uh opened AAD-chan's CPU to insert the e-SATA chip to the motherboard to get my HD1-chan [500GB Hard Drive] going. After that, I went on a viewing anime/yanzi clips spree as I clicked every file there lol. Followed by transferring anime series I burnt on CDs to HD1-chan and HD2-chan's [100GB Hard Drive] files to HD1-chan. Took me two days lol ...
So I'm back here again, hopefully to bring you guys more stuff as I slowly get use to AAD-chan =). Cya.
[Signing @ 6:00 PM]