[Posted @ 8:16 PM]
Yes, you saw right, there's an orchid in the world called Dendrobium Stefanie Sun~!

Dendrobium Memoria Princess Diana x Dendrobium phalaenopsis. This is a vigorous hybrid. It bears semi-arching flowering sprays that are 50 to 60 cm long with 15 to 20 flowers each. The prominent flowers are about 7 cm in diameter. They are pure white. In bright sunshine, they have an attractive crystalline lustre.
This orchid is named on Saturday, 16 December 2006 after Ms Stefanie Sun, Singapore Singer/Song Writer, on the occasion of her visit to the inaugural Singapore Garden Festival 16-25 December 2006.
Date of pollination: 26 June 2002
Date of first flowering: 11 March 2006
Cool eh? Here's a snippet from this morning's Lian He Zao Bao newspaper, scan taken from yanziunlimited.com.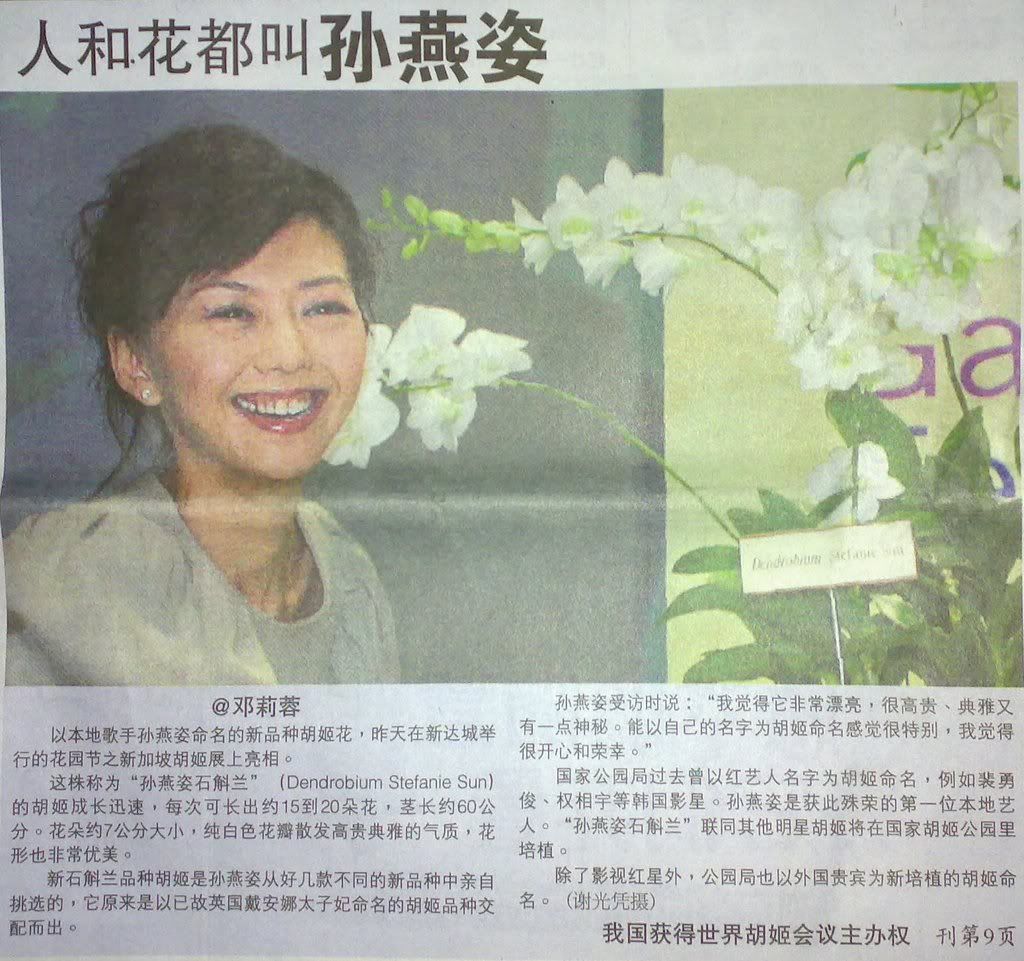 Anyways, on to YanZi's New Moon Premium Fragrant Rice Advertisement.
The background music in the advertisement's 'Yu Jian', which was found in her 7th album, The Moment Zhe Yi Ke. It was also the theme song for a movie called, 'Xiang Zuo Zou Xiang You Zou', staring Kaneshiro Takeshi and Gigi Leung.
Btw, the endorsement fee was a cool 1.1 million lol. '吃饭了吗?' [Chi Fan Le Ma?] 'Have you eaten?' was the tagline for the advertisment.
So, 吃饭了吗?
[Signing off @ 8:35 PM]