[Posted @ 10:38 PM]
Juz came home not long ago, i was busy trying to put up a format for IB report. Doing up an annual report kinda format, i got too many ideas lol shessh. [Throws ideas away, content more important] Anyways here's some pictures i took for the xmas buffet i had juz now at dad's landscape at Choa Chu Kang =).
Ok, we had this 'Indian-style' kinda buffet, lol cos for my dad's indian workers mah, so all cooked in indian style. Not bad la, juz tat the taste is pretty darn strong, alot of spices and stuff but nice. And look pretty darn colourful huh, i like the presentation alot lol.
Second Round lol, my second plate of food ... almost can't finished it, i was darn hungry cos i skipped lunch XP. Had A&W [Amburger & Wootbeer LOL!] too .. ahh~~ lol so shiok sia then watch my bro play Wolfenstein - Return To The Castle ... lol almost puked wat i ate cos it's darn graphic ... zombies and stuff lol. Ha.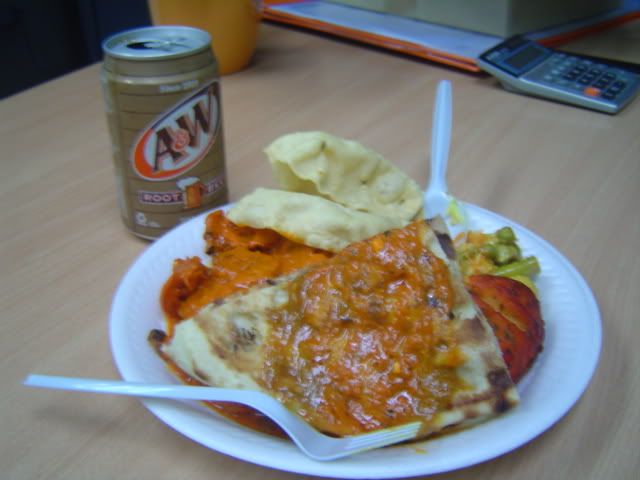 Yeah we played with the kittens there too~ so cute hahaha, got white, brown&white, black&white and brown&white&black cats lol. Hmmm then yeah i had a fall before i left. Sigh i scraped my knee ... and a little cut below my knee but i'm ok, cos i used my left palm to support myself lol.
HMMM, then i smsed 30 over people while there lol, wishing everyone merry christmas. Hmmm, then yeah nothing much le. Ok, gotta go chiong for IB report le. Think i'm going to do it into the night le, wat a great xmas night ... sweating blood for IB report. Damn i hate IB, so many crap to do ... sianz.
AHHHHHHHHHHHHH, i juz downloaded Mai Otome OST 1!!! KYAYYYAHAHHHH, first track i listened was 'MATERIALISE' WHOA, i was like 'haaaaaa, heeeii, ye, loooo, yaaaaaa, oooooo, laaaaaaa, heiiiii, la, heiiiiiiiieee' for the last 20mins LOL!!! [I keep repeating] ... god so damn creepy good. I love it, then i imagine Shizuru-sama going 'MATERIALISE' WHOA, so cool ... [Shieks like fangirl~ lol] So cya, i'm going to 'la heeeeiii' into the night, instead of going 'ho ho ho' LOL.
[Signing off @ 10:52 PM]
PS: I love Kajiura Yuki~ MATERIALISE, MATERIALISE, MATERIALISE, MATERIALISE, MATERIALISE~