[Posted 12:21 AM]
LoL longgg subject title and post this uh morning? LoL. I was doing my stupid SMM E-Learning tutorials ... then i did Qn1,2,3 when i was supposed to do only 2 lol. I did Qn2 le but got like 4 persons did that Qn le, so when i posted it, i saw wah the first 4 timing faster than me. So i no choice i jumped to do Qn3 ... sigh. So bad luck sia. After that i commented on Qn1 lol. Stupid me.
Ok first i'll talk abt the LAM Local Attraction trip. Ok we've been cheated!!! LOL! Lamer lor, i still feel so heartache sia, pay S$28 for this trip still need to wait around 10-15mins for the tour guide to arrive. Yeah so wat traffic jam, can't you come ealier? How could you let ur customers wait?! Ok wait nvm, wah ... the lunch provided is not ... really nice lol. Well i like the tomato slices of fish only. The fried rice sucks, and sucks more when you add the cubes of carrots, corns and peas. Yucks, i was like picking them out half the time lol. Then trip started at 10.30 AM then ended at 2.30 PM, 4 hrs for S$28?! WAT! WAT! LoL. Damn. Well let's see some pictures.
Poor parrot on the work lol. So cute le, hopping in and out of its cage ... wonder if it will fly away?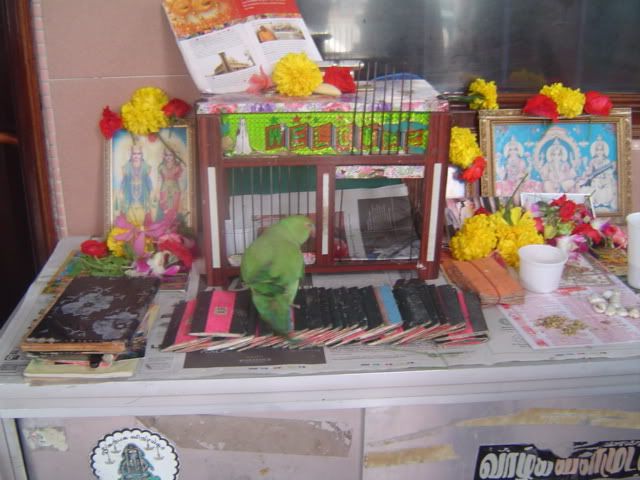 Oh this Indian temple is called Sri Veeramakaliamman Temple. LoL. I took picture of the name ok lol.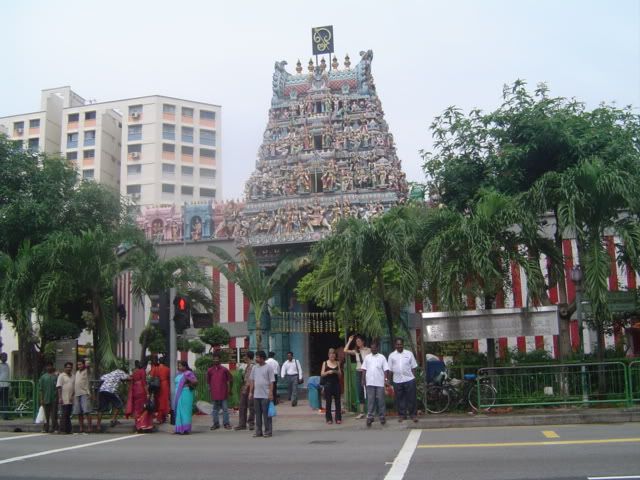 Ah, didn't managed to take pic of this name ... but it's a Malay Mosque.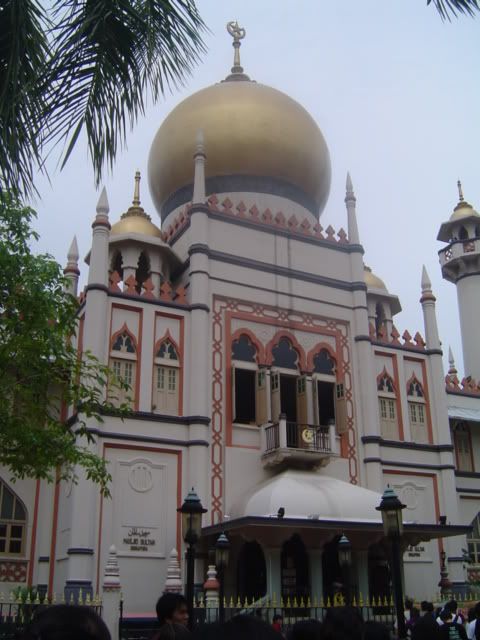 A Malay heritage place ... didn't managed to get the name also. Too lazy.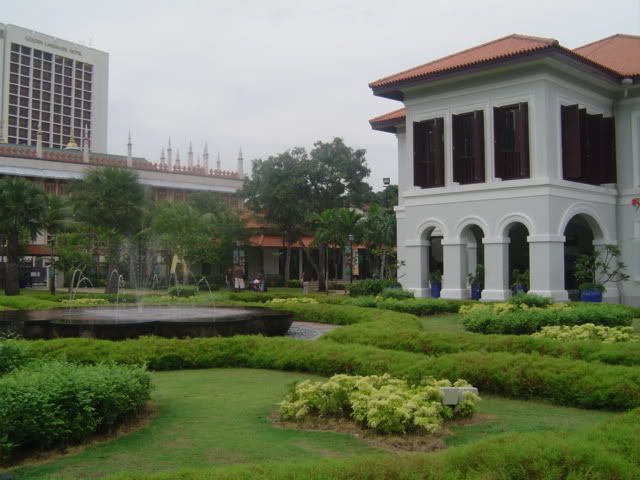 I also didn't take the name down lol ... getting slacky.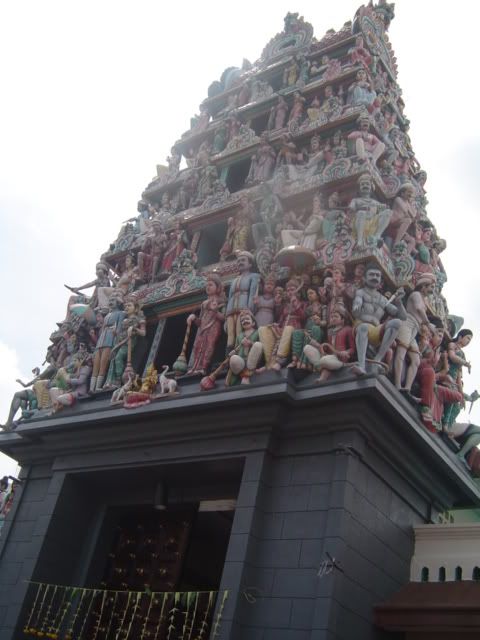 China Town! LoL. I striked a pose when i took this picture lol.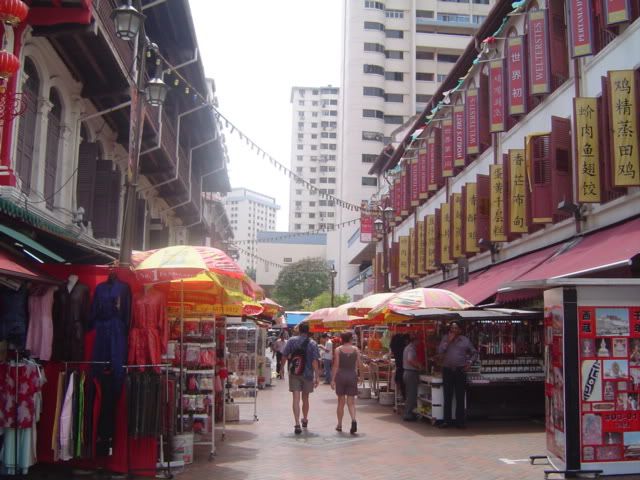 Ok that's all lol, no more pictures le, these are the best of wat i took, the rest are ... juz anyhow snap shots lol.
Let's go to KTV trip! Yay. After the trup, we went to the nearby Party KTV to sing yay. Paid S$10 for 2.30 PM - 7.00 PM sia more worth it than ahem ahem le lol. 7 of us [S, XT, HQ, JX, SH, QW & Me] went and i as usual sang YanZi's songs la hahaha.
Cold Honey Drink + Snacks~ ha.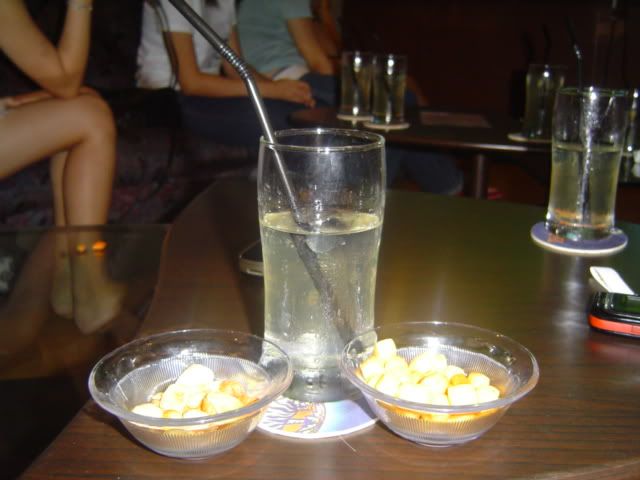 Ha, time to sing~ Place ur songs!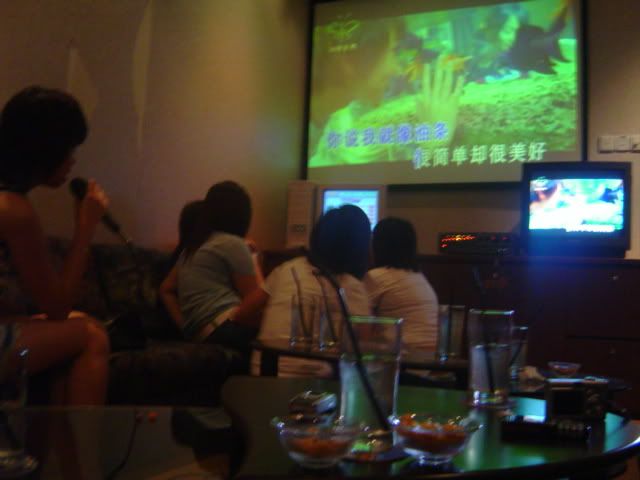 Wah you see, we paid S$10, still got sharks' fin soup to drink siaaaaaaaaaaaaaa!!! LOL.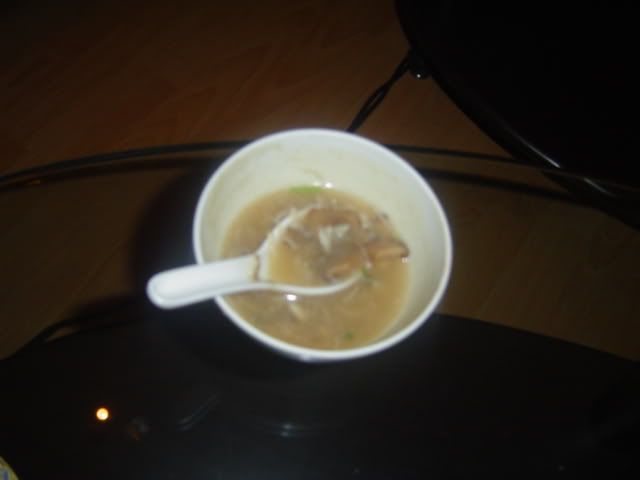 Yep that's all folks. After that we went home. And boy, i was beat hahaha.
Then today went to MIS with XT for SMM project ... lol so funny, we got down at the Hotel Rendezvous then i thought the MIS is behind the hotel and walked down ... then we got lost when a while. After i saw the stupid route of a nearby bus stop, i saw the wat NTUC Income thingy place behind then we walked back to the bus stop where we alighted LOL! We walked a round sia lol, we should had walked up when we alighted ... sorry la i didn't see and i dunno lol.
Then after that went to Raffles City to meet ZY and QW ... i watched the Teen Titans show ... man sucks, juz singing, dancing then end with a photographing session. I mean WHAT! THAT'S ALL?! LOL. Then blah blah 'pretended' to shop there ... G2000. Anyways nothing much to say la, i was bored. Never liked shopping.
After that we went to Ngee Ann City, then went to Puma and another shop name which i forgot. It was a gift shop lol. After finishing shopping, i went to Kinokuniya with ZY while the XY and QW went to Guess. LoL. Drooling at the mangas there ... ahhhh can touch, see ... but can't readdddddddddddd and buuuyyyy~ ... so sad.
Sat bus home, then had a late lunch at 4.45 PM lol, had BK~ Chicken Sandwich! Whee so nice. Hmm oh my nose was so sensitive this afternoon, when i sat 171 home, a bunch of army guys board the bus ... man i almost puked when i smell their smells lol. Really. I dun mean to insult but it's true and i dun blame them. Plus i'm having PMS, manz i was really pissed and giddy. But i managed to get home and watch SpongBob SquarePants! YaY. LoL.
Yeah i guess that's all le ba, oh did SMM E-learning tutorials and IB Quiz. ... got 30/40 only LoL. Soooo sad. But i tried my best i guess it's ok la, since i didn't even look at my notes LOLLLLLLL! MUAHAHAHAHA. I'm proud. Ok going to do Data Entry ... juz 14 nia. Or ... watch POT? I think i watch POT ba lol lappy no space le ahhhhhh~ CYA
[Signing off @ 12:56 AM]
PS: Ehhhh...