[Posted 9:49 PM]
Well, i did say i'm not going to blog animes/mangas stuff right. But i didn't say i'm going to blog other stuff right? LoL, so here's pics of the Sardine/Tuna Puffs i had juz now yay!
Well sorry i named the pic names currypuffs ... i juz realized they are not curry puffs lol ... anyways yeah from the names u shld know what they're stuffed with right. Duh. Sardine. Tuna.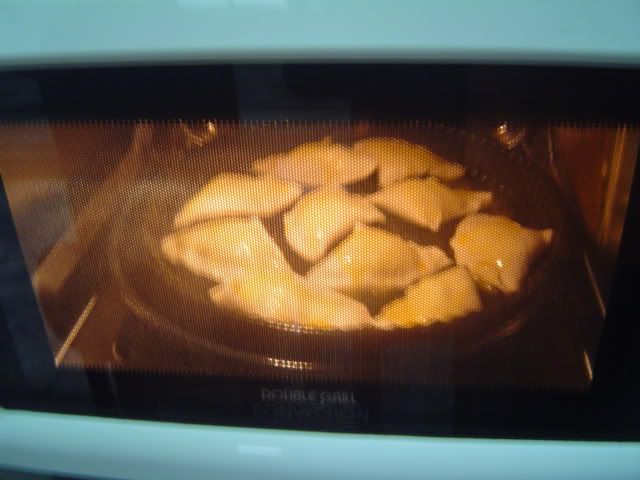 Out it comes, crispy ... brown ... and yummmy~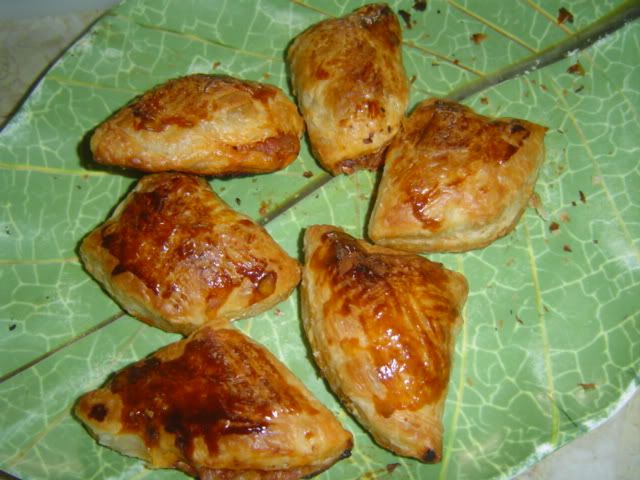 Filled with sardines + tomatoes .... i love cooked tomatoes ... so soft, yummy and full of tomato juice ... that sweet and chewy feeling simply warms my heart. YUM. But fresh tomatoes are nice too ... but if it's cooked and soft, it's even better~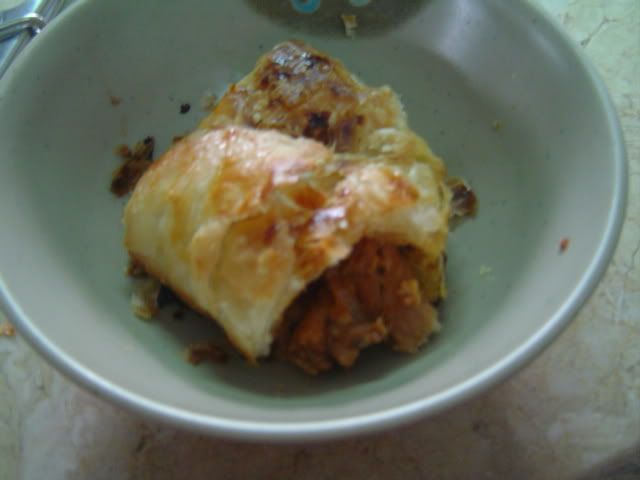 Sooo yummy~ I've been posting food related stuff lately. Well sorry for having GREAT YUMMY FOOD around in my house. Thank you very much. LoL.
This sat, we're going to party in my cousin's house, cos it's his birthday and the last day of 2005. HA. So look out for MORE GREAT YUMMY FOOD pics! LOL. I juz love rubbing it in huh? Well, sorry for living in Singapore, where all kinds of GREAT YUMMY FOOD are everywhere muahahaha. [Ohhh i'm so sarcastic tonight! LoL and i'm loving every single moment of it.]
Oh, i wanna show everyone my Shizuru-sama wallpaper too~ I mentioned it 3 days ago. But i was too pissed to screenshoot and post it up. So i'm feeling pretty relaxed now i submited IB report ... yeah still got SMM report to edit and go through. Sigh.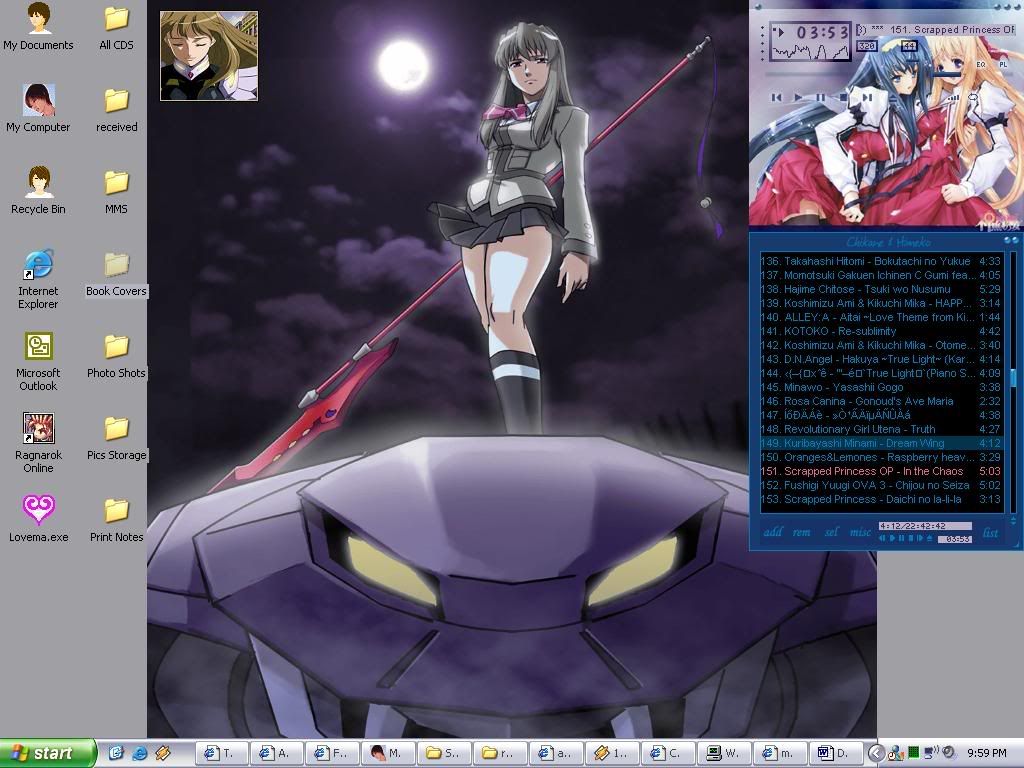 Isn't
Shizuru-sama
simply heavenly? Ahhh. Haha. If she's a real person, i would want to be her friend.
And be a member of her fanclub MUAHAHAHAHAHAHA. Yes, I'm the kaichou of the Shizuru-sama ROCKS MY WORLD Fanclub!
Well. Ok going back, eh i got SMM report to edit. IB tutorial to do ... about Starbucks. C spoilt my mood by smsing me about it. LOL. But it's all thanks to C that i survived the 'Sunday Blues' 3 days ago. He saved my neck by sending me what he did for the IB report and told me it was done, except for executive summary. I was totally stunned. Ha. But i'm really grateful to him. Who knows what i will do on that sunday ...[Shivers] probably jump outta my home.
Wait a darn min.
I'm not living in a HDB flat. LoL even if i jump and roll down the road, i won't even get a little bruise ba hahaha. God, i told u i'm a rural girl. Ha. Hardly any outsiders come my home, except customers of course. But they dun go up. Bleh. That explains why S didn't know i live up there ha. [Sounds like heaven to me XD]
I tried typing summary for Mai Otome Ep6 juz now, but failed. Cos i was too busy repeating the part where Irina slides her finger down Nina's back and Nina made this damn erotic ahhh sound.
Slience.
HAHAHAHAHHAHAHAHAHHAHAHA.
Damn funny. I tell ya. I'm reading fanfics right now. I read 5 books outta the 6 i bought last week. AND YES AMERICA'S NEXT TOP MODEL IS SHOWING AT 10.30 PM LATER! YAY! I dunno why i start enjoying watching it. Bleh. I mean the dresses are nice ... ladies are nice ... places are nice ... dresses are nice ... nice eyes ... yeah. Case close.
Manz, i cried when i read Chrno Crusade juz now ... god. #6 ... is so ... heart ... wrenching. WHY WHY WHYYYYYYYYYYYYYYYYYY! The way Chrno shielded Magdalene from Aion is like so ... desperate looking. I could feel it ... and the hand of Aion piercing through Chrno's chest to Magdalene's ... and blood spurted out of their mouths. GOD. And the subtle but pure innocent love between Chrno and Magdalene ... is so sweet. Ah. Sigh.
I haven't open my Fruits Basket #14 yet. I couldn't bare. I read a sad story and i couldn't take it if #14's a sad one lol. But manz, Fruits Basket's plot fascinated me the most. Makes me think alot. And god, i couldn't help but feel so ... enlightened when Tohru described everyone as rice balls and the sour plums are pasted on their backs that's why they couldn't see their good points and think they're useless. But other people could see each other's sour plums. God. I can't help but feel it's so true. Such a simple and easy description. But it sends such a deep and rumbling feeling in my heart.
Speaking of mangas, 5 books are out by ChuangYi English Department. HA! Fushigi Yuugi - Genbu Kaiden #4 [YYYYAAAYYY! RIMUDO! TAKIKO!!!], X #14 [Another sad story], The Mythical Detective Loki #7 [END, so fast?! Nooo!], Ouran High School Club #3 [Ha~~ I like =)] and Mar #1 [New title, heard it's nice so i'm buying it.]
Oh i wanna tok abt Vampire Knights #1 i bought i think 2 weeks ago? Ha, so damn cool ha. I like Kaname alot. Love at first sight. Saw. Spotted. Loved. Ha. Juz like atashi no Shizuru-sama~ Ha. And Chikane-chan~ And Shizuru-sama [From Godannar] and .. ah it's almost 10.30 PM soon ... so cya. I'll try to blog Mai Otome Ep6 tomorrow.
But i gotta do SMM report editing ... and start on LAM report soon. Damn. And study LAM test. Damn. HELL WITH THEM! LoL.
[Signing off @ 10:25 PM]
PS: ... something crapped up with the wallpaper thingy ... manz then ANTM was on tv so i flew to watch ... now i'm back i could only use two words to describe what i saw on tv juz now on ANTM. 'Holy Shit' GOD FREAKIN! That house is like SO BIG, so nice so great so oh my god. I can't help but exclaim holy shit for the last 10mins and so lol. SO GREAT~