[Posted @ 6:00 PM]
Yes, here's the full review of Strawberry Panic! Chapter 12~~ there were some errors in my brief summary earlier because I merely guessed the meanings with the little Kanjis I could read in the RAW ... hope this clears everything up.
Disclaimer:
I do not scan, so i don't claim credit for it, i got the scans from
Yamibo
, so please do not ask me where i got my scans again. PLEASE.
If you want to download the translated chapters of Strawberry Panic! Manga, go to
Dynasty Scans
.
Click on the scans and a new window will open and bring you to the larger and clearer version.
Please do not hotlink on forums, just paste my blog url and direct them to the Strawberry Panic! Page section, thanks.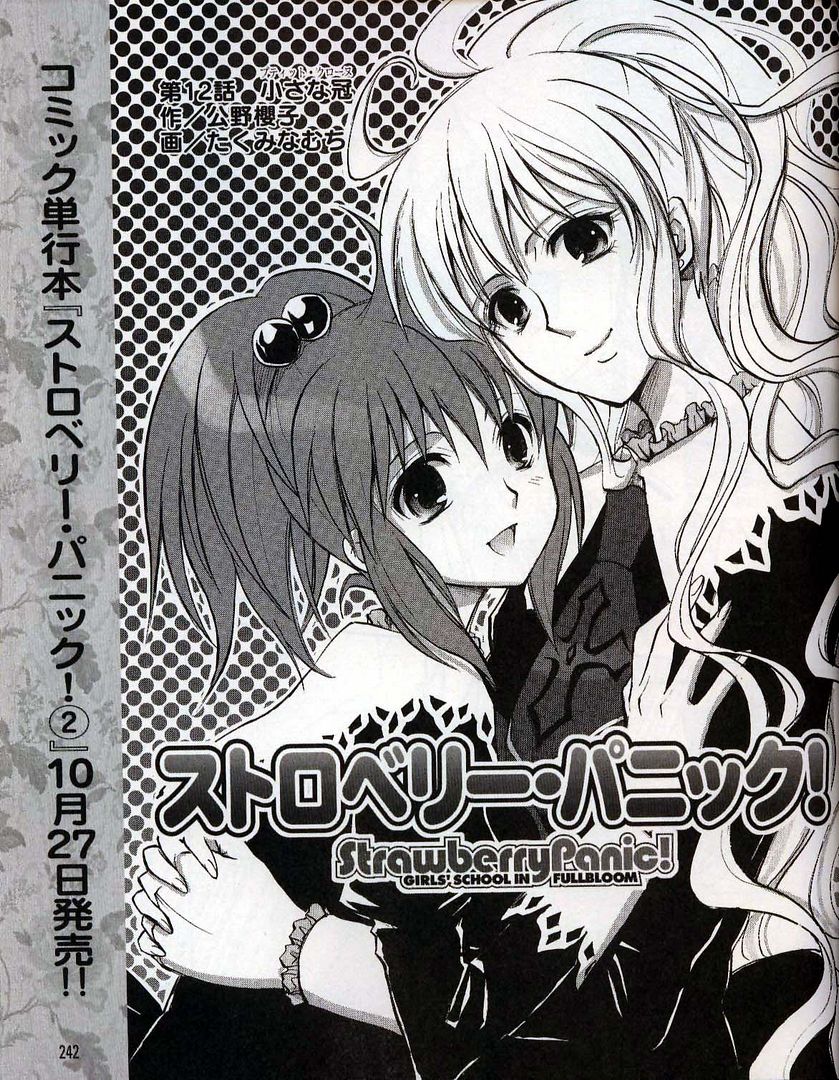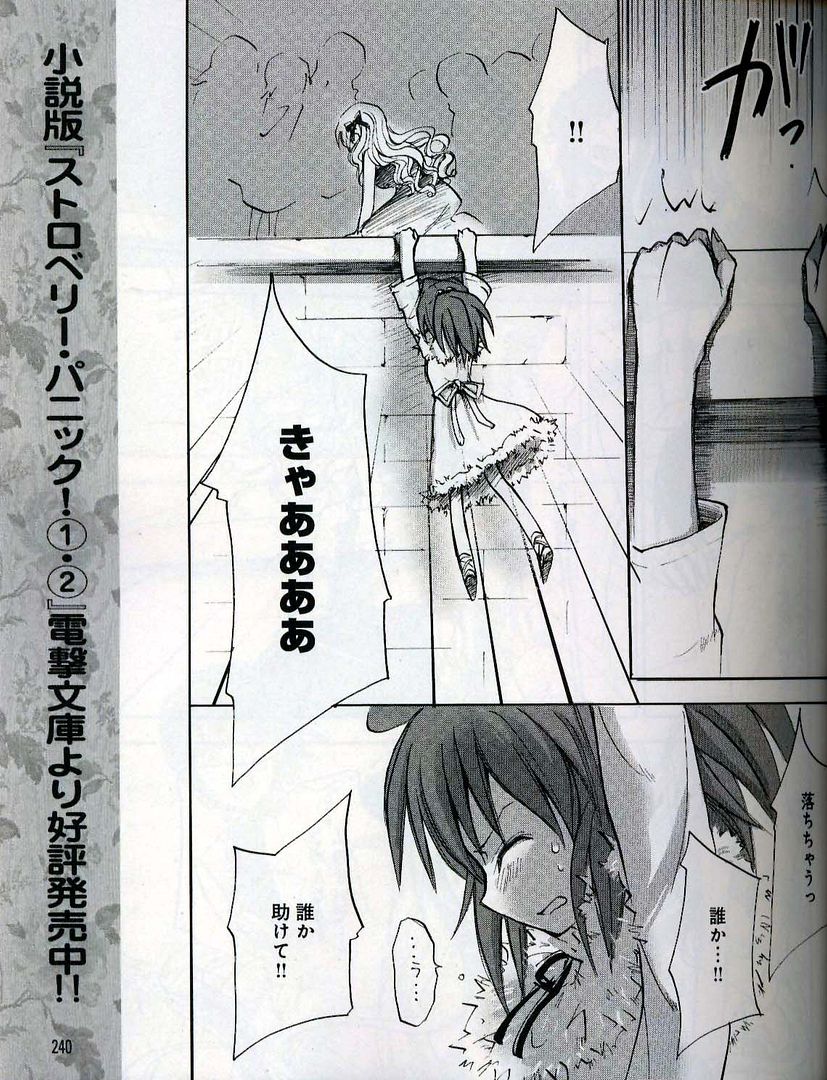 In Chapter 12 of Strawberry Panic!, 'A Small Crown', Picking up from Chapter 11, Nagisa fell down the tower where the Cadette [Little Sister] were kept in captivity. The Aînée [Elder Sister] have to rescue the Cadette by riding their horses to the tower. Luckily, Nagisa managed to hold on to the side and was barely hanging around. The spectators [Chiyo, Tamao and Tsubomi] who were looking from a distance also saw Nagisa falling.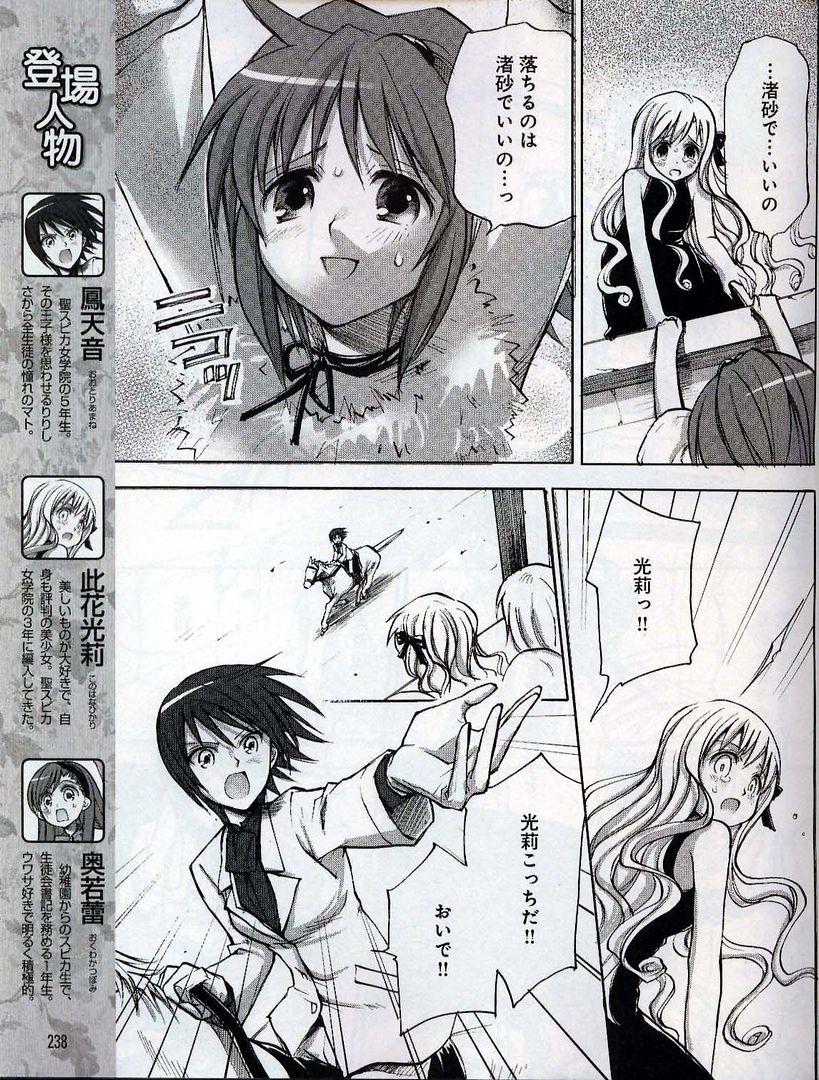 Hikari was like hysterical, calling for help and stuff. Hikari kept apologizing to Nagisa as it's her fault that Nagisa had fallen. [In Chapter 11, Hikari was elbowed by one of those girls in the tower, Nagisa saw Hikari falling backwards, rushed forward to push her back, as a result Nagisa tripped and fell instead.] Nagisa merely replied, it's good, it's good that Nagisa fell instead. [I think Nagisa meant that it's okay, she's glad that she's the one who fell because probably she's stronger than Hikari who might just fall splat on the ground LOL] Just then, Amane came galloping on Star Bright to fetch Hikari from the tower. In Amane's arms, Hikari begged Amane to save Nagisa and said that Nagisa had fallen because she tried to save her. Amane steered Star Bright to Nagisa's side.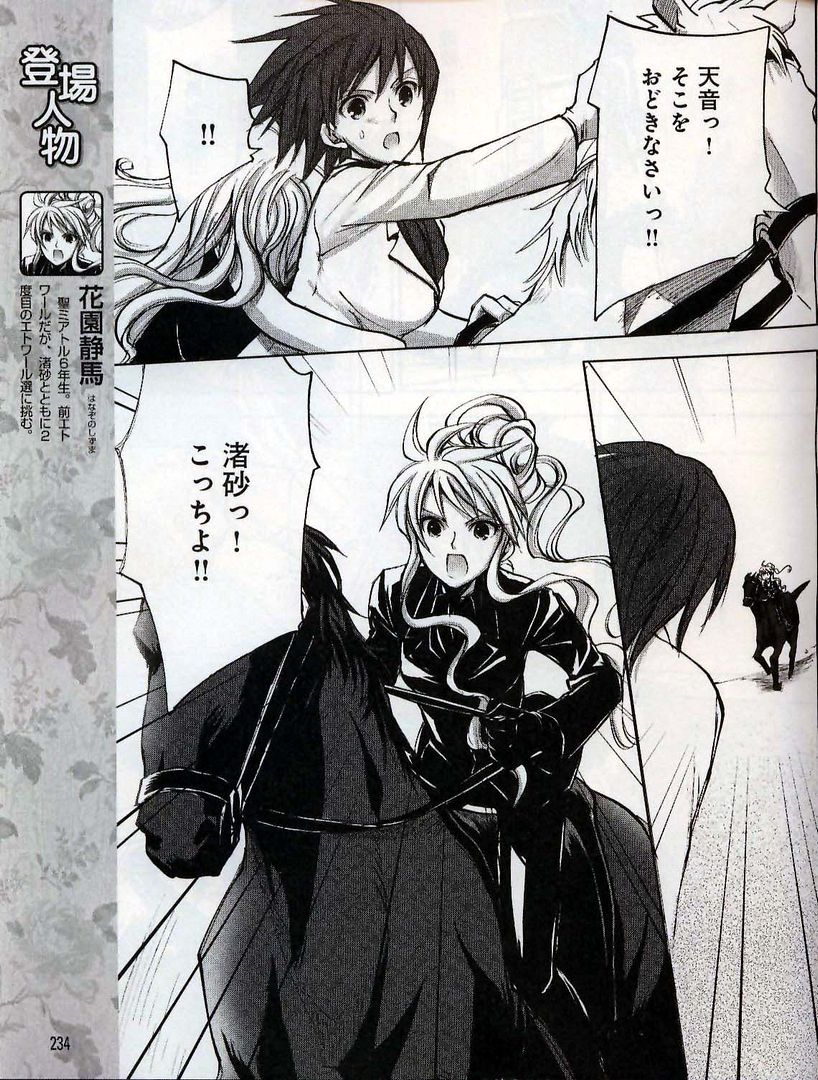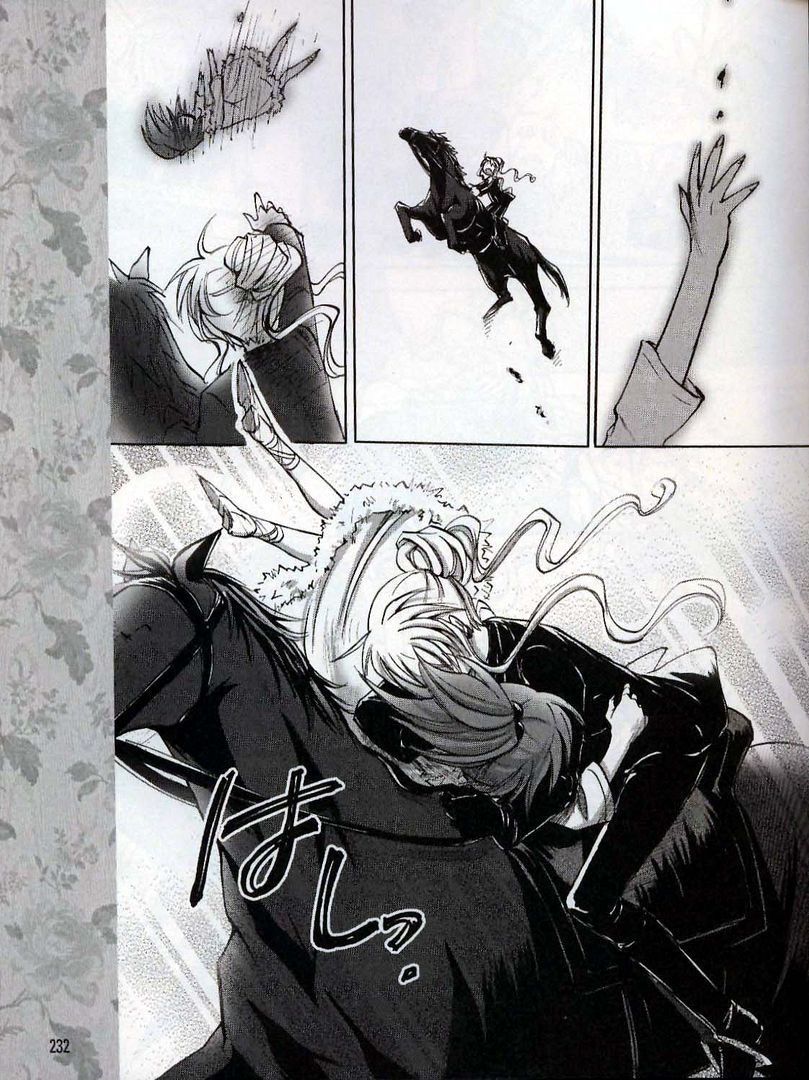 Barely holding with one hand, Nagisa thought to herself that if she falls down, she'll feel more relaxed [?! LoL]. If she had never met Shizuma, she would not had felt this painful ending. Amane called out to Nagisa to hold on. Suddenly Shizuma arrived, yelling to Amane that she'll handle it [LoL like hell she'll let Amane touch Nagisa]. Already at her limits, Nagisa glanced at Shizuma's approaching figure before letting go. Shizuma managed to catch Nagisa as she fell.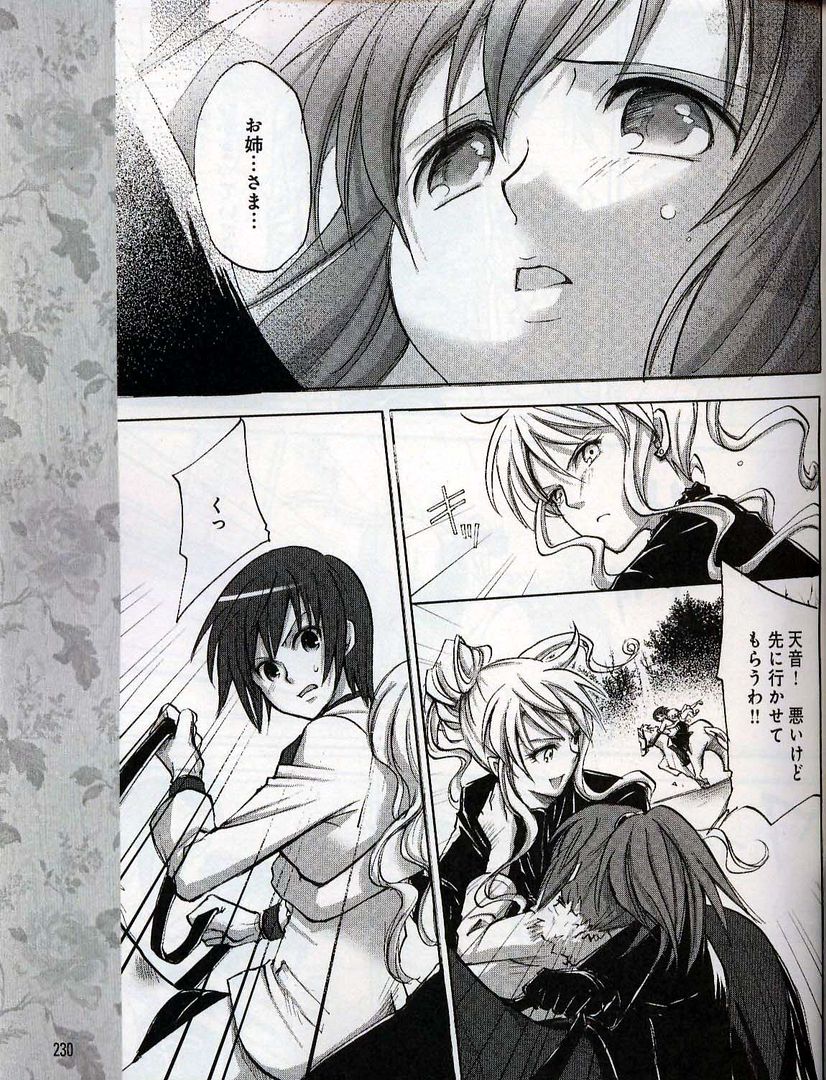 Shizuma kinda shed tears of relief [Not sure abt this] as she called Nagisa, 'You Baka Child. Seriously, you baka child ... my kawaii angel ...' Shizuma then turned back to Amane and taunted her that she's leaving first then lol. Caught in the moment, Amane steered Star Bright back to position, told Hikari to hold tight and galloped away. It was a close battle between Shizuma and Amane as they galloped on their horses closer and closer to the finishing line ...
In the end, Amane won, the St Spica team, Amane and Hikari were presented with a little Crown to show that that they won the first round of the Etoile Battle. Shion was like ... it was a close call ... but in the end they still won. Shion thought to herself that their competitor is Etoile-sama herself and being in the Etoile Battle for the second time so they couldn't afford to be careless. Shion was determined that St Spica will win the Etoile Battle even though she had worries of the last round.
Meanwhile, Nagisa and Shizuma were sitting under a tree. Shizuma thanked Nagisa for everything as it's because of her that she's so happy now. Nagisa shrugged it off, saying that it's no way that a person like her could do that ... Looking thoughtful for a moment, Shizuma told Nagisa that she don't care what Nagisa had heard or what people had told Nagisa about. However, the only thing Shizuma wished to tell Nagisa was that in her heart, there were beautiful, happy times as well as painful and sad times. In between there were painful memories that she wouldn't want to think about it. In Nagisa's mind, 'Painful memories ...', Nagisa remembered about Kaori, Shizuma's most important person passing away.
'Witnessing the person you like most dead, what kind of feeling is this?', Nagisa pondered. 'Desiring to see each other but that wish could never be fulfilled ... desiring to speak to each other, desiring to feel each other's body ... could never be fulfilled. Her warmth, could never be felt in this world anymore.' Nagisa suddenly felt that she's being very selfish as she was always thinking about herself and had never considered how Shizuma had felt about her painful memories.
Shizuma continued that no matter how painful the memories were, she doesn't wish for it to disappear as the memories were part of her. The memories had created the Hanazono Shizuma of now. Placing her hands on Nagisa's shoulders, Shizuma said that she don't want to compare but the only thing she wants to confess to Nagisa now is that the person she likes and whole heartedly wished to own is Nagisa. Touched, Nagisa could only whisper, 'Shizuma Onee-sama ...'.
Shizuma cupped Nagisa's cheeks and her fingers lingered around Nagisa's lips, she said 'My cute Nagisa ...' and moved closer. Before Shizuma moved even closer, Shizuma asked Nagisa for permission [Is that okay/Can I, Nagisa?]. In Nagisa's mind, she thought to herself that even though she couldn't do much, but if this is what Shizuma wished ... Even if this would only give Shizuma a little happiness, it's okay if she does this ... Hugging Shizuma in response, 'I want to do this ...', Nagisa thought. Both of them kissed.
The last scene was thoughtful, Nagisa had wanted to kiss Shizuma ... and was okay with it.
[Signing off @ 6:38 PM]