[Posted @ 9:52 PM]
Hallo, sorry, didn't manage to post anything yesterday cos lappy was randomly switching off for no reason at all. Quickly, I transferred all my files to HD ... till 4AM -.-||| So tired now ... sigh but lappy seems fine as of now. Hope it's okay. I did some clean boot thingy and some of my system files and programmes were deleted or plain gone. Dammit.
Luckily, I managed to enable some systems and think most of my systems and programmes were running now. Even MsWords got some problems and Image Editor where I did most of my editing of the doujinshi, screenshots and images you see in my blog. Argh, there might be changes in the fonts, colours and the quality might decrease. Anyways, here's some Maitake My-Hime Doujinshi =).
Disclaimer:
I DO NOT TRANSLATE STUFF FROM JAPANESE TO ENGLISH.
only Mandarin to English.
I do however refer to the RAW [Japanese] version sometimes when translating to kind of double check and make it more 'Real' cos i like it lol.
I DO NOT DRAW doujinshis, so I don't claim ANY credits for it, I got the original doujinshi from
Maitake
, so please refer there for the original version, I'm just translating for those non-Japanese readers =). So don't ban me for it =(.
Click on the pictures and out pops a window with a bigger, clearer dimension.
Please do not hotlink on forums, just paste my blog url and direct them to the Manga Page section, thanks.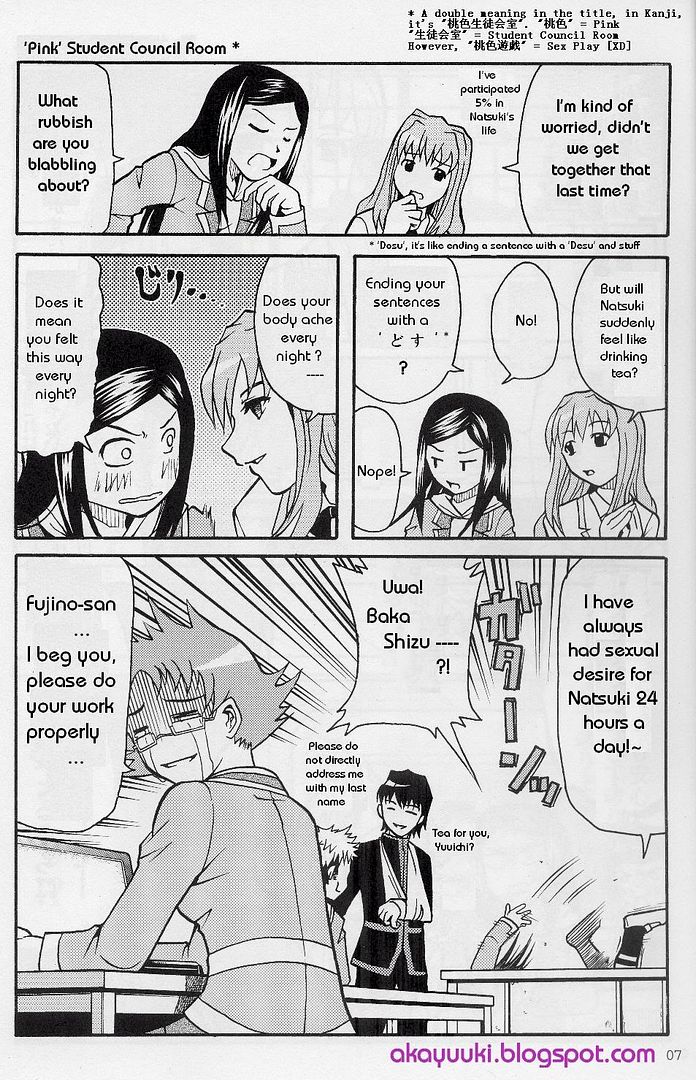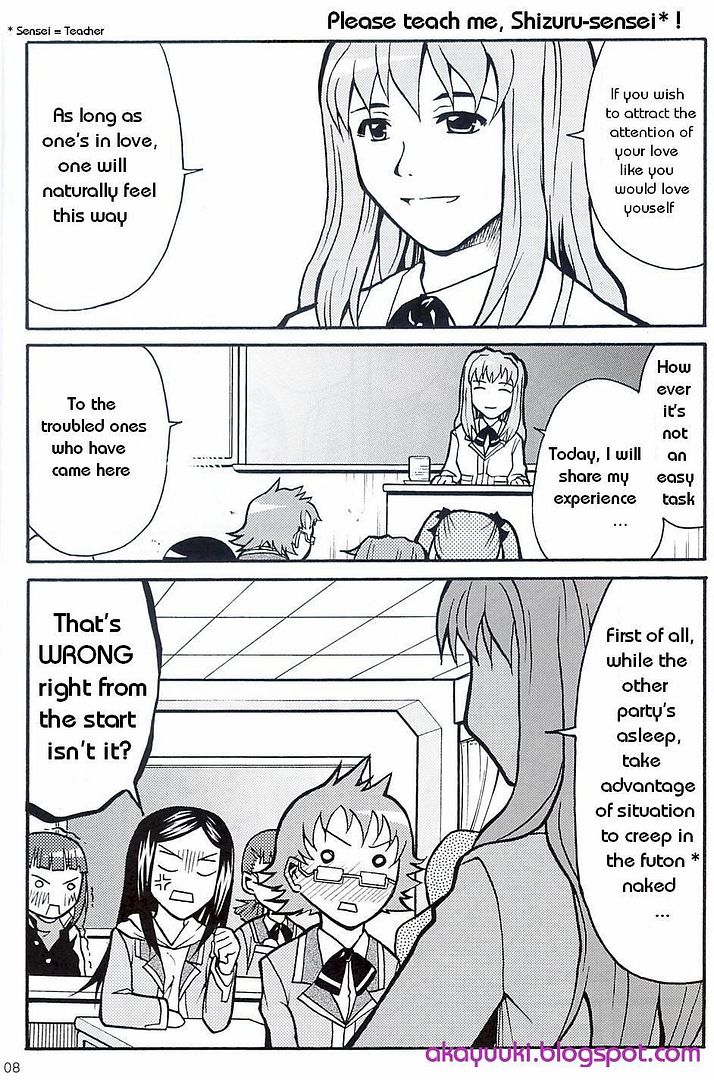 Now I'm feeling so disorientated ... but I'll cope with it la ... gimme some time. Negima!? and Otoboku Ep4 will be late this week ... no mood to ... blog sigh. I've got some report to type for work too, hm, let me plan the schedule out.
- Negima!? Ep4 summary - 30/10/2006
- Otoboku Ep4 summary - 31/10/2006
- Kasimasi Girl Meets Girl Ep13/OVA - 1/11/2006
- Negima!? Haru OVA summary - 3/11/2006
- Urahime doujinshi - um probably 4/11/2006
- SP Drama CD, Spica Part 1 - 5/11/2006
- SP Drama CD, Spica Part 2 - 11/11/2006
2/11's blank cos I got driving lessons lol. I'll try my best to do up the Part 1 tracks summaries for SP Drama CD, Spica on 5/11 then probably the Part 2 on 11/11.
That is, if lappy doesn't go bust on me tomorrow haha. If so, everything will be ... well gone.
Cross your fingers that lappy's fine now =).
[Signing off @ 10:31 PM]