[Posted @ 10:53 PM]
Cos i feel like posting this XD.
It's FULL PAGE! Colour! Must be damn expensive lol and the printing is pretty good too lol.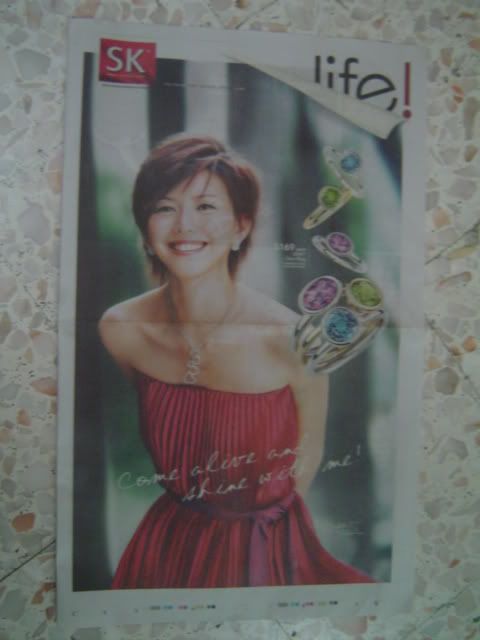 I slacked the whole day, reading fanfics and didn't get outta bed till around 1pm lol. Then uncles didn't come so i still got 5 more. Sigh i got no motivation sia. LoL, luckily looking at the BIG Full Page SK Jewellery Ad ... i feel so darn happy lol.

Here's my to do list again;
1. Finish IB Starbucks PPT by Sat Fri which is tonight I'm still going XD.
2. BB Survey 8/7/6/5/4/3/2/1 by Sun By 27th Jan
3. BPC Assessment crap to do by Sun
4. Bishan ITE roadshow Wed/Thurs
9. Watch Animes - Naruto 166-167, Naruto 168, Blood+ 8-13, Fate/stay Night 1, Gokujou Seitokai 17-22, Mai Otome 12-13 by ... goodness knows when.
10. Download Kasimashi ~Girl meets Girl~ 1, Gundam Seed Destiny Final Plus, Itsudatte My Santa! OVA by ... goodness knows when.
11. Buy new earpiece ... when i'm in the mood
12. 27/01/2006 is akayuki's Anime/Manga Blog's first birthday! Yay! woot!
13. Submit BB data entries on 1 Feb

Soon to come to do list;
1. IB Walmart PPT by 7 Feb
2. LAM Part 3 Project by 9 Feb
3. Analysis on BB Project on Week 15
4. SMM Project 2 PPT on Week 15
5. SMM Project 2 by 13 Feb
6. Bring Valentine Day pressies for 'Darling ZY', 'Sweet [Inserts HEART Picture LOL!] XT', 'Chubby J' & 'Wonderful QW' ... like real. LOL. -.-|||

Reckon that's all, yeah gotta go rush my IB Starbuck PPT le, must do and send my grpmates by tonight. Then continue reading fanfics yay. Cya.

[Signing off @ 11:00 PM]

PS: Sigh. IB. Sucks.