[Posted @ 6:12 PM]
Oh ho? Morning Kiss nano?
Surprisingly this episode is not about the twins celebrating their birthdays or anything but something related anyways o_o ... *pouts*.
But the opening scene's pretty funny lol as Yukino recalled a fragment of her childhood memory. -Flashback- A young, perhaps 5 year old Yukino clutching a fox plushie looked on at Kanade who was rolling on the floor crying and protesting like a spoilt brat about not having the same ingredients in her lunch box [bento] as Yukino. It's inevitable that if a kid cries, the kids in the same room will start crying too lol.
-Back to Present- Kanade was like ... why do you still remember that scene, probably embarrassed by her childish actions back then and asked Yukino not to mention about that again. Yukino took the chance to get Kanade to buy the 'Not sure what super action' pillow [LOL Initially I thought Yukino was referring to the egg, but then thinking about it, why would she feel comfortable laying on an egg? o_o; Sorry for misleading you guys in Episode 1 lol] as her Christmas present. Kanade suggested washing eh the remains of the egg off. Yukino answered that she can't wash the whole pillow and even though she cleaned it off, the smell remains.
Kanade was like oh ... then she realized that Yukino seemed to be speaking from experience and threatened her with the hair dryer to speak the truth lol. Yukino meekly replied that it's the third one she bought LOL. Kanade recalled no wonder Yukino borrowed money from her a month ago ... aha and reprimanded her for wasting money. Yukino cheekily replied that then ... she wants Kanade's breasts ... Kanade interrupted saying that her breasts are smaller than Yukino ... however she added if Yukino wants her excess stomach 'meat' [lump/fats] she will give it to her LOL. Yukino replied, no thanks. Kanade started whining about Yukino's nonsense requests and wanted them to exchange christmas presents which are memorable.
Yukino laid her head against her own private 'pillow' aka Kanade's breasts and replied that as long as it's a present from Kanade, she won't make a fuss about it. Kanade seemed touched by Yukino's statement and asked what Yukino's eating. Yukino replied that she's eating the source of Kanade's excess stomach 'meat' [lump/fats] LOL. Pissed, Kanade whipped out the hair dryer and 'punished' Yukino for that remark and for eating her snack. Yukino protested saying she's helping Kanade 'eat' off her excess stomach 'meat' lol.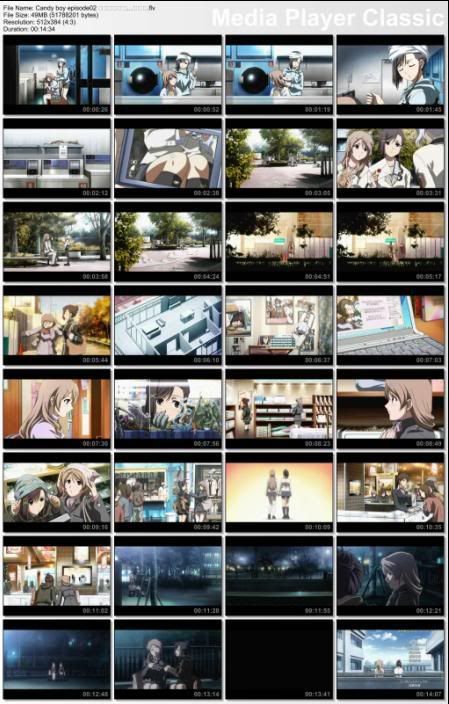 In school during lunch, Yukino asked what Kanade want for christmas. Kanade thought for a moment before replying that she want that 21 figurines on bottlecaps box set which was on sale in the convenience store a while ago. Yukino had totally no idea what Kanade was referring to and told her to stop playing with toys LOL. Kanade defended herself by saying that those moulded 3D figurines will help her in her sketches. Unable to hold off any longer, Kanade asked what's Sakuya doing lying on the floor with her digital cam as she was having a conversation with Yukino lol. Sakuya got up and presented them with an invitation to her christmas party on the 25th December. Yukino reminded Kanade that they have to go back to their hometown on that day thus they're not able to attend the party. Sakuya was disappointed and added it can't be help ... Hokkaido huh.
Kanade questioned how Sakuya knew about it [Since she didn't say where they were going and lived before] ... Sakuya replied that it's all thanks to Yukino lol and Yukino thanked Sakuya for the yummy puddings LOL. Kanade pinched Yukino's face cheeks as punishment and before she could say anything, Sakuya dashed away, taking off with Kanade's Strawberry milk LOL. Later that day, the twins were walking home and passed the construction site of a new dormitory. They started complaining about the 'bad facilities' in their current dormitory compared to what they might bet getting in the new dorm. Yukino added if the dorm rooms had double deck beds they can place their stuff on the upper deck of the bed and save space.
Kanade noticed that Yukino don't wear stockings to bed and wondered if she should get a hot water bag for her. Yukino immediately protest, saying she can't sleep without Kanade with her and told Kanade to take responsibility for it LOL. She added she want to sleep 'leg to leg' with Kanade. Just then, Kanade realized that Sakuya's family's might be the building constructor of the new dormitory. She was right as scene cue to Sakuya who was happily sipping the Strawberry milk she stole from Kanade and gushing imaginary scenes she can have with Kanade.
Back in the dorm room, Kanade's busy with her homework while Yukino blogged. Kanade threatened Yukino not to write any weird stuff in her blog ... if not lol. Yukino quickly deleted the line about giving Kanade a morning kiss in her blog lol. The next day, the twins went on their separate ways to purchase christmas presents for each other. However both Kanade and Yukino were sidetracked by what they want LOL, especially Yukino who was caught red-handed by Kanade trying to buy the fourth 'Not sure what super action' pillow lol. Yukino started blurting that she's not trying to buy it for herself because it's on a 10% sale lol.
Kanade was guilty herself too who was also sidetracked earlier, suggested that since they're both 'no good' sisters, they should go shopping together. -Kyaah indirect kiss while having ice-cream- lol. Suddenly, Kanade saw a set of Pearl [June birthday gemstone] and Alexandrite earrings and demanded that they get it as their present LOL. Yukino said that it's ... expensive and they don't have money until Kanade in a brainwash trance ... took out the money for the tickets home LOL. In the end they used the money to buy the earrings. When Yukino asked what happened, Kanade replied that she remembered that they used to have the exact same things when they were young but was not sure when things started to change. She added that although she knew that Yukino and her were connected in heart and it might be the hindrance of material stuff but when she saw the gemstones for their birthdays, it's like an eureka moment.
Yukino apologized saying that she wanted and thought it will be better if they have different things as she don't like been stereotyped that twins have got to like and be the same things. Yukino then opened the present and told Kanade that she will forgive her if she put on the earring on her.
Yukino: *giggles* 'It tickles if you breathe like that~, Kana-chan.'
Kanade: 'Don't move. Mou~'
Yukino: *giggles*
Kanade: 'I can't help it when it's dark in here.'
Kanade: 'Okay, I'm done.'
Yukino: 'Un. How's it?'
Kanade: *smiles* 'Un. It suits you, very well.'
Yukino: 'Then, it's my turn to put yours own.'
Kanade: 'Ah, no, wait ...'
Yukino: *chomp*
Kanade: *squeal* 'Ah, e-e-e-ar, my ear, you're eating/biting my ear.'
Kanade: 'What? Why?'
Yukino: 'Hm, sterilizing?'
Kanade: 'No-no-no-no, there's no need for that, even so it's a bit too ...'
Yukino: *chomp~* 'Ah-mm~.'
Kanade: 'Haaah~'
LOL XD. Evil evil evil.
-End of Episode 02: Please give me ... that?
Post-scene;
A friend of theirs named Shi-chan messaged, saying Kanade has a 'bad head' as ever huh lol, Kanade pinched Yukino's face cheek as punishment for writing whatever she wrote on her blog. They started worrying what to do since they had used up the money they're supposed to buy tickets home ... Yukino suggested that they ask their parents for more money. Kanade sighed, saying that she could see the flash of their father's iron fist for her dumb decision lol. Yukino proposed that they exchanged one of Kanade's stuff to Sakuya ... Kanade refused ... even though Sakuya might really want it lol. Speaking of the devil, Sakuya came in and presented them her christmas present to them. Three air plane tickets!~ ... wait, why are there three tickets? *grins*
Ah, a satisfying ending to episode 2 ... can't wait for episode 3 ... Hokkaido trip with parents and ... Sakuya lol.
[Signing off @ 5:17 PM]
PS: Ah I forgot to update, to those who are interested in the ending song/theme song in Candy☆Boy Ep1, click
here
for more info on the release of Candy☆Boy主題歌 '恋のカタチ' [Candy☆Boy theme song 'Koi no Katachi' aka Shape of Love] and regarding the singer, Kana.
Oh I've also added the ripped mp3 version of the song I leeched from yamibo in the playlist ... enjoy!