[Posted @ 10:48 PM]
The last two pages of GALP Mai Hime Doujinshi =).
Disclaimer:
I DO NOT TRANSLATE STUFF FROM JAPANESE TO ENGLISH.
only Mandarin to English.
I do however refer to the RAW [Japanese] version sometimes when translating to kind of double check and make it more 'Real' cos i like it lol.
I DO NOT DRAW doujinshis, so I don't claim ANY credits for it, I got the original doujinshi from
Shirinikohu
, so please refer there for the original version, I'm just translating for those non-Japanese readers =). So don't ban me for it =(.
Click on the pictures and out pops a window with a bigger, clearer dimension.
Please do not hotlink on forums, just paste my blog url and direct them to the Manga Page section, thanks.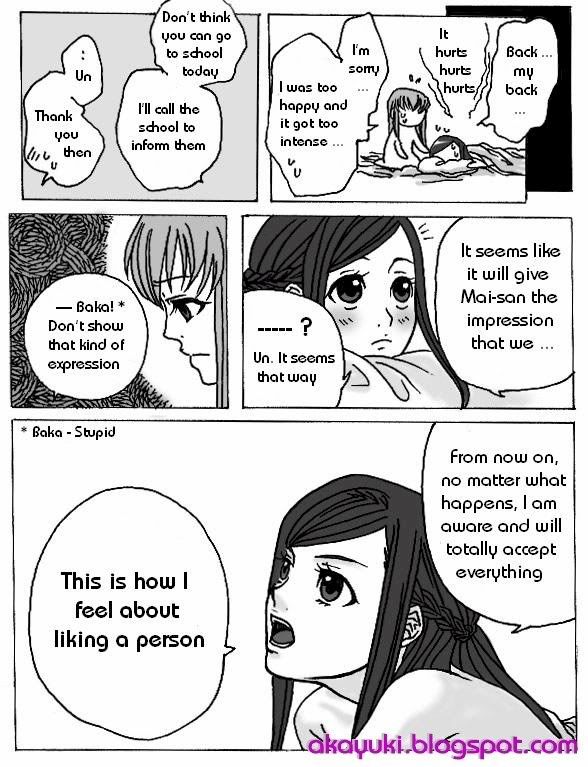 Hope you enjoy it as much as I do ... alright next up, another Mai Hime Doujinshi, titled 'My Hime Fanbook' by
kinokonabe-hinanjo
. I think this will take a longer time because the Mandarin translator 'went on a trip' and haven't been updating the last few pages of the doujinshi. Anyways, I set on translating when I get my paws on them =). Meanwhile as we wait, I can try translating a Strawberry Panic! doujinshi by angelbox ... heh.
Speaking of Strawberry Panic!, I created an album catering especially to magazine scans regarding Strawberry Panic!. From seiyuu interview, spoilers, introductions, characters specials, gallerys and stuff from various magazines, mainly Dengeki G's Magazine cos StoPani's serialized in that magazine and probably Megami, depends ba if I can get scans from yamibo.
The scans of StoPani in the October issue of Dengeki G's Magazine is up, so check it out
here
. You can also find the link in the
Strawberry Panic Page Post
. As I'm typing, I'm uploading random StoPani scans from I dunno which issue of Dengeki G's Magazine, so bookmark the link and check out this week =). Oh yes, the password to my album's my nick [Don't ask me again and shame on you if you don't know my nick =(]
Alright, cya =).
[Signing off @ 11:40 PM]