[Posted @ 9:14 PM]
Σ(゜д゜;) NANI!? It's Chapter 11 already?! A short chapter ... only 14 pages .. so I'm uploading only 8 scans this time.
Disclaimer:
I do not scan, so i don't claim credit for it, i got the scans from
Yamibo
, so please do not ask me where i got my scans again. PLEASE.
If you want to download the translated chapters of Strawberry Panic! Manga, go to
Dynasty Scans
.
Click on the scans and a new window will open and bring you to the larger and clearer version.
Please do not hotlink on forums, just paste my blog url and direct them to the Strawberry Panic! Page section, thanks.
Wait, let me squeal first ... ... Kyyyaaahhhh~ Shizuma-sama's sooooooooo hot in that black uniform ... ~~~ ( ゚ ヮ゚) Amane looks kinda cool too ... Black Prince VS White Prince, who will win the first round?
In Chapter 11 of Strawberry Panic!, 'The Fortress Of Captivity', it's early in the morning, but tons of students from all three schools were gathering at the horse ranch to witness Round 1 of the Etoile Battle, in which the 'Aînée' [Older Sister] will be having an Equestrianism competition. Chikaru explained to Kizuna that the 'Aînée' have to, first, make a round at the 'Maiden's Garden', return back to the horse ranch, proceed to rescue the 'Cadette' [Younger Sister] from the tower then do a round again and the course would be compete. Kizuna seemed excited by the whole horse-riding thing and pointed out Amane's and Shizuma's horses as they were white and black respectively. Amane and Shizuma were the most promising main leads for this Round and looked the most impressive.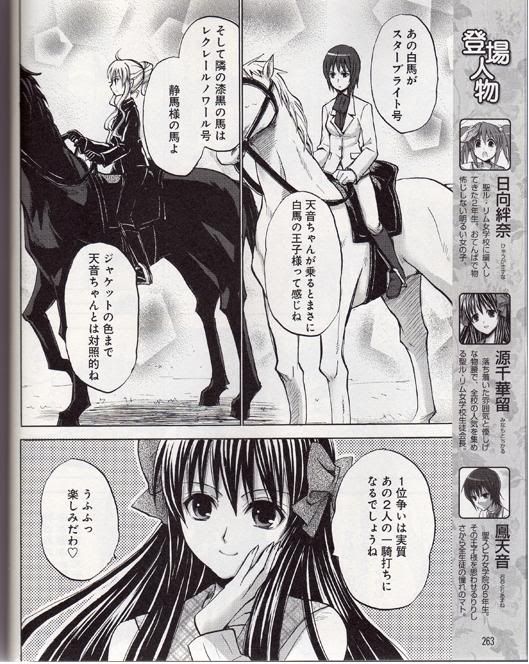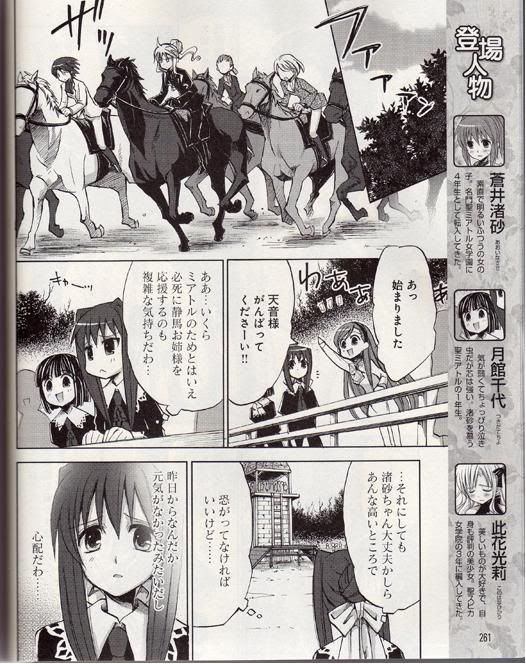 Chikaru explains to Kizuna that Amane's white horse is called 'Star Bright' and Amane's posture perfectly displayed how a Prince should be. Meanwhile, Shizuma's black horse is called ' Leclerc* Noir' and Shizuma's black uniform complements with the colour of the horse. Chikaru added that it seemed that only two of them were the ones to look out for ... and she's looking forward to it fufufu. *[Seriously I don't know the French word for it, I just copy and paste the translated version ... but in Katakana, It's レクレ-ル, Rekure-Ru. So anyone knows? I know Noir means Black in French =).] Chiyo, Tamao and Tsubomi were also at the horse ranch cheering for their respectively Onee-samas. Tsubomi was saying that noone would win St Spica's Equestrianism Club trump card, Ootori Amane. Tamao went well it's still to early to count the chicks before they hatch when the rival's Shizuma-sama. Tsubomi continued that, well maybe but there's no chance anyone will beat Amane in horse-riding. Tamao countered that with a 'You haven't seen the serious side of Shizuma-sama yet'. Both of them stared at each other and went 'Fufufu.' LOL. So funny.
Anyways, Round 1 started and the 'Aînée' started galloping on their horses. Tamao looked on and thought to herself that although she spoke confidently to Tsubomi just now but ... St Miator still had to cheer hard for Shizuma-sama. Besides she's feeling a little confused right now ... [She's actually supporting her rival in love lol] Tamao then began to worry if Nagisa would be alright in that high tower and also Nagisa doesn't seem to be in high spirits since yesterday. At the tower, the 'Cadette' were squeezed in a rather small area and began pushing each other around. One of the girls began bitching about two transfer students [Nagisa and Hikari] and others began to start too.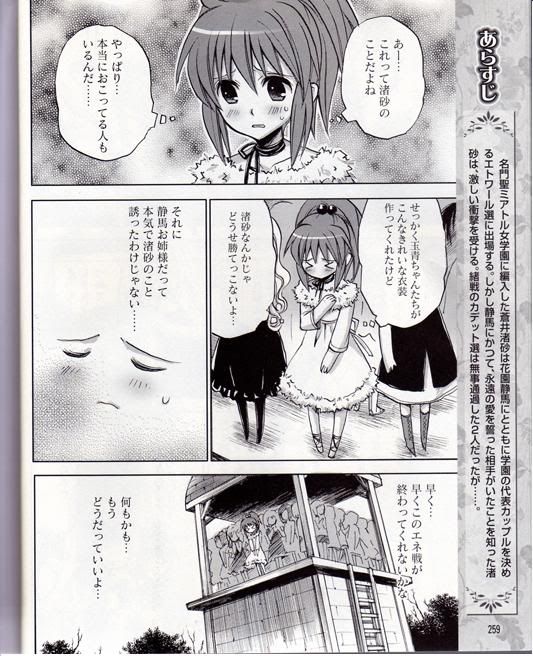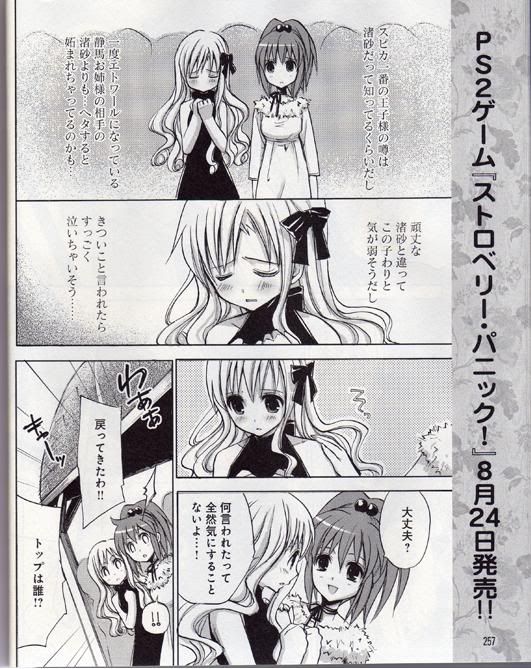 Nagisa thought to herself, they must be talking about me ... everyone's getting angry ... Nagisa began to lose confidence in herself, as she thought to herself that even though Tamao and the other made the pretty dress for her, she would never win and besides ... Shizuma's not really serious about it. Nagisa started to hope that the Round 1 will end faster because regardless of the ending, it doesn't matter. The girls launched another bitching topic as the subject shifted to Hikari, saying that as long as the 'Aînée' was Amane, the transfer student will be able to enter the Etoile Battle. Another girl added that Kaname-sama was supposed to be Amane-sama's 'Cadette' ... and many people want Kaname to be too. Nagisa noticed Hikari trembling with fear and pitied her because they were in the same boat, both of them were transferred students and their 'Aînée' were popular Onee-samas.
Nagisa thought to herself that she heard the rumours of St Spica's Prince, Ootori Amane and compared to Shizuma who had already been Etoile once, the partner of the St Spica, Hikari had more stress. Nagisa also described herself as a rather firm person compared to the fragile Hikari beside her and Hikari looked like she's about to cry too. Nagisa placed a comfort hand on Hikari's shoulder and started to console her to not mind what others say. Suddenly, the girls began shouting that someone's coming ... !! No doubt, it was Amane who's leading and galloping ahead at full speed, followed by Shizuma. The girls were screaming, 'Kyaaahh Amane's so cool~' and some were encourging Shizuma to catch up. Shizuma doesn't look happy to lose to Amane too haha.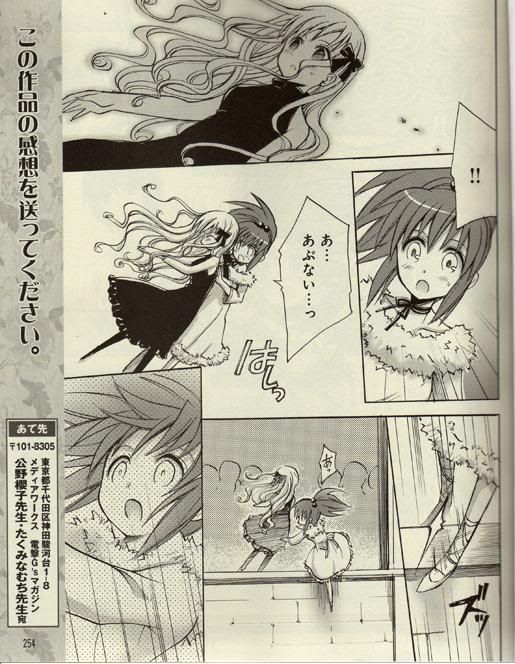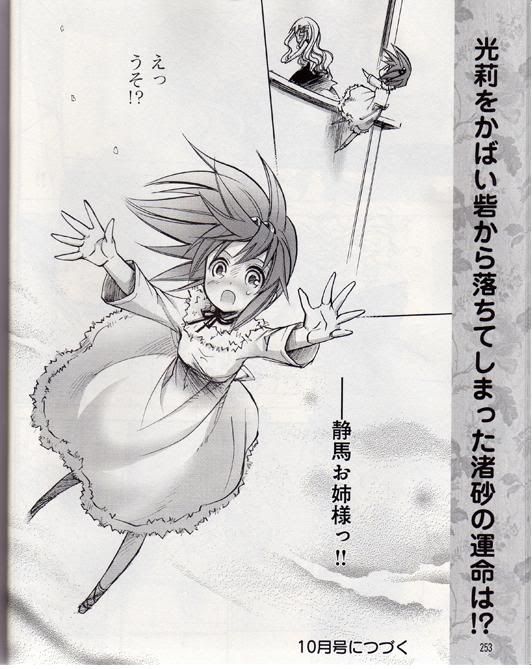 The 'Cadette' in the tower began to push around excitedly to see their Onee-samas and one of the girls elbowed Hikari and she was pushed over the edge. Nagisa saw the falling Hikari, moved behind Hikari and pushed her back but she tripped and fell down the tower instead. In Nagisa's mind, she's calling for Shizuma Onee-sama ... - END -
Whoa, ended at a cliff hanger ... get it? CLIFF hanger!! LOL. Well, from the looks of the novel, I've already anticipated this ... ahaha and Black Prince, Shizuma to the rescue!!!!
[Signing off @ 11:01 PM]