[Posted @ 6:56 PM]
Hey, i'm not dead yet! LoL, juz busy with the roadshow on tuesday and wednesday ... hahaha actually ... i was juz plain lazy lol. I'm still lazy, so i'm juz gona tok abt Yanzi @ IMM, yeah it's kinda late but here's a pic of her i took, kinda blurry. And the other is the ticket for the 'Super Funkies'.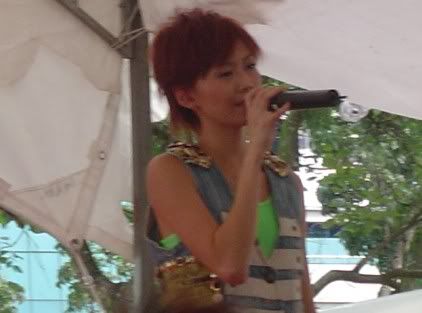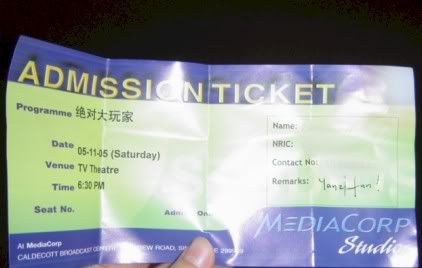 Oook, now i'm in a better mood lol, after roadshow, i should have time ba ... heh but not to forget the tutorials i have to do ... sigh ... tomorrow got 3 tutorials sia. LAM, IB and SMM ... sigh 3 tutorials in a day, i wonder if i can survive without sleeping ... lol. Oh, yeah speaking of SMM, i slept through SMM lecture lol, really sleep sia ... i even dreamt lol. I think i slept for around 45 mins ba ... when i woke up, it was the last few slides le ... hahaha. I was really tired ba ... cos waited around 9hrs for YanZi to arrive. Slept for around 4hrs only haha. Cos fri got anime then 1am then sleep 5am woke up le ... bathed, then sit MRT at 6am ... reached there at 7am ... meet YanZi fan-friend. =)
Then waited ... till 2+pm ... some China girl, ok before we go into that, if you're from China, please do not feel insulted. I'm not saying all Chinese from China are as rude as this girl i'm going to describe. Anyways i have the China Chinese blood in me also, cos my Grandfather is from China lol. So it's kinda very direct hahaha. Ok what i describe later is true, if u dun believe u can ask the YanZi fan-friend and her friend and another friend i made while waiting at the Mediacorp for the 'Super Funkies' recording.
Ook, we stood up to wait for YanZi at around 2pm as usual, the crowd wasn't really alot when it was around 11am to 12noon and i was kinda worried lol. It's kinda a love-hate relationship, u want people to come so tat YanZi won't look bad but at the same time u don't want people to come cos more people will be queueing and ur chances are lower lol. But it doesn't really apply to me la, cos i go at 7am there was like only less than 20 people there. So after the YanZiUnlimited fanclub people went in the place exclusively 'booked' for them lol, it was time to stand up le ... then the YanZiUnlimited people started to warm up by singing up the songs YanZi's gonna sing later ... it's like practice lor, i dun really mind. But this China girl standing beside me kept whining when is YanZi is going to arrive and say 'Sing what sing la, YanZi haven't even come yet.' loosely translated from Mandarin. Yes, she said 'la', so i presume she stayed in Singapore for quite a while. As for how i know she's from China, actually it's pretty obvious right? From their command of Mandarin, their accent and their command of English. She asked me for the time, so i know. [I'm not saying all Chinese from China are like that but it's true wat.]
After that, at around 3pm plus, YanZi haven't come, i don't really mind too, cos i think it's worth it to wait for YanZi and besides YanZi won 4 important awards from Singapore Hits Awards the night before so the media must be chasing after her for interviews. And also, she's only staying in Singapore for a few days and flying back to Taiwan again, so YanZi being late is kinda expected. Well, she's not driving is it? And she doesn't come by plane right? And the China girl beside me kept whining how late and if YanZi don't come for the next dunno wat mins, she's going. I was like go la, who cares LOL, BETTER SIA. Then while waiting, YanZi's songs in 'A Perfect Day' kept playing in the Hi-fi system ba, so that when YanZi come, we will know how to sing and to attract passerbys to come ma, then the China girl kept complaining when the songs were played. Like 'What? Not again!' 'Listen until i'm sick le' loosely translated from Mandarin. I mean, if you're not a YanZi fan, go away, if you're, how can you be sick of listening to YanZi's songs?! God. I was so freaking pissed by then. I was resisting the urge to turn to her and say, shut the fuck up bitch.
I dun even wanna go to the snatching of tickets when the YanZiUnlimited people were giving out. Maybe that can be forgiven, i dun really mind when people snatch for limited stuff, i mean i will too, but i'm too tired to do so. She snatched one ticket and was complaining one person go so boring and stuff. My YanZi fan-friend also got one and wanted to give it to her ... i was shrugging lor, cos i wasn't THAT pissed with her as yet. Then when DJ, Ziyong arrived on stage, tok to us and said YanZi will arrive at 4pm instead, whoa that China girl whining whatever she whined, i can't even bother to remember now. Cos it's like 5 days later. Then when YanZi finally arrived, my anger disappeared [YAY] LoL, then i was singing and sreaming, snapping photos ... and stuff =). Then YanZi began to throw posters, i didn't get them, the China girl also didn't get it cos my YanZi fan-friend beside her got it lol. YanZi threw against the railing then it fell on the floor mah then juz then the security guard was standin there and gave it to my YanZi fan-friend lol, lucky girl. Later my YanZi fan-friend told me that China girl looked pissed with her cos she got it lol. After singing and stuff, it's time to QUEUE up to get our autographs ... i was FORCED to move in front sia lol, i wanted to stand there a while longer so that i can see YanZi mah, if not after getting signature, go behind, see what sia. LoL. I mean there's enough for everyone what, YanZi signed all the SINGAPORE VERSION of 'A Perfect Day' of people who queued on that day k.
So yeah i was forced in front, nvm, the China girl kept pushing me sia, i was pissed, cos there's a little girl standing in front of me, i don't like pushing people and especially kids, they could fall you know. I mean, yes getting YanZi's signature's important but, people's safety is first what. Besides the railing wheel was blocking me from walking also what kaoz, kept pushing till i couldn't stand any longer and
told
, yes i
told
the China girl not to push. The China girl
yelled
me at that it wasn't her pushing and besides there's a huge space in front of me. So i
yelled
back that there's a FREAKING LITTLE GIRL in front of me and i couldn't PUSH her right?! And the railing's wheel was blocking me too! China girl got scared LOL and said so fierce for what ... loosely translated from Mandarin. By tat time i already turned my head around, i heard that line even though she murmured. Haha. I was kinda proud of myself. LOL. Then the pushing went on then it became to my side sia. COS CHINA GIRL SQUEEZED to the side when i scolded her. I knew it was her. I mean, NOT YOU PUSH? MY FOOT SIA! LOL, still dare to blame the people behind. She even went in the queue earlier than me sia lol. From behind till in front. God. I was queuing from 7am then she came at 11am and whined so much and stuff. So when we went in the queue, her friend was like 5-6 people behind after us, she pulled her friend to her side in front of me sia. Then she turned around and saw me behind, stared at me then whispered something to her friend. I was pissed. I said out loud, 'FUCKING BITCH.' I doubt she understand sia, she didn't turn around later.
Oh if you think i'm rude, she even said 'Ta Ma De' during the waiting period out loud to everyone sia, who's rude here? She's the one who's rude first, first she pushed, then she lied, cut the queue and whispered probably bad stuff [How can be good? LoL] abt me to her friend. But of course evil and rude people always get their desserts cos the 'A Perfect Day' album she was holding is a China Version LOL! [Toldja she's from China.] They already said that the Warner people will only accept albums with the 'WarnerMusic' logo on the album, but China girl must be too dumb to understand and so her album didn't get signed and was 'chased' out of the queue. LOL, BAO YIN AH BAO YIN! LOL. Her friend's one got signed cos got WarnerMusic logo ha. She tried to get her friend to ask the staff if can sign on the album cover and the album lyrics book. Of course Staff said no LOL. U want GO BUY A SINGAPORE VERSION 'A PERFECT DAY' LA THEN RE-QUEUE! LOL. Serves you right.
Manz, now let's tok abt YanZi. Whoa, got up the stage, saw YanZi up close .... sooooooooooo shiok sia lol when it was my turn, YanZi signed finish le, looked up and smiled at me [YAYAYAYAYAYYAYYYYYY!!!] I smiled back and said thanks. Cos i was the first 70s ba, so she got the time to look up and smile ... then sign 'Sun Yan Zi' somemore haha. The rest behind, like my YanZi fan-friend got the signature 'YanZi', probably no time le. Ahhh, then my YanZi fan-friend gave me the ticket to the 'Super Funkies', i was surprised she didn't give to China girl lol, i thought she give her. Hahaha. Another BAO YIN ah!!! LoL. She doesn't deserve my YanZi fan-friend's ticket HMPH! LoL. God, so high to see YanZi hahahaha.
Then went to Mediacorp and waited to be ushered in ... there i made a new YanZi fan-friend yay. Hahaha, she talked to me first, i'm never the type to talk to people first and make friends. LoL. Unless ... i need to ask questions then i talk lol. Ha, it was fun, YanZi's live rocked man, screamed till my voice was husky the next day hahahahahhaa. So damn hhigggh. Then i forgot all abt China girl le lol. Till now.
Manz, that's long, i wanna go eat le. I'll be blogging Blood+ Ep2 tomorrow, i juz typed out the summary juz now. Heh. I hope i'm on a blogging mood ... CYA.
[Signing off @ 7:56 PM]
PS: hungry hungry