[Posted @ 10:43 PM]
Ok i juz wanna tok abt my trip to Gallery Hotel this afternoon. LoL. It was horrible. YanZi was 45mins late, cos of some 'problems' which i dunno of. My worst nightmare came true! i was afraid YanZi would be late, and she was, so when she came, she toked to us for a while abt her trip to Aceh on behalf of Mercy Relief blah blah. Yeah, then some questions were asked which i forgot le, cos my heart was racing so hard.
Mostly cos my friend called me and it's 5pm le lol, i ignored the call till we had the photo taking session and i ran out of the room and called my friend i dunno who lol then i hailed a cab and asked the uncle to step on it. LoL. Well, he did but the PIE via CTE got traffic jam sia, it was 5.15pm and i was kinda worried. I reached the place at 5.30pm and i tried calling my advisor but he switch the handphone off duh. Then i went on myself, i got this six sense to go to level 2 lol, and yes i was right and i told the nice lady there that i was a student from Ngee Ann Polytechnic. Then the lady asked me to wait and stuff and said someone will escort me up. LoL. Yeah. I entered the room at around 5.45pm ba... the CEO was toking duh, then i murmured sorry and took a seat. So embarassing sia. hahaa. But worth it XP.
I took a few nice pics before i scrambled off lol. I was sittin right in front of YanZi~ Wheee lol. I attached a pic below whee.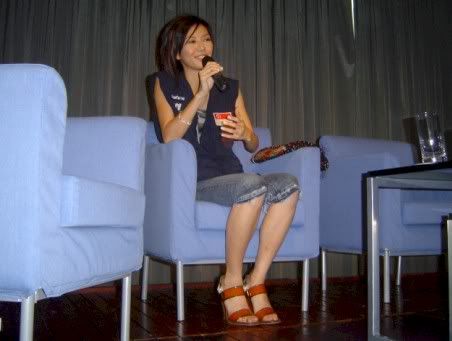 Yeah, i was in a mad scramble lol. But it was fun. Uh training was ok, toking abt functions of Vpost and stuff yeah it was ok, i was kinda interested cos IT stuff mah, e-commerce lol. Yeah i need to go MEL to see wat stupid notes to print and do and stuff and YES i must do my WISP work lol, cos i'm going off to Malaysia for a one day trip to Malacca. Manz.
Sunday, 12noon must send to E to compile. I'll do my tutorials for next week + last week Marketin Communication tutorial on sunday la. So damn tired, i still got WISP slides and i haven't research yet lol. Die. Ok, time to watch Inuyasha + Shaman King + Channel U news wheeeee cya
[Signing off @ 10:55 PM]