[Posted @ 10:25 PM]
Seriously, time passes so fast, I've now been blogging for three years ... yeah I have my ups and downs ... but at least I'm rather consistent ... lol.
I just love that picture, ~ Minami Haruka-sensei's art style is sooo nice~! So I
had
to post it lol.
Went out to Orchard, Cineleisure for sushi buffet with the TB12 girls and these are what the girls gave me~;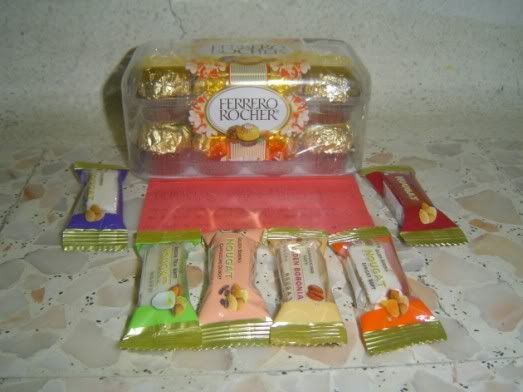 I doubt I'll be having the Ferrero Rocher ... gotta watch my diet ... sigh, I'm trying to lose weight here!!! LOL.
Anyways, really happy to eat and 'gossip' about stuff with friends, especially with TB13 on Saturday lol, the steamboat meal was entertaining. Yeah really tired now, can't think what more to say, gotta go sleep.
[Signing off @ 11:27 PM]