[Posted @ 9:39 PM]
Mere 10 days more. I'm seriously in not much mood to post any stuff related to anime/manga these days.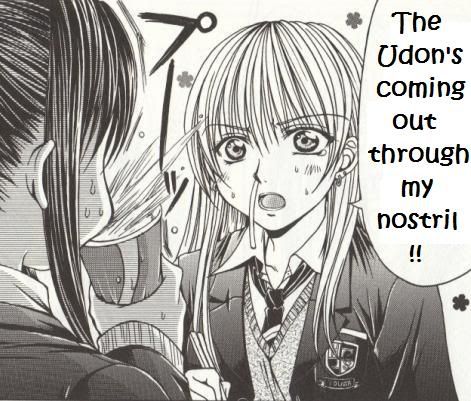 Alright, I'm trying to relieve the tension here lol.
Went to apply for an IDP at the AA centre at River Valley this afternoon, dammit I tell you, I don't know where the hell it is, even though I checked up via online Street Directory ... lol. Anyways, I finally got there with the help of dad and no doubt I was freaking pissed when I reached the place to get my application processed and photo taken lol. I was wet, tired and did I said wet? My feet was soaked all the way as I walked out of the MRT Station to the Centre and back ... I should had asked dad to send me there.
Enough of bad stuff, after that, I went to Comics Connection and bought these babies;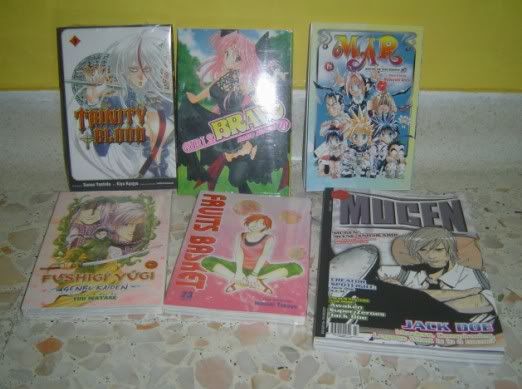 This would be my 'last' personal purchase with ChuangYi ... until I come back in the next sem or ... I dunno lol. I'm probably going to bring Fruits Basket #23 [END] and Fushigi Yuugi - Genbu Kaiden #7 with me to Australia lol.
'Already Done' Checklist For January;
1. Dorm Amenities and Caution fees to send back by 18th Jan. [Do on 14th, Use Speedpost 2-3 days service]
- DONE -
2. Remit money to ANZ Account when the AUS currency is low lol by end of the month. [Wait till it falls to 1.25 or something lol] - Got dez Cash ... 1.27 Waiting -
- DONE @ 1.268! LoL -
3. Buy a new lappy by end of the month cos old lappy's in wonderland =(. [Eyeing for Lenovo ThinkPad T61 but why is it Windows Vista!!!??] - YES, There's free downgrade to Win XP Pro~! Buy by weekend - - Sent order form over -
- DONE -
4. Buy Webcam, so that mum can see me? lol
- DONE -
5. Outting with friends on 26 and 27 Jan - Can't wait to see them again~ -
- DONE -
6. Sent payment for dorm by 1 Feb - Remit? -
- DONE -
7. Book Airport Accommodation by end of this month [Needs like a few days in advance]
- DONE Remember to PRINT confirmation letter -
8. Apply for International Driving Permit by end of the month. [Sigh in case]
- DONE Lost in the damn fucking rain -
'To Do Checklist' For February;
1. Go for IDP Pre-Departure Seminar 2008 on 2nd Feb cos I missed the UQ one O_o|||
2. Preparation of required stuff to bring over [Clothes, cutlery and stuff] - Uh Kinda -
3. Pack luggage, LIMITED to 30KG [LOL It's freaking big]
4. Convince/beg bros to buy manga for me while I'm gone [GRRR!]
5. Plan out lessons to attend during orientation week 18-22 feb
6. Enrol UQ mySI-net to collection Student ID card on 12 feb.
7. ...
Basically, I've done pretty much most of the things listed ... maybe I'll there'll be more stuffs up when I attend the seminar tomorrow lol.
I just found something horrifying ... there're download limits within the campus at UQ!!!! NOOOOOOOO!!!! This might be the end to my anime streaming and manga dling days!!!! Think I'll lurk in the library just to leech that exclusion lol.
I'm not sure what to post for the next 10 days in Singapore ... any suggestions? I'm thinking of doing a summary for a teacher x student story in Yuri Hime Volume 9 lol. Speaking of Yuri Hime ... sources are getting rather slow ... not that I'm really whining ... okay I am lol, I just need my dose of yuri before I go ... sob sob. Okay, that sounds really bad lol.
Besides that, I've been viewing much Fate x Nanoha doujinshi by Sea Star around, most of the stories were really sweet, the latest I read was a 'happy family' kind lol.
Sigh. I've requested for mum to cook her yummy prawn mee before I go lol.
[Signing off @ 10:24 PM]