[Posted on 4:30 PM]
Behold!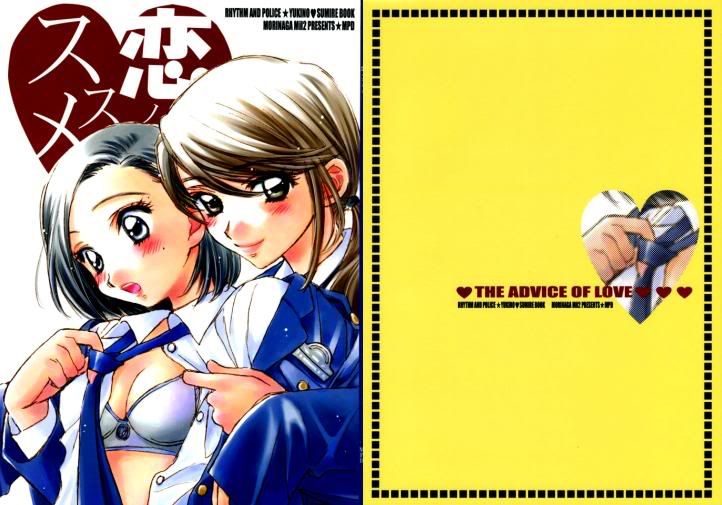 森永みるく [Morinaga Miruku]'s - [MPD] 恋ノススメ [Koi no Susume] - Rhythm And Police Doujinshi - Sumire x Yukino [24 Pages]
Disclaimer;
I DO NOT TRANSLATE STUFF FROM JAPANESE TO ENGLISH.
only Mandarin to English.
I do however refer to the RAW [Japanese] version sometimes when translating to kind of double check and make it more 'Real' cos i like it lol.
I do not scan, so I don't claim credit for it, so please do not ask me where I got my scans. PLEASE.
Be warn, what you are about to view contains mature themes and it may not be suitable for minors [Those below 18] so if you're weak in the heart, PLEASE DO NOT PROCEED. I will NOT be liable for any damages - be them physical, emotional, or blood loss from viewing. =)
If you agree, please click on the 'SHOW' button to see the link.
THREE links were uploaded in MediaFire and MegaUpload.
I've provided the WinRar and WinZip format, download whichever you think is better, the pages are all the same anyways lol.
I really enjoyed myself translating this doujinshi, it was rather ... hm smooth and the joy of sharing came rushing back to me again lol. Hope you guys love the release, as usual, comments and love please!!!! XD.
Random rants;
'To Do Checklist' For January;
2. Remit money to ANZ Account when the AUS currency is low lol by end of the month. [Wait till it falls to 1.25 or something lol] - Got dez Cash ... 1.27 Waiting -
3. Book Airport Accommodation by end of this month [Needs like a few days in advance]
5. Preparation of required stuff to bring over. [Clothes, cutlery and stuff] - Uh Kinda -
6. Apply for International Driving Permit by end of the month. [Sigh in case]
7. Convince/beg bros to buy manga for me while I'm gone. [GRRR!]
8. Go for IDP Pre-Departure Seminar 2008 on 2nd Feb cos I missed the UQ one O_o|||
10. Outing with friends on 26 and 27 Jan - Can't wait to see them again~ -
11. Sent payment for dorm by 1 Feb - TT -
Meanwhile, I'll go indulge myself with an outing with my friends later.
[Signing off 4:50 PM]