[Posted @ 12:23 AM]
There's this boiling anger in me that refuses to cool down even after an hour, so I've decided to blog about this crap. Hopefully by the end of this post, my anger will simmer down.
I don't know, I just felt pissed that Chuang Yi [An English & Mandarin Manga Publisher in Singapore] changed the quality of their paper just fucking like that. Come to think of it, I think they changed their paper for My Fair Lady and Fushigi Yuugi - Genbu Kaiden as well and perhaps some other titles I can't remember since I'm not NAO fucking home to check every single fucking book my family bought for the past year.
I did felt a book was considerable lighter than I was used to but didn't think much of it because I was happy to read manga [The physical thing] again after ... what, a year? Perhaps that time, the paper were still in the 'reasonable' stage and to the hell of it, I just didn't notice. Perhaps I was distracted with the family problem thingy. I'm angry at myself for not noticing but then, even if I did, what can I do?
But this. Doing this to my
Vampire Knight manga
. This takes the cake/pie whatever.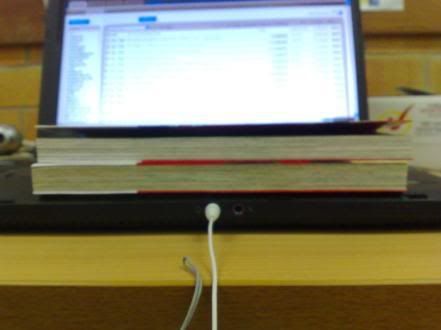 It doesn't take a bloody rocket scientist to see which is the better quality one.

Yes, the anger in me is still boiling, so I'm continuing this rant.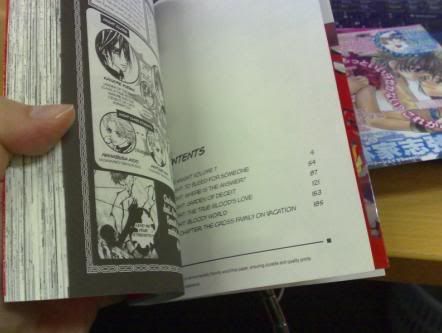 Sadly, even the Ran x Julia 'bookmark' doesn't satisfy the raging tiger in me. Btw this is Volume 7.



Apparently, Volume 7 was printed using, I quote, "Environmentally friendly wood-free paper, ensuring durable and quality prints for a pleasant reading experience." And yes, indeed, I can see and touch the 'quality' and 'durability' of it. It's smooth to touch, not scratchy, it doesn't smell and it doesn't look yellow-ish. This volume cost SGD $8.50 and was released on 05 Aug 2008 according to the website.




Here's Volume 8. Squint your eyes, you can see through the 'awesome' yellow-ish quality paper right there. Aww, isn't it a pretty sight?



Now, Volume 8, as you can see, the 'tag line' was conveniently gone from the page, does this mean this was not printed on durable and quality paper hm? The least I can do is to give credit to CY for not lying. Thank you for not lying, you do have some moral. Anyways, this volume cost SGD $8.50 as well and was released on 06 Jan 2009 [The height of the impact of Global Financial Crisis (GFC)]. Oh, that explains everything then hm?

According to their forum, a forum-er has pointed out the 'quality' of the paper as well so we got this reply;

"Due to some recent issues we've had regarding the supply of paper, we've had to relook into alternative sources of paper that is of comparative quality to the overseas products in the market and while keeping our prices of manga available at competitive prices. We are still keeping tabs on the feedback from our customers to decide how to fine tune our future course of action to try and find some kind of balance, so we do appreciate your input very much.

We hope you'll continue to support us, and thank you for your feedback.

For future feedback and other queries, we would appreciate that you direct them to our email address : feedback@chuangyi.com.sg

Regards,
Team CY"

Yes, you better be keeping tabs on the feedbacks, cos I'm sure not a fucking happy camper right now. I don't even fucking mind if you increase the price to SGD $8.90 like the new titles or even $9.50, JUST GIVE ME MY QUALITY AND DURABLE VAMPIRE KNIGHT MANGA PLEASE.




Which do you prefer, the top or the bottom?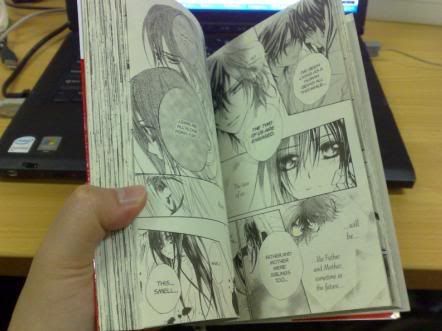 If I could let you touch the paper, I bet you will bloody throw the book on the ground (despite how you love the series) and stomp it.



I hope you [CY] very well re-print Volume 8 and any other titles that were printed in the infamous 'Kinda Mandarin Quality' paper on quality and durable paper cos I'm not going to fucking buy any lousy quality paper manga from you any fucking more. I don't pay a premium price to get this crap. I just checked with my family via MSN and I asked them to stop buying as I will personally check every single book in the store before purchasing it when I get back.

Lookie here, I'm even willing to pay to buy a re-print volume. I'm not even thinking of boycotting, cos well I have no choice -_- [Affordable and quality prices] and I'm happy. But this one, is going out of hand and I have to voice out my opinion on this. Man, this completely spoils my mood that I can't even read Volume 8 properly. I tried to read but whenever I held and touched that light and scratchy piece of junk, I just get so pissed.

Well anyways, I sent an email to CY, I don't expect any flowery explanations and crap, I want action. I want something to be done. I sure don't hope something as screwed up as this happens again.

Phew. Okay, I do feel a little better.

[Signing off 2:01 AM]