[Posted @ 1:34 PM]
YEAH! My parcel came in YESTERDAY AFTERNOON! My maid smsed me about it, I was really excited lol and can't wait to get home.
Scroll down for more pictures of my purchases, Bakuretsu Tenshi [Burst Angel] DVD Box Set by FUNimation and Loveless DVD Box Set by Media Blasters.
I wanted to post the images last night but my spirits were dampen by the dorm stuff again. Oh well.
Okay, I seriously dunno where to start ... this is just too awesome lol. Oh yeah, I'm not going to talk about Medal of Honor - Airborne, cos it's not mine and not of my interest either.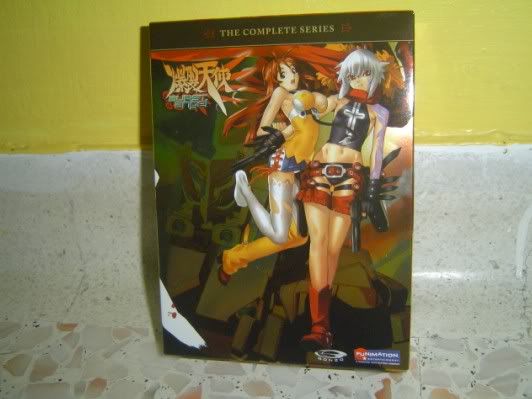 Spectacular glossy box cover, in good condition XD. LoL, I still can't believe it's half priced, someone please pinch me!
Look at the abundant contents on the back of the box cover!!!
- 24 Episodes on 6 discs
- 6 Guide Books
- Director Commentaries
- Original Radio Dramas
- Textless Songs OP/ED
- Outtakes <- -.-
- Widescreen 16:9
All these for ... like S$69. By the way, what do ODEX give? Even at the price of S$29.90 per volume, let's see two volumes, S$29.90x2=S$59.80, which is worth it?
Feast your eyes on these guidebooks, the printing alone probably cost like S$10.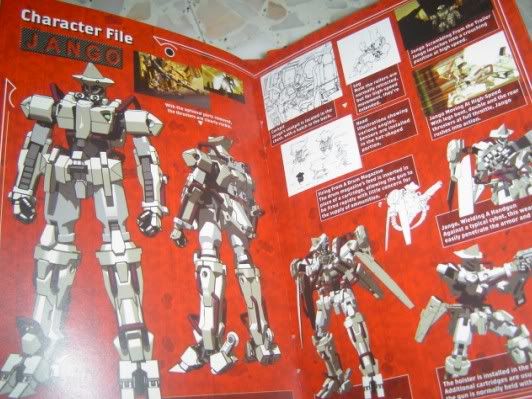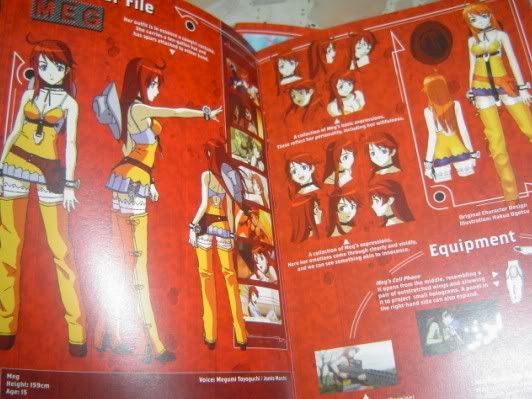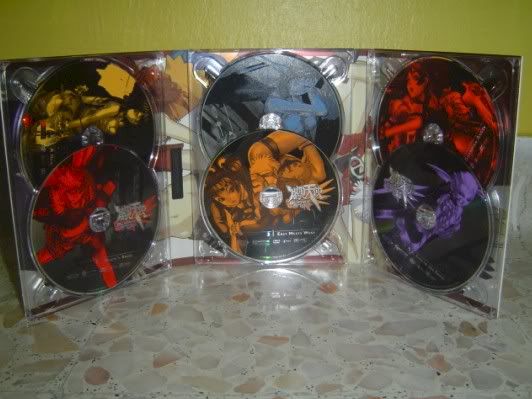 6 Discs, scratch-free and playable.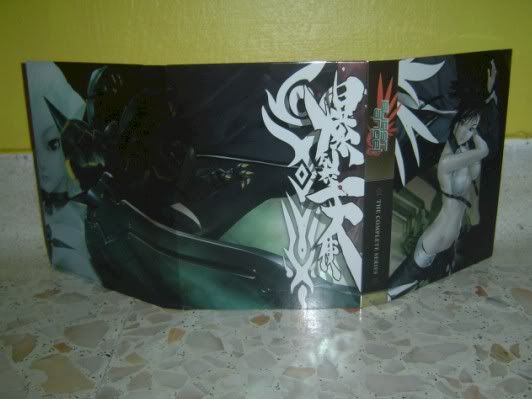 The covering for the Discs.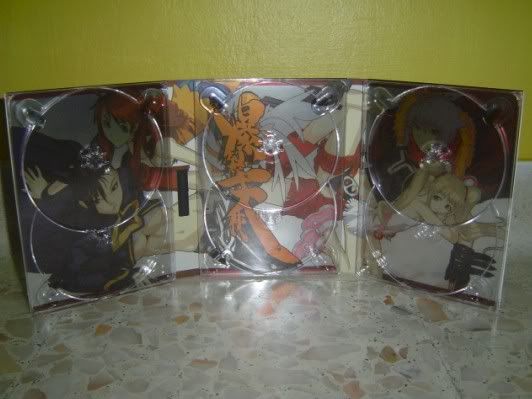 'Slot-in' behind the Discs.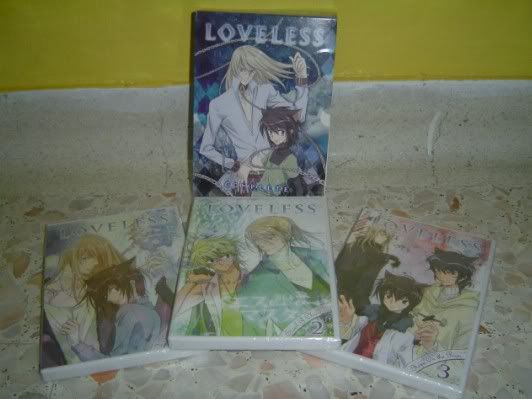 Next, Loveless DVD Box Set, it looks rather plain, the box cover's thin and easily ... well bendable cos it's CARDBOARD lol. Kinda disappointed cos Loveless has the one of the BEST art style I've ever since and I don't want a cardboard to be the box cover, sigh.
Anyways, There's no extra booklets or something in the disc cover, just some advertorials stuff. There's textless OP/ED though and they even included the SD [Super-deform] theater in! LoL.
Needless to say, the video quality's gorgeous, Soubi looks so hot lol.
Random rants;
I managed to catch an episode of D-Grayman on Arts Central last night and the flashing advertisements around about ODEX really getting the 'same' [only one week delay!] airing time as Japan for D-Grayman Season 2, was truly admirable. We can't deny that. Maybe they should venture in getting licenses to broadcast animes on TV instead of releasing DVDs, eating too much cake might cause a major stomachache. Well, not like I really care cos they're unlikely to license the titles I like lol and I'm going to study soon. With their website still down, we have like totally no idea what will happen or even know what to expect next.
Arts Central's airing Bakuretsu Tenshi and Azumanga Daioh on TV next week, too bad, I've already BOUGHT the D-'VIV'-Ds lol. I don't think I'll be catching the two titles on TV and also D-Grayman, not interested, lost me in there!
I'm serious when I'm saying I'm moving to happy grounds like manga and purchasing DVDs online, it's so fun lol, no stress, no expectations, just like the good old days. Too much information kills a person sometimes and it gets worse if you know you either can't get it or go illegal. Anyways, off to read fanfics.
[Signing off @ 2:35 PM]