[Posted @ 2:40 AM]
So uh, after that sad post, I decided to post something happy!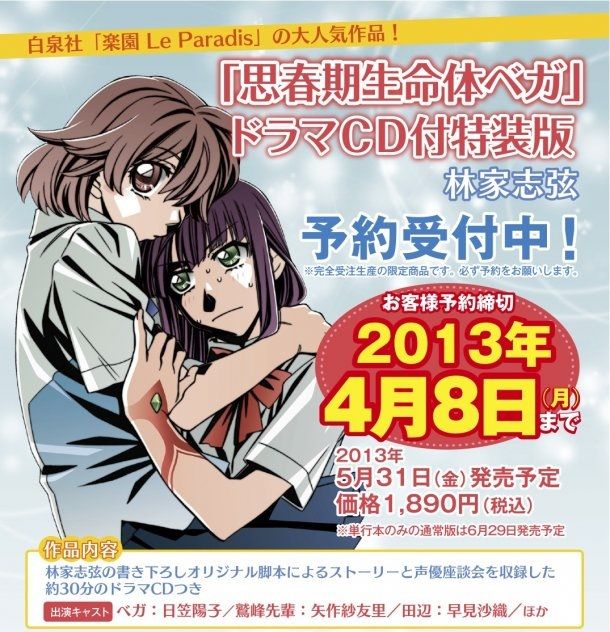 Firstly, sorry to those who voted in the contest poll and that I never followed up. But I has something better!
A tankoubon of Puberty Organism Vega (思春期生命体ベガ)
by Hayashiya Shizuru's (林家志弦)
also the
mangaka of Hayate x Blade will be released on 29th June 2013.
So what? You say.
Well, if you pre-order before 8th April, you GETS A LIMITED EDITION DRAMA CD along with the tankoubon on 31st May instead of June! I have pre-ordered two extra copies to give out to you guys YAY. I'm not sure how it will be packaged but I intend to give out both the manga and drama cd as a set. Splitting them defeats the purpose pfft, you should be able to listen and look at the images at the same time!
-CANCELLED-
So may I see fanarts and fanfics of any of Hayashiya Shizuru's works?! There will be a winner for each category. 1 from fanarts and another from fanfics, so choose each side wisely lol.
Uh a few rules:
1. SHOUJO-AI/YURI only! No H/futa/tentacles or whatever.
2. No pornography/explicit fanarts/fic, maybe tastefully artistic ones lol (itz a grey line)
3. Pairings and stories can be whoever/wherever/whenever/AU, even crossovers (Hayate from HayatexBlade with Ran from Strawberry Sweet Shake!? Although Julia might have a say in it lol) as long they are created by Hayashiya Shizuru.
4. Please state disclaimers in any of your fanarts and fanfics. Give credits =)
5. Please don't steal fanarts/fanfics from others, it must be your work of art!
6.
Winners will be decided by me. (I has the last say)
7. Submit your entries to my email address at stefanie_yz@hotmail dot com but if you want to upload them somewhere (deviantART/fanfiction) and then copy/paste the url on the comments section is fine too. Readers will be able to appreciate your works and I MIGHT be swayed by their reactions xD
8. Deadline will be on 31st May 2013,
11:59PM, Singapore Time.
9. Winners will be announced on 2nd June 2013 and after I get the shipment confirmation from amazon, it'll probably be 2-3 weeks before I can repackage it and send it to the winners. Depending on where the winners live =o
Guess that's all. I can't think of anything else.
Also, I managed to finish Sono Hanabira ni Kuchizuke o 12 - Atelier no Koibito-tachi (その花びらにくちづけを アトリエの恋人たち) after getting a halfway-end LOL.
愛でたし.
愛でたし. =D