[Posted @ 11:46 PM]

Hey there! Changed the blog template, it looks kinda like before but the sidebar is now on the left hand side HEHE. The rest are basically the same, I'm lazy to edit the template anymore. Maybe when I'm free in the next free days, I'll update some of the the pages.

So I has some stuff I got from Amazon Japan and boy, Amazon Japan sure is fast, I will never use vPOST Japan again LOL. I ordered on Monday and by Thursday, I got everything :| The shipping charges are around the same, maybe $10+/- more than vPOST charges. I'm willing to pay that amount to get it in 3 days =^=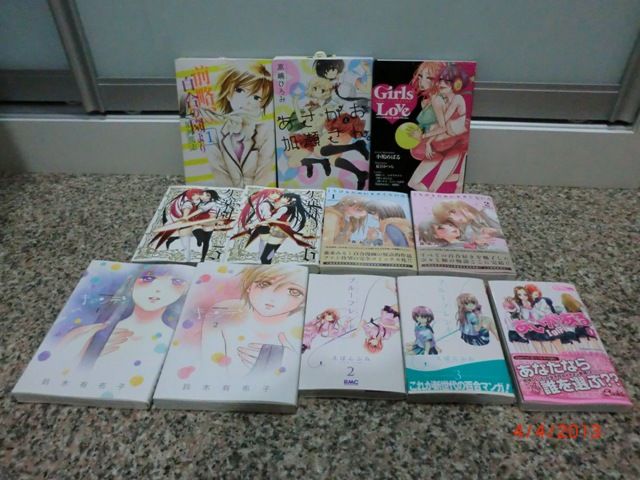 [Top Left to Right]:

前略、百合の園より [Zenryaku, Yuri no Sono Yori aka Notes From The Garden Of Lilies] #1, あさがおと加瀬さん [Asagao to Kase-san], Girls Love -strawberry milk shake-


[Mid Left to Right]: 失楽園 [Shitsurakuen] #5, #6 [END], くちびるためいきさくらいろ [Kuchibiru Tameiki Sakurairo aka Kisses, Sighs, and Cherry Blossoms Pink] #1, #2
[Bottom Left to Right]: キャンディ [Candy] #1, #2, ブルーフレンド [Blue Friend] #2, #3, あいがある-I girl- [Ai Gaaru -I girl-] #1
Mostly old stuff from last year to finish up my series collection. So, I'll just talk a little about Ai Gaaru and the extras of Candy since the scanlations of the rest can be found on
Dynasty Reader
=w=
=o The artwork is not bad, shoujo-ish, kinda reminds me of Takahashi Itsumi's [Mangaka of Love Flag Girls! and Itoshi o Tome - Kimi ga Kokoro wa] art but better xD The story started with this 26 year old
psstvirginpsst
OL [Office Lady], Kaga Maki who has never fallen in love before in her life. One day, she was suddenly asked by her twin brother, Kaga Miki to take over his job as a teacher in a girls' school. Dressed up and hair styled like her brother, Maki made her way to girls' school entrance and almost chickened out. But for her brother! She persevered.
However, before the day even started, she realized her brother is a horny bastard LOL who made the students call 'I love you' a pun on 'Here' during roll call. As the day went on, she was pushed down and confessed by girls left and right who were seemly seduced by her dear brother lol. For example, her brother offered to take one of his student's virginity! And now the girl is here to redeem that offer xD Well, it's still too early to see how this story is going but it's just full of fluffy fan service :3
And you can preview a free Chapter 1 of Ai Gaaru
here
.
The extras from Candy kinda reveals a little bit more on the daily lives of Miyamoto Kanan and Bessho Chiaki as they grew up and pursue their dreams. In one of the extras, Chiaki came home late from work that night and found Kanan fast asleep. As she was warming up her dinner, Kanan woke up and hugged her. As expected, it felt way better awake than when Chiaki's asleep xD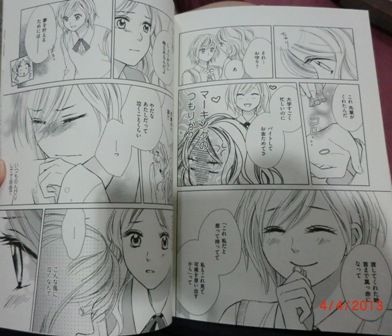 This extra kinda warps up the love triangle between Kanan, Chiaki and Nonomiya. We see Nonomiya who had pushed Kanan down and straddled on top of her. Nonomiya is happy that Chiaki is now of out the picture as she has graduated and that Kanan looks good with her hair grown out. However Kanan is willing to wait for Chiaki who has given her a ring as a promise to return after her studies overseas. It was then that Nonomiya realized that she could never steal the heart of Kanan from Chiaki and well .. -insert cries and tears-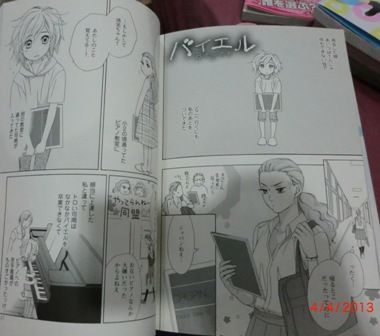 A cute young Kanan! Ichijou is pissed because she was asked by the teacher to return a music score. As she made her way to the music room, she remembered that Kanan used to hate piano lessons and wanted to give up. Nearing the music room, she heard piano sounds and was surprised to see Kanan and Chiaki in there. It seems like Kanan never gave up on piano and played well, impressing Chiaki. While Chiaki plays, Kanan is enthralled by Chiaki's hair and softly kissed her cheek.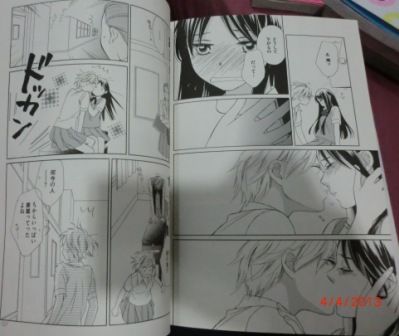 Well, I don't need to say what happened here <3 xD
Needless to say, Ichijou got pissed at the lovey-dovey scene, slotted the music score in between the doors and went home.
Eh, sorry for the dates on the images, I used my digital camera to take them since my iphone died. Which is a pretty good thing since I started re-reading some of my manga haha and it gave me a hard kick to start blogging again. I also went on a 'add EVERYTHING to shopping cart' spree :| I have my eyes set on the English versions of Girl Friends and also up coming Kisses, Sighs, and Cherry Blossoms Pink by Morinaga Miruku. The Amazon links are on the top right hand side listed as my Must/Recommended buys :3 So get them if you haven't!
Hmmm that's it I guess, I have quite a few planned blog posts for the next few weeks like a review of Sono Hanabira ni Kuchizuke o - Lovers of the Atelier, my not very otaku? corner part 3, the return of IchigoYuri TGIF Updates with reviews on random yurilicious scanlations and maybe PSYCHO-PASS [Shion x Yayoi cannon made my day].
Until then!