[Posted @ 5:06 PM]
Hey there! If you have been stalking my
Doropanda Tours
[どろぱんだTOURS] Page, you should probably know that I've been sweeping all the DT doujinshi available online LOL. Without further ado, here's my loot! PART 1! YES. THERE IS A PART 2
OR EVEN 3
COMING SOON! Part 1 loot is purchased from
Nagomi
and Part 2 from
Mandarake
. My collection is almost complete -insert evilplankid meme- *chuckles wildly*.
[Right to Left] トリコ仕掛けと優しいケモノ V12, モコモコ73 2ND, オモテ無印*ナカは乙V3
A pamphlet from Nagomi, 優しいケモノのあやし方 -PREVIEW- V12.5, Love Match V0.5




Got them for around 1050yen each except MokoMoko 2ND :| which is 3150yen not including shipping charges ;A; [The 1000+yen one is out of stock] but it wasn't bad. Shipping cost is only 1240yen [250yen each] for all the above. Best of all, I ordered on Sunday 14/4, got order confirmation email on Monday 15/4, I paid, got the payment and shipment confirmation all on the same day. 2 days later 17/4, I has it! Super speedy! The instructions for overseas shipping is easy too, oh and I paid by paypal =) Nagomi sells used doujinshi but the conditions are super A grade =o= Highly recommended!
I held my parcel up like Rafiki from Lion King when I got it LOL SO EXCITED! The packaging is good too but they should had given a plastic wrapper for each doujinshi I bought =P instead of stacking them in one big wrapper. I saw 'it contains goods' and loled xD
A few snapshots of モコモコ73 2ND [Mokomoko 73 2ND] by Nanzaki Iku & Hanamichi with my digital camera mmm but I'm not sure how to scan it ... uuuhh. 優しいケモノのあやし方 -PREVIEW- [Yasashii Kemono no Ayashikata -PREVIEW-] V12.5 is easier since it's a printer-copy stapled on the sides.
Also, in case you haven't noticed, I've updated my
Doropanda Tours
[どろぱんだTOURS] Page, check that page out
while I figure out some way or another to do some good scans without killing my babies ;-; Don't expect too much! The sides will surely be blurry but better than nothing eh?
=x I've uploaded links to both of them! Also looking for translator and editor for these two titles, if you're interested in translating or editing them, head over to this
thread
at Yuri Project to volunteer!
Until then!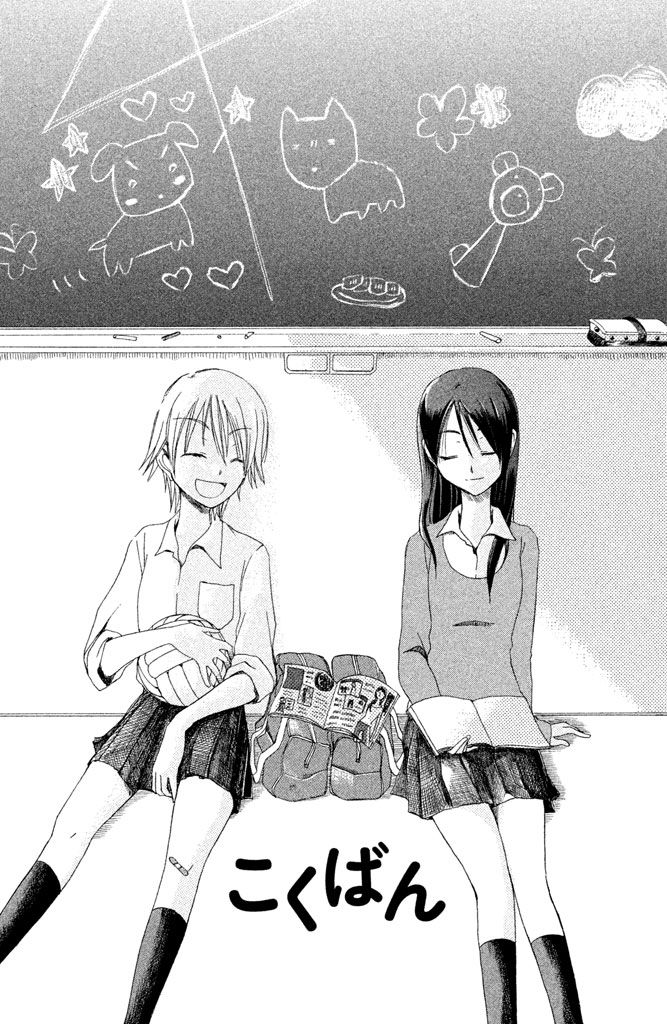 PS: Ah forgot to mention about this Shoujo one-shot titled '
Kokuban' [Blackboard]
by
Saburouta
[
サブロウタ] also the mangaka behind the currently popular
Citrus
.
This is probably one of Saburouta's earlier works [judging by the art style] and it was complied inside Choukyou Kareshi [調教カレシ] along with the rest of his/her other straight-smut stories. Saburouta's plot style kind of reminds me of Shinjo Mayu's. The innocent virgin schoolgirl gets assaulted by the usually dark-haired, sinister-looking popular and not to mention horny guy LOL. That's basically what happened in Choukyou Kareshi if you're interested =P.
If not, just download the family-friendly shoujo one-shot I have provided via mediafire link. The subtle friendship bonding between the two girls is pretty sweet =w= Anyone care to translate this one-shot? xD Enjoy!