[Posted @ 9:52 PM]
KITTA! XD
その花びらにくちづけを あなたを好きな幸せ
[Sono Hanabira ni Kuchizuke o Anata o Suki na Shiawase]
Yes, the fifth one is out!!! Mai x Reo's pretty much my favourite lol ... tsundere Reo's just so cute XD.
Even with my limited knowledge of Japanese, I could finish the game easily lol;
Hm, finished it in 45 minutes ... clicking and clicking without reading anything, just wanna see how the story went lol. Love the scene where Reo went gaga over Mai's stylish ... attire lol.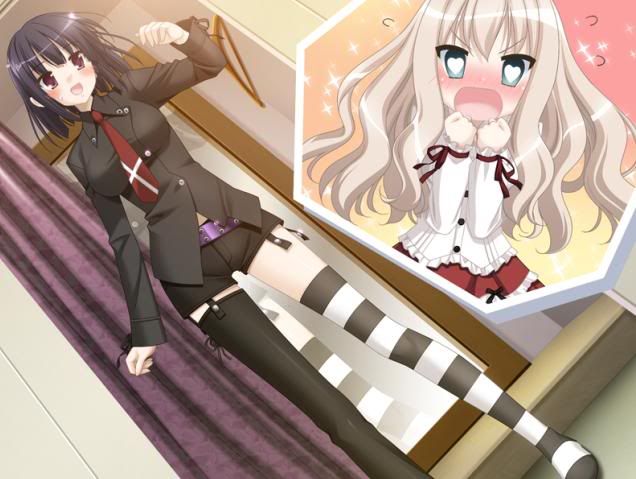 Game and CGs links are over at 4chan, search them yourselves XD. Btw the opening was pretty hardcore lol.
Random rants [Skip if you don't wanna listen to my sch craps];
Nothing much, I won't be downloading much this week or in the next week because of my quota ... it's pushing 95% soon and I have like a few episodes of anime to download. Reckon I'll have to stay low and read journal articles for my courses lol.
I have to push myself to really score this semester ... last semester wasn't particularly good but wasn't particularly bad too [Compared to the really lazy me in poly days].
Explanation of Grades in UQ;
4-Pass - C?
5-Pass with credit - B?
6-Pass with distinction - A?
7-Pass with high distinction - AD?
Basically I got 3 5s and 1 6, GPA of 5.25 [Which is bad compared to my friend, she's got like bloody 2 7s, 1 6 and 1 5!!! -.-] ... well as long as I maintain or score a little bit better I can meet the minimum GPA required for admission to the Honours programmes which is at least 5.5 overall BUT the minimum might be higher depending on the demand ... nooo!
Oh well I've 2 more sems to go ... and they were mostly level 2 and a few level 3 modules heh. All I've gotta do to to get more 6s for this sem and I might have a shot in ... *pumped up*.
What is good/bad about this sem though is all four modules I'm doing had like 55%-60% weightage on the Final Examination.
Gotta work like crazy ... which is so NOT my strong point lol ... phew, that felt good, clearing it out of my system lol.
Maybe I should print out some anime/manga stuff and paste it on my wall to get me going ... besides the two Stefanie Sun posters I had ... haha.
[Signing off 10:38 PM]