[Posted @ 6:13 PM]
Updated : It's so fast, it's so scary lol~! 10/10 *chu*~! Get it
now
!
English Title: Hirano Aya - LOVE★GUN (With DVD) [CD+DVD] [Single]
Japanese Title: 平野綾 - LOVE★GUN (DVD付) [CD+DVD] [Single]
CD Tracks;
1. LOVE★GUN
2. GLITTER
3. LOVE★GUN (OFF VOCAL)
4. GLITTER (OFF VOCAL)
Bonus;
DVD - PV Inside
Now, time to feast your eyes on the
quality PV
I've uploaded, meanwhile enjoy the screenies;
Lyrics;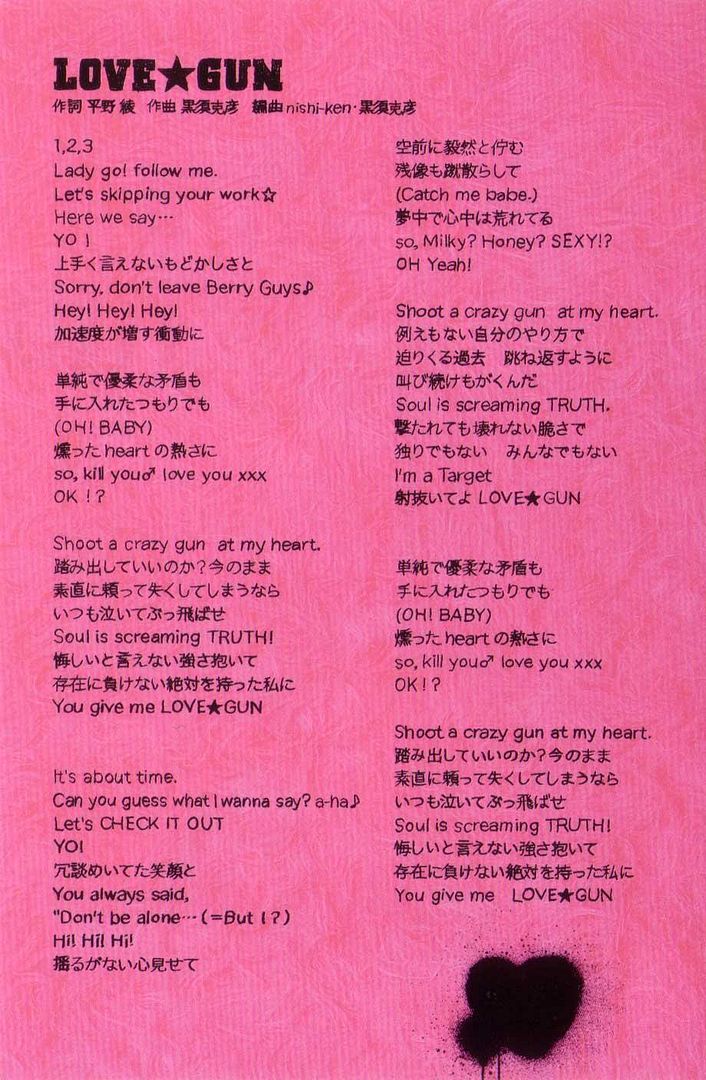 It's pretty catchy, a rocky kinda feeling. Could hardly believe she's a year younger than me O_o||| and celebrated her birthday 2 days before me lol.
Well, I seldom watch PVs cos it's like so weird, but I had fun watching Hirano Aya's 'LOVE★GUN' PV, cos it's pretty fun and the melody was uplifting. I like her funny expressions and I find her very ... hm open about displaying her facial expressions [放的开 in Mandarin] and she doesn't seem afraid to make 'wide' expressions. Unlike some singers, they just open and close their mouths to the extend of eating bite-size cookies lol ...
Enjoy, a special for my birthday. Heh.
PS: Please do not demand reupload of link, they will be ignored and deleted, once broken considered sold =).
[Signing off @ 6:45 PM]