[Posted @ 10:00 PM]
Tidying up my messy desk and rearranging my book shelves in the study room cos my friends are hanging over my house tomorrow haha.
This is where all the 'magic' happens lol, say hello to lappy-chan and AAD-chan XD. The stack of manga on the right side are usually mangas I read half-way, haven't read or want to re-read again lol. The Basic Japanese booklet from Poly Year 2 is still with me at the bottom left heh, tattered but readable.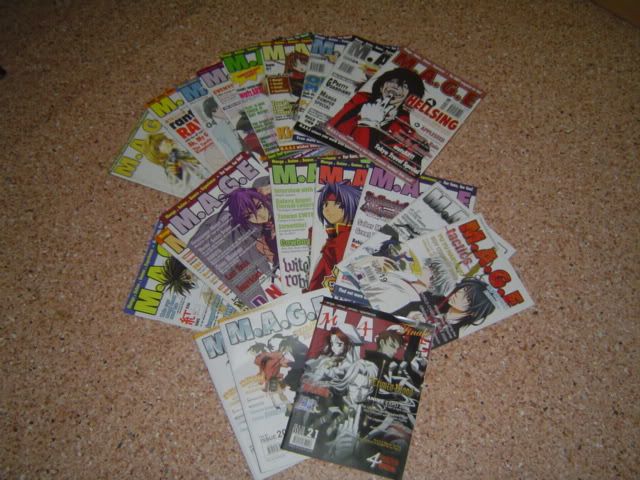 Yeah I'm a subscriber of M.A.G.E, unfortunately they stopped publishing after 21 issues. Anyways, I don't know why I have two issues of #20 lol, I think I lost issue #2.
My study room and the book shelves where all my bros' tution/school stuff, my manga, magazines and books live. Manz, I think I should at least get a prize for owning so many ChuangYi English mangas LOL.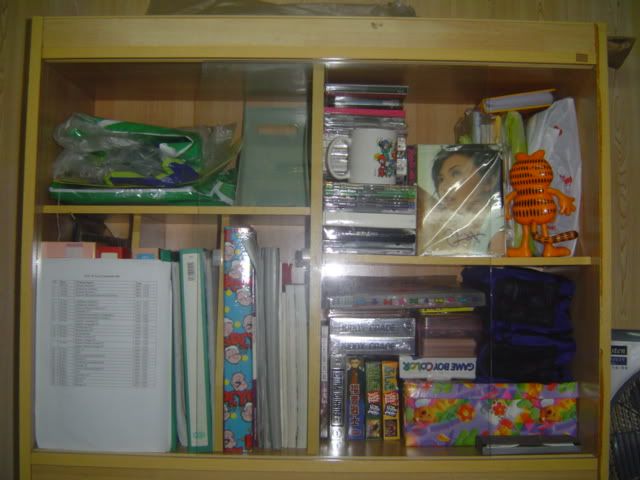 Basically a corner where I store all Stefanie Sun's albums, dvds, vcds and others. Oh I turned the Garfield standee away cos fish's kiddy photo's in it LOL. The paper on the left side's chuz's 'O' Levels timetable.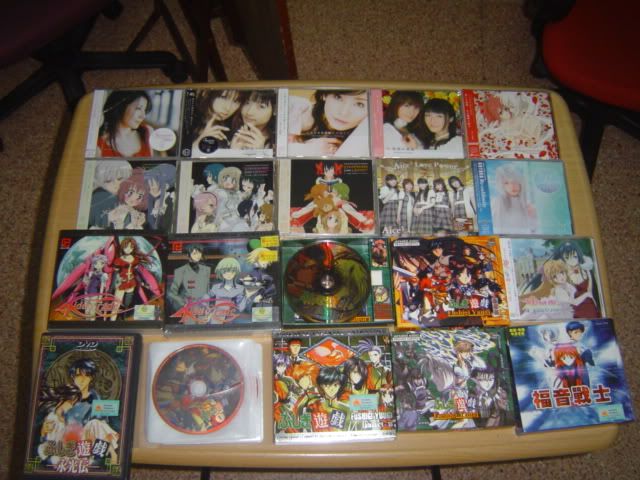 Love my Strawberry Panic! collection~~~!!! Singles for the OPs/EDs, OST and the three Drama CDs~ XD.
Seriously, look at what ODEX gave us before they complain their sales are hurting, the packaging ... really looks like I bought some rip-off pirated VCDs or software programmes. Now, tell me with these kind of sub-standard products, do we have a choice? My [and many people's] patience is running thin, check out their website, they took down their forum cos they can't control the 'wonderful' contents -_-|||.
No matter, I'm starting to import from USA, I'll do another post next week on the on-sale ADVFilms box sets I purchased online around two weeks ago. They are 'Full Metal Panic? Fumoffu - Complete Collection', 'Azumanga Daioh - Class Album', 'Chrono Crusade - Complete Collection' and 'Full Metal Panic! - Complete Collection', really really worth it. The total cost for the four box sets in Singapore dollars was S$283 + shipping charges of $33 [I got a 13% discount coupon~~] = S$316. It's like barely S$80 on average for each box set!
If going by ODEX 'OLD' price tags, which was S$39.90 for a volume with 12-13 episodes and S$79.80 for two volumes with 24-26 episodes title. Oh well, at least ODEX's clearing their DVDs at S$20 each volume but I'm still not buying them cos ... they don't have DVDs for the titles I bought above, well except for 'Chrono Crusade' and I believe the subtitles sucked.
Anyways, enough of this crap, think happy thoughts for 21st Birthday gathering tomorrow and my soon-to-arrive parcel next week XD.
Hatsu Koi Shimai Chapter 3 summary coming up this weekend!
PS: Oh manz, MapleStory SEA has released a new patch ... can't auto update ... gotta download the patch manually ... manz, I hate this crappy patches!!!
[Signing off @ 10:55 PM]