[Posted @ 4:20 PM]
As promised, here's the translated English version of Kaishaku - Kannazuki no Miko Doujinshi - Aoi Tsuki to Taiyou to.
Disclaimer;
I DO NOT TRANSLATE STUFF FROM JAPANESE TO ENGLISH.
only Mandarin to English.
I do however refer to the RAW [Japanese] version sometimes when translating to kind of double check and make it more 'Real' cos i like it lol.
I do not scan, so I don't claim credit for it, so please do not ask me where I got my scans. PLEASE.
Be warn, what you are about to view contains mature themes and it may not be suitable for minors [Those below 18] so if you're weak in the heart, PLEASE DO NOT PROCEED. I will NOT be liable for any damages - be them physical, emotional, or blood loss from viewing. =)
If you agree, please click on the 'SHOW' button to see the link.
FOUR links are uploaded in sendspace, megaupload, yousendit and badango.
See Link:

Click 'GO' Where You Will Be Automatically Directed To The Link;


Hope you enjoy the release! =).
According to the blog poll of 16th June 2007;

YEAH! The Song of the Month for July's Claymore - Danzai no Hana ~Guilty Sky~ by Kosaka Riyu XD. Please continue to show your support by voting in the new blog poll! XD.
With effect of July 1st 2007, Singapore's 5% GST will rise to 7% and subsequently, 10%. So I decided to make a trip down to Takashimaya's Kinokuniya the day before yesterday to grab some imported manga before the GST hike ... to my surprise, they were having a 20% discount promotion lol ... very very happy girl. Here are my purchases;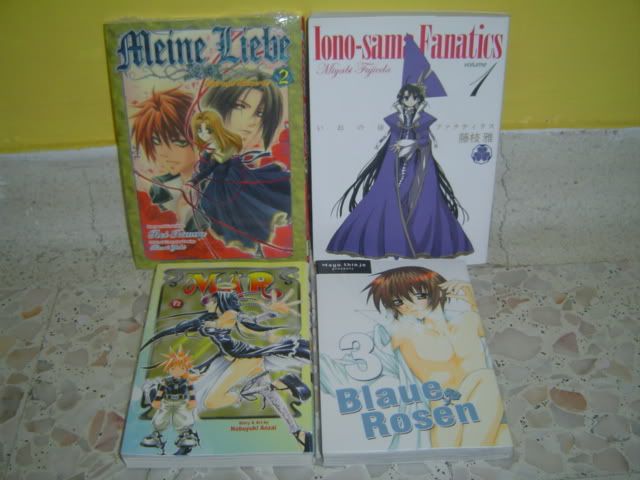 Only Iono The Fanatics [English] Volume 1 was purchased in Kinokuniya and I saved $4 XD XD. The rest, Meine Liebe #2, MAR #12 and Blaue Rosen #3 were purchased in Comics Connection, no discount =(. If you remembered, I purchased the
Mandarin version 5 months ago
... -.-||| maybe I should had waited then, I seriously didn't know an English version was licensed sigh. Btw, Blaue Rosen #3 cover's hot lol ... I wonder why people are making such a fuss over the cover -.-|||, I certainly didn't get any stares or glances from the shopkeeper who rung up my purchases ... or then maybe they're busy preparing for the GST hike hahaha to even bother about me.
Anyways, more random pictures of my dinner last night XD;
I really, really love scallops ... on par with Bitter Chocolate XD.
PS: Oh my god, I
just found out
that Seven Seas licensed 'Hatsukoi Shimai' and 'Voiceful' as part of their Strawberry Line of Yuri Manga! Yay! Yay! Like many others who replied in the forum, I'm looking forward to them licensing 'Strawberry Shake Sweet', 'Simoun' and 'Kotonoha no Miko to Kotodama no Majyo to' in the future.
[Signing off @ 5:00 PM]