[Posted @ 9:58 PM]
Heh. Heh. Heh. I just can't stop grinning =).
Because.
I.
Got.
A.
New.
HANDPHONE!!!! Or CELLPHONE!!!! Whichever you're comfortable with. MUAHAHAHAHAHAHAHA.
Fresh from de oven. Well not really.
Front side, heh I upload the HOT pic of Kaon from Kyoushiro to Towa no Sora DVD Special Volume 2 in already.
Back side, the 5 megapixel cam ... cool.
Side view ... quitr slim and ... light.
OH MY GOD, I almost just fainted when I turned the screen this way!!!!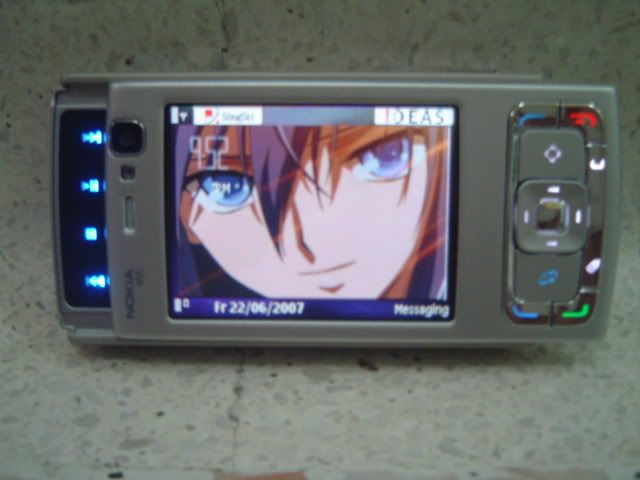 Managed to upload my favourite Anime songs in already ... this is the latest, Romeo x Juliet OP Single 'Inori ~You Raise Me Up~' by Lena Park. The bass quality is really cool.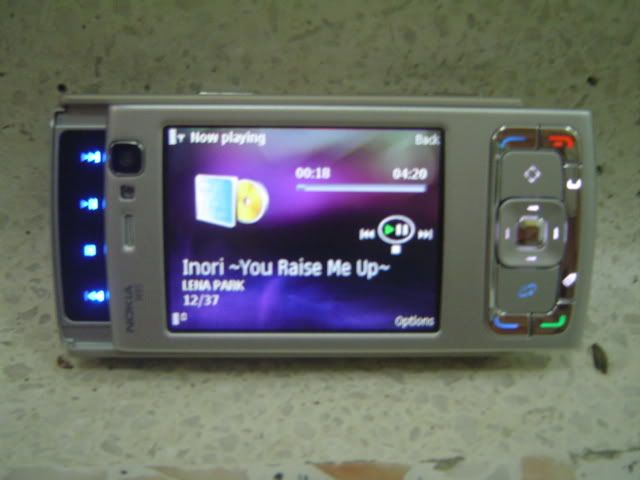 Overall, I can't really give any verdict about it, I'm not a handphone expert ... but it's kinda 'slow' when switching and hangs for a little moment but I can totally understand, look at the freaking functions, it's overloaded -.-||| especially with the GPRS function in it ... haha.
Almost one month after I
tried singing
Misato Aki's 'Kuchibiru Daydream' Strawberry Panic! OP2 ... I'm back with Kosaka Riyu's 'Danzai no Hana ~Guilty Sky~' Claymore ED. Seriously, I can never reach Kosaka Riyu's standard so cut me some slack k? If you like it, please vote for this song hehehe, I really like this song.
- Click PLAY -
As usual, I made alot of mistakes, just took 2 tries before I posted this up haha, I was too fast in some lines and too slow in some lines. So enjoy?
Oh yeah, I'm going to Batam this weekend so ... yeah cya next week.
[Signing off @ 10:32 PM]
PS: Watching Kannazuki no Miko Ep12 [END] in my N95 ... so cooL!
Ah the leaving scene always made me cry ... and weep ...