[Posted @ 9:38 PM]
Whee.
Disclaimer:
I DO NOT TRANSLATE STUFF FROM JAPANESE TO ENGLISH.
only Mandarin to English.
I do however refer to the RAW [Japanese] version sometimes when translating to kind of double check and make it more 'Real' cos I like it lol.
I DO NOT DRAW doujinshis, so I don't claim ANY credits for it, I got the original doujinshi from
Yamibo
, so please refer there for the original version, I'm just translating for those non-Japanese readers =). So don't ban me for it =(.
Click on the pictures and out pops a window with a bigger, clearer dimension.
Please do not hotlink on forums, just paste my blog url and direct them to the Manga Page section, thanks.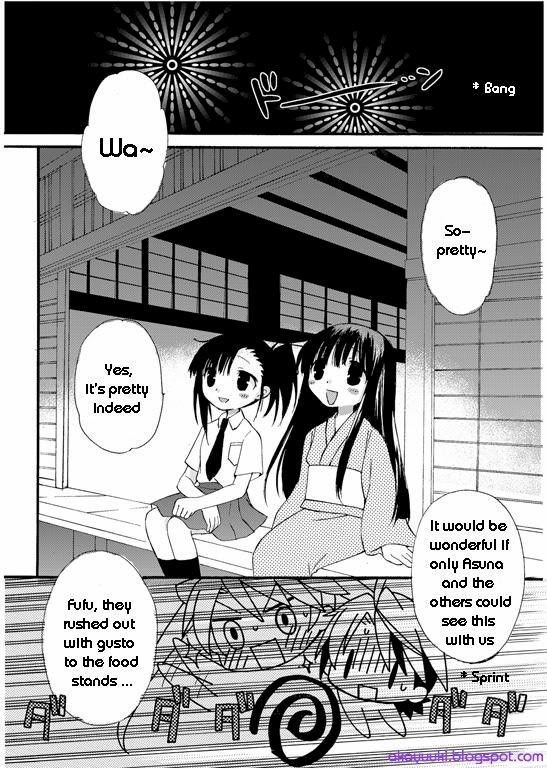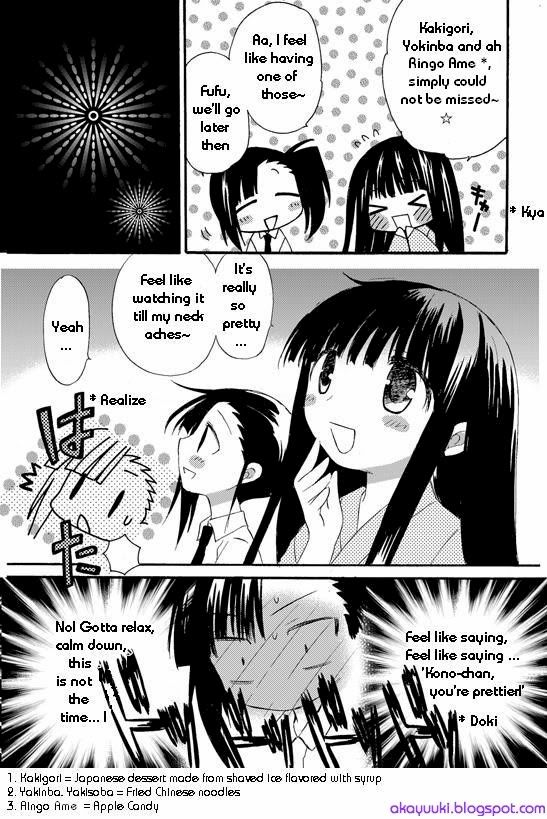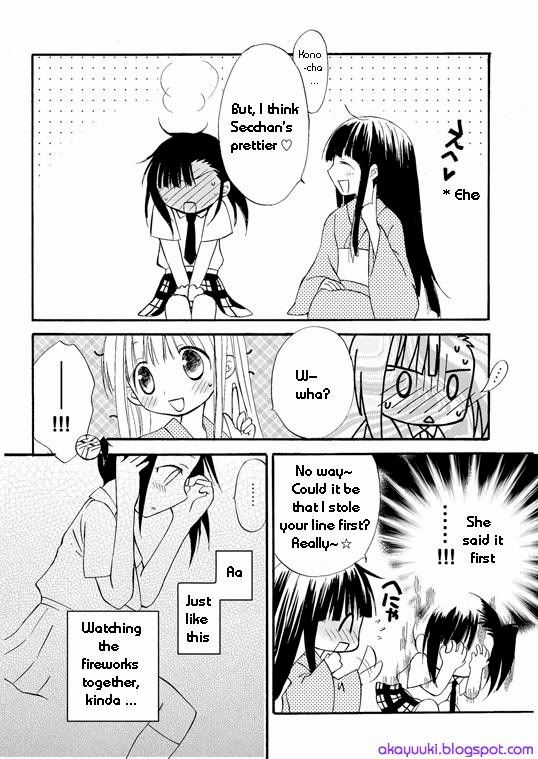 Eh, I don't know the author of this doujinshi, if you know, please tell me so that I can credit him/her/they. It's a short and cute doujinshi, just 5 pages, so 2 more pages to go!
I'm ending the poll early cos the results are very clear now =O. Thank you for voting, I'm overwhelmed by the result ... I'll continue to try my best to bring more Shoujo-Ai doujinshis, Yuri ... well maybe. I'm interested in this cute Chibi-Neko Chikane x Himeko Doujinshi titled 'Aoi Tsuki to Taiyou To' by Kaishaku. I think I mentioned this before last month and it's pretty ecchi ... but not as explicit as Urahime lol. 20 pages ... well I'll try to finish it next month or something. Here's the cover of the doujinshi.
On to my random life ramblings, ermmm, well, I'm planning to further my studies and my parents told me to go Australia to study ... I don't know with my lousy poly results whether I can enter any universities there or not lol. [Lousy as in I can't even enter the local university ... sob sob] Well, if can, I wanna study International Business since I got [my one and only] AD in that module during poly lol and I wanna study a language XD, Japanese of course. Any suggestions or advices?
Oh, vote in the new blog poll again yeah? 'Your choice for this June, Song of the Month?'. Oh yeah I placed up a list of my Manga Collection
here
, all of them are in English, unless I say so la, I also placed the link at the left side bar.
[Signing off @ 10:03 PM]