[Posted @ 4:00 PM]
LoL, the names just keeps getting longer.
その花びらにくちづけを 唇とキスで呟いて
[Sono Hanabira ni Kuchizuke o Kuchibiru to Kisu de Tsubuyaite]
Onee-sama wa ERO-OTOME~! XD.
Hmm, tried listening to the conversations at the beginning about our two main characters, Nanami and Yuuna having a raburabu pinic in their school backyard. Nanami's worried about being seen looking chummy with Yuuna and (random) Yuuna wondered if it's because of her groping that Nanami's breasts got bigger in size ahaha. It seems that Yuuna's as ero as ever lol. Hmm then they were having the cake Yuuna made (if I'm not wrong), resulting in the scene as shown below;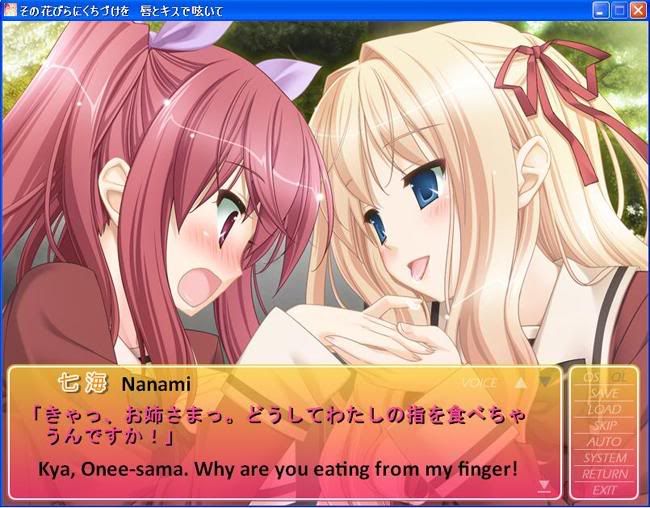 After that Nanami kept thinking about her Onee-sama and dreaming of Yuuna suggesting that they do ecchi stuff hahaha. *Rapid clicking* LoL, it's amusing to see Yuuna suddenly turn into this whiny and clingy Onee-sama once everyone's gone. Whoa, then they did it in the classroom on the desk ... *not surprising there* haha. After that, they went back to Yuuna's house and did it again =A= LOL.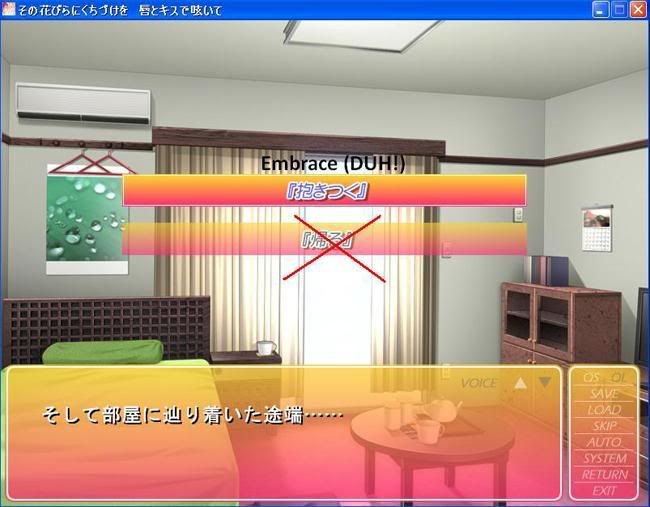 (Selects 'Embrace Me' option.) Ah, it's good to be young.
*Rapid clicking* LoL, Nanami's off to dreamland again ... a date with Onee-sama~!
LoL, Nanami has quite a few of her own ecchi dreams of Yuuna, hahaa, looks who's the ero otome this time XD. Well there're many more ecchi scenes and I'm lazy to screenshoot all of them.
There's a bit of angst in the end, a little misunderstanding between Nanami and Yuuna, it's pretty cute lol XD. Not forgetting the make-up sex in the end LOL.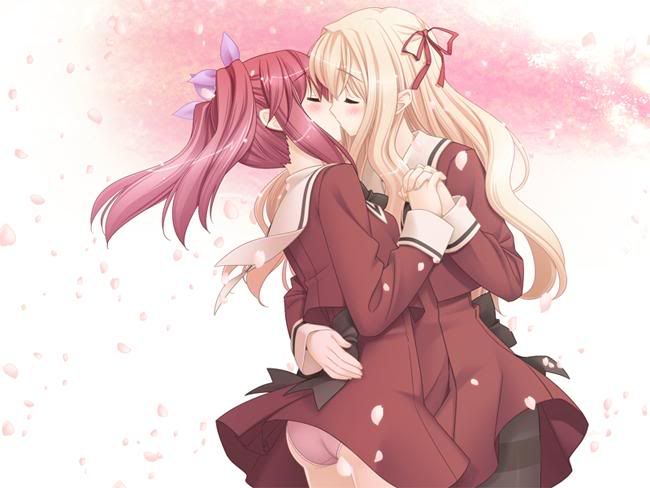 I've uploaded the
CG set on MF
, so yeah, enjoy it. The PNG files are not named according to the scenes order though, (I didn't make it o_o, don't blame me) XD.
Hmmm, some parts are nice, some parts I don't understand, some parts I'm not into it o_o so I can't comment much, lol as usual, I was merely rapidly clicking my way through the game to the end.
[Signing off 6:04 PM]