[Posted @ 2:15 PM]
Haikou
aka Hainan is the smallest province of China, the weather is pretty much like in Singapore. Boy, it was freaking steaming on my 4 days 3 night trip there lol.
It's the first time I've been on the Budget Terminal and on Tiger Airways, and the trip to Haikou - Meilan Airport took around 3 hours. Being a budget carrier, there's no free inflight entertainment and I was bored outta my mind I tell you lol, the prices of the food and beverage were such a rip-off lol and worst of all I had to buy a small bottle of mineral water from them cos of the new regulation of only 100ml of each particular liquid will be allowed in the hand luggage in a resealable plastic bag no bigger than 1 litre. -.-||| I forgot to buy a bottle from the duty-free shops too, so ... I was ripped off lol.
Anyways, when we arrived in the Meilan International Airport, it was around 5-6 PM, so we had dinner over at the house of the relative of my uncle's girlfriend's friend lol. It was a traditional Hainanese dinner, with the famous Wenchang Chicken and many others la. After that we just strolled around the area, shopping and stuff and finally checked in the hotel.
Then, Day 1, I forgot the names of the places I went lol, sorry.
Sat a speed boat to this beach off the island.
Day 2, went to the Xinlong Tropical Botanic Garden, saw vanilla plants and cocoa trees, coffee plants and many more la.
Day 3, went to Sanya - Nanshan Culture Center, had free vegetarian lunch there and saw the Nanhai Guanyin Buddha, very majestic.
In screenshot 16, the tour guide said that this monk had been standing in the sun/rain for a year from 7 AM to 7 PM without eating/drinking to repent his sins, the tour guide also added that he's going to do that for 3 years.
Overall, it's a fun trip la ... and got sun burnt lol. I really loved the China Brand, etc ChangHong, DongFong handphone advertisements on TV, it's so interesting~ They seem to emphasize on the solution to the problem of having your handphone battery die on you on an important call which is having the handphone solar-powered and they have this cool plug where you can charge the handphone too. Then it's like scratch-proof, they showed this girl dropping her handphone from I think a few stories high then having a car run over the handphone ... We assumed it's dead by now but no! It's still alive and you can STILL call and receive LOL. It's so fun.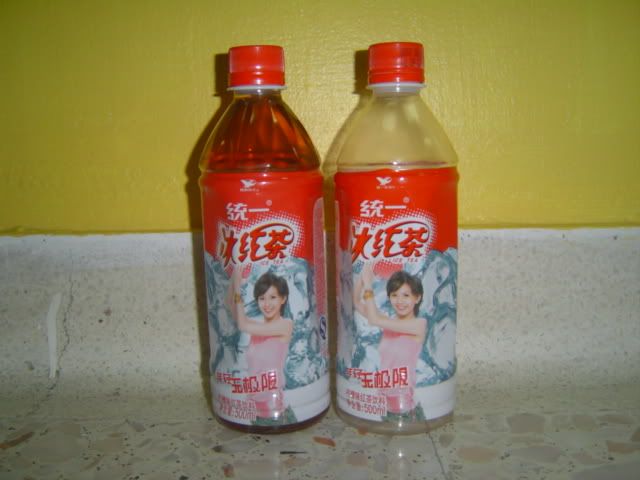 LOL the TongYi Ice Red Tea YanZi endorsed for ... quite a few years back, just for RMB 5 around S$1 la.
Oh, new Song of the Month, September's Nakashima Mika's 'Life', enjoy! Don't forget to vote in the new Blog Poll too =).
Oh yeah, Doropanda Tours ShizNat fans, seemed like the long awaited 'Doropanda Tours Mai Hime Doujinshi Volume 9 - After School Dolce' is out!!!
Apollyon
's translating it, so check her LJ for updates yeah?
[Signing off @ 3:45 PM]