[Posted @ 8:00 PM]
When I reached home from Haikou trip two nights, I saw these WONDERFUL brown parcels from heaven on my messy desk. FINALLY, my purchases from Amazon.com and Play-asia.com have arrived!!!!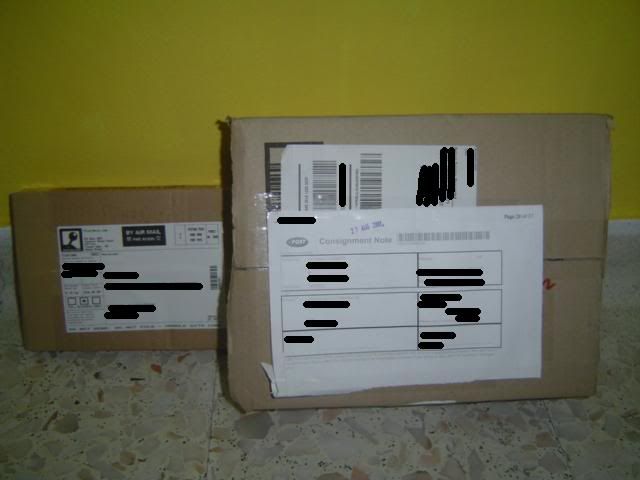 Like usual times, I went to take my bath, settle down on my desk, check for updates and lurk in my favourite forum =). Then I started to open the parcels, woohoo, Kashimashi ~Girl Meets Girl~ #3, Sister Red #1 and Kannazuki no Miko Full Box Set From Amazon.com in the big parcel!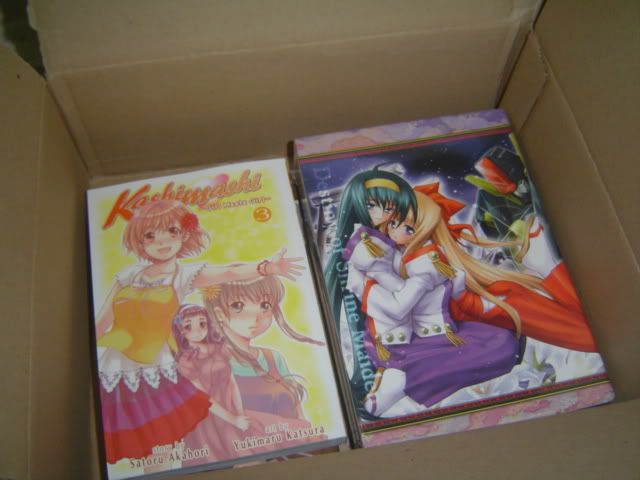 Now for the small parcel ... Strawberry Panic! - St Spica Drama CD From Play-asia.com!!
Display it out~!
[Top Left to Right] Kannazuki no Miko Full Box Set, Kashimashi ~Girl Meets Girl~ #3
[Bottom Left to Right] Strawberry Panic! - St Spica Drama CD, Sister Red #1
Kannazuki no Miko Full Box Set for S$90+ [Shipping charges included] by GENEON cos ODEX don't cater to
shoujo-ai/yuri
fans like me =( lol, like I give a damn.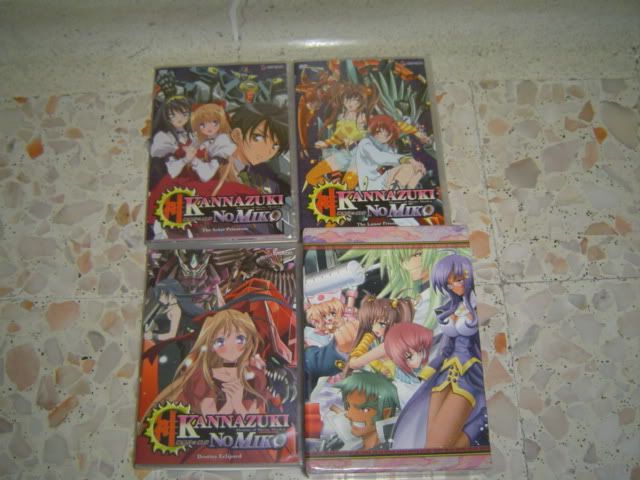 Not sure about ODEX's DVD packagings but this is really nice lol. They have Non-credit Opening & Ending Animations, trailers and 3 pencil boards included in the DVD sets. Too bad they don't have the making or something hahaha, I'll be willing to pay more if they got ... anyways, it's nice enough la.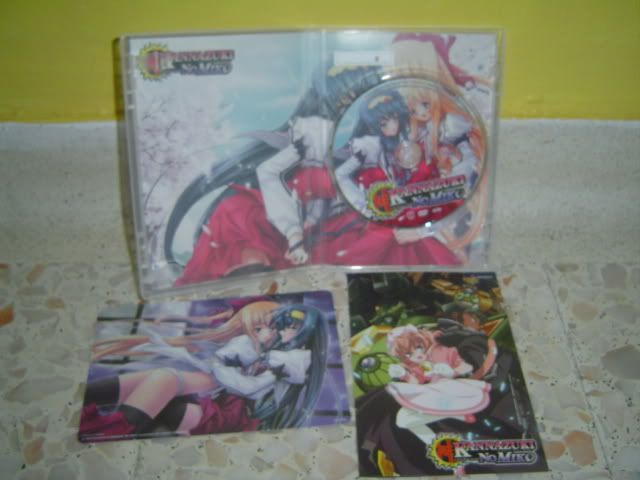 O_O Nice. LoL.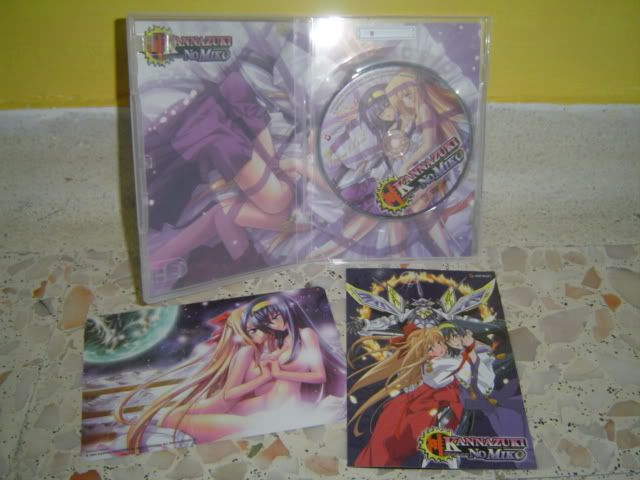 Random musing ;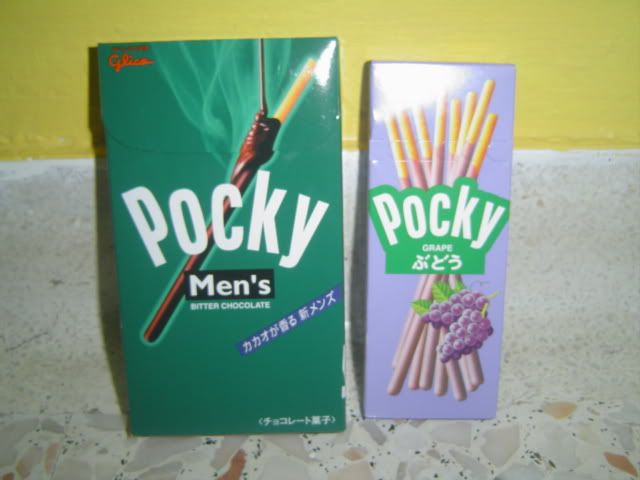 Went to Ang Mo Kio Hub's NTUC Fairprice just now and I couldn't help myself but purchase these two yummy babies lol, I just have a soft spot for Pockys ... XD. I always have normal Chocolate Pockys in my fridge most of the time, sometimes for myself or for my little cousins to eat. I still wonder why is the Bitter Chocolate Pocky's for Men lol, don't they eat Strawberry Flavoured Pockys? ... Okay that sound ... weird lol.
Anyways, I'm not going to complain much about ODEX anymore, it seemed they're going in the right direction now, except in my opinion they seemed a bit hasty on the Video-On-Demand service ... even with the DRM, some I shouldn't mention who, netizens can still 'hack' into it and keep the file. But still ODEX seemed to be improving and the forum they set up in
ODEX's website
[FINALLY, it's UP! LOL] seemed to be looking good lol. I'm not anti-ODEX nor pro-ODEX, I just care about good products, if ODEX can produce good quality, worthy DVDs to my liking, at an affordable price, so why not?
Hopefully they can produce threes seasons of Maria-sama ga Miteru DVDs with the Maria-sama ni wa Naisho specials ... I'll surely buy! LoL, I'm serious =). I'm also thinking of purchasing more DVDs, maybe I'll just wait for ODEX to pick themselves up, re-publish some titles they had currently with better packaging, quality and translations. If I'm still not satisfied, well the moolah will go to imports haha XD.
Besides, I've confirmed to be studying in Australia, UQ next year, February, paid the deposit for the tuition fees just today ... and waiting for the application to process ... meanwhile can start booking tickets le ... O_o, I was kinda surprised the advisor said that, lol so early ah. So I think I'll probably be busy with school again next year ... no time for anime/manga ... sigh, just hold in for 1 year and half ... =_=|||
Well then, that's all for random stuff about my life, cya around.
[Signing off @ 8.45 PM]