[Posted @ 5:40 PM]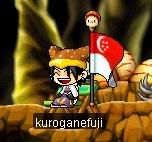 ... just another 20mins and the LIVE Telecast of the National Day Parade will be on Channel 5 heh ... those non-Singaporeans can still catch it ... online =), click
here
to go in the site.
So what's so special about this year's NDP? Well read
here
lol, I think this year's NDP is to be reckon with =).
Eh I sung Stefanie Sun Yan Zi's 'We Will Get There' aka 一起走到 In Mandarin ...
but I can't seem to upload it now .. so I'll update it later k?
It's up now =), kinda lousy.
Once again, Happy 42nd Birthday, Singapore!
[Signing off @ 5:52 PM]