[Posted @ 9:12 PM]
Went for a drive juz now =). I think I almost crashed cos I was having this chocolate-eating grin stapled to my face lol.
Very very entertaining special episode ... fanservice for yuri fans, neko fans and Waruteishia fans ... I think the screenshots speak for themselves ... =) Enjoy.
But let me explain screenshots 11 and 12 lol before your minds tumble down the gutter;
Kaon and Himiko were in the Onsen [Hot Spring] with Tarurotte who was floating around and Tarurotte's head unwittingly bumped Himiko's ... back making her shriek lol then Tarurotte's tail ... kinda swiped against Himiko's behind again making her moan, as seen on the misleading pictures above ... of course that made Kaon very very pissed off that she summoned Murakumo but Himiko kinda hold Kaon off from attacking the unawared Tarurotte who was enjoying herself very much. Feeling very bold, Himiko kissed Kaon to stop the assault.
*Kyaaaaaaahhhh* I think I squealed with joy!!! LOL! SOOO CUTE! It's sooo funny to see Kaon grumbling about 'touching' her woman ... lol <-- Okay that wasn't in the lines but I get that feeling hahahaha. It's sooo cute to see Kaon getting so very protective of Himiko lol XD. Loved the moment Himiko kissed Kaon to shut her up and both of them dipped into the hot water still in hot embrace XD.
After that, Himiko's finishing up her drawing of Kaon against the dark night ... ending with Himiko blushing as she finished, Kaon smiling tenderly at her and them looking at the moon.
Hope you enjoy the screenshots ... heh
PS: I will be reviewing 春夏秋冬ドラマCD 逆襲の赤ズキンチャン [Haru Natsu Aki Fuyu Drama CD Gyakushuu no Akazukin-chan] loosely translated as 'Little Red Riding Hood's Counterback' as soon as I get my hands on the Booklet;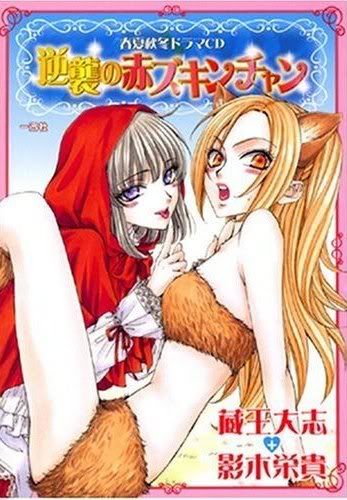 The Drama CD pretty much relate to the 3 chapters in Yuri Hime 5, 6 and 7 and a little bit of speech of Reiko-sensei from 'First Kiss' chapters.
[Signing off @ 10:28 PM]